April Fools' Greatest Hits
April Fools'
As there weren't too many April Fools' stunts this year, Don Ferguson takes a trip down memory lane to remember the ones that made us laugh.
Another week in lockdown and adapting to the new world order means that ideas that both 'do good' and 'are digital' are the new normal – as it should be in these difficult times.
However, casting the mind back to every other year since time immemorial we would all have been sitting in brainstorm after brainstorm discussing the dreaded April Fool's Day activation.
A battle-royal style pile-on, in which we spend 24 hours fighting it out for the most meaningless and, let's be honest, the self-indulgent crown of 'who's the funniest' amongst our peers.
It's at this point that the media generally sigh and stare at the clock in anticipation for their shift to end and a halt to the countless calls and emails selling them tedious gags.
However, through the acres of dross, a few gems do emerge.
Little nuggets of brilliance that you can't help but admire for their rye insight or choreographed execution.
Each leaving you with a warm, fuzzy feeling at either being in on the joke or the sheer delight of a cynic such as yourself, having been duped.
So, with a great deal less April Fool's based shenanigans this year, in ICYMI style here's a non-definitive look back at a handful of the best in recent memory and some that you may have missed.
Left-handed Whopper
Kicking things off with a personal favourite and much-copied classic from 1998, Burger King published an advert on the April 1st for a revolutionary new "left-handed whopper."
Featuring all the flavour and ingredients people had come to expect of the iconic Burger King staple, the fast-food giant claimed to have created specifically for ease of eating by lefties through rotation of all the condiments by 180 degrees.
Announced, launched as a print ad, reports suggest that thousands made a b-line to their nearest BK to grab a bite of the new creation.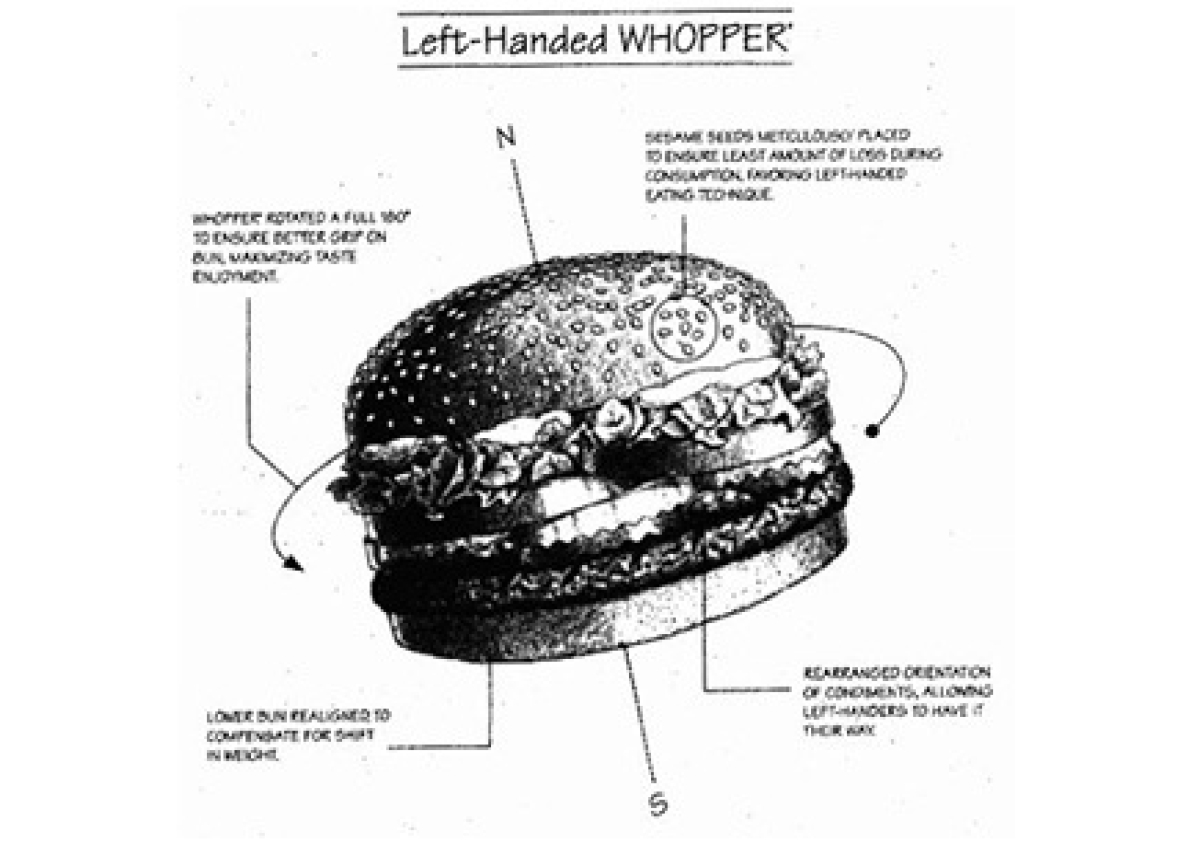 Gmail Motion
A few years back, Google had a decent run of April Fool's based shenanigans - the best of which was the 2011 launch of 'Gmail Motion'.
Billed as new tech that would use people's webcams to map hand gestures in front of the screen through a 'spatial tracking algorithm' that would then turn movements into words. Claims included that you could open email by miming opening an envelope or point over your shoulder to reply.
It racked in a tonne of coverage and stirred-up loads of debate. Most impressively, however, was the unplanned laying down of the gauntlet to computer programmers across the world who managed to find a way of making it a reality out of existing off the shelf tech.
Whistling Carrots
Tesco ran an ad in The Sun announcing that they had genetically modified a strain of carrot that would whistle when blown.
Claiming that it had been engineered to grow with airholes down their sides so that when they were cooked correctly, they would emit a signal like a boiled kettle but at a volume akin to a pneumatic drill, telling people it is time to remove from the pot.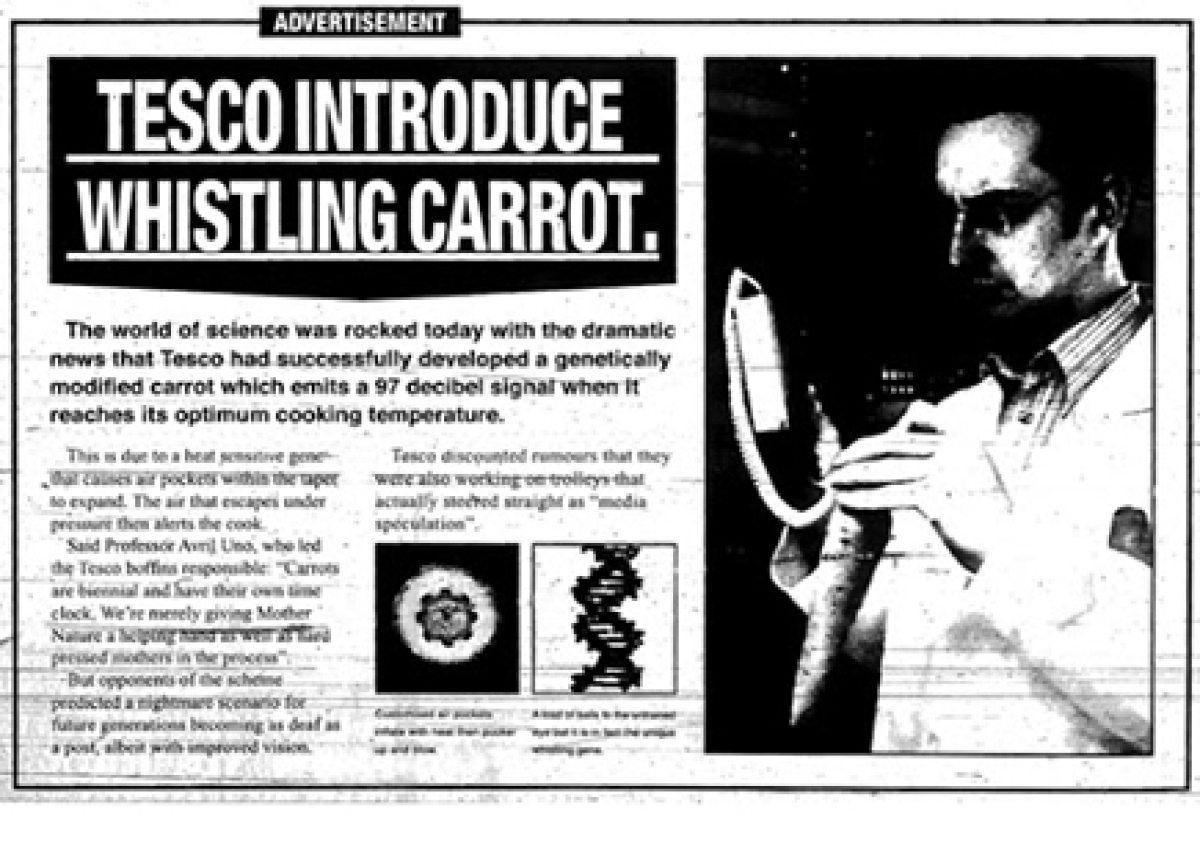 Sweden upgrades to colour TV
Scandinavia's most iconic April Fools gag ever had to be the 1962 hoax by Sweden's only television station at the time SVT.
Announcing that their 'technical expert', a chap by the name of Kjell Stensson, was going to turn the black and white broadcast feed into colour by asking viewers to cut and tape ladies stockings over their screens to immediately turn the picture to colour.
Announced via an instructional broadcast that bamboozled the public through the incredibly technical prismatic nature of light generated as a result of the fine mesh in the stockings, thousands of viewers fell for the gag.
Digital Dave
Amidst the last round of major renovations of Big Ben in 1980, the BBC World Service announced that due to dwindling tourism in the capital the analogue clock face would become digital.
With claims that many locals were struggling to read the time and tourists would only visit if it were given a facelift, the Beeb announced that the iconic 'bongs' would be replaced by a 'beep'. At 10pm a five-minute news bulletin would be broadcast from the tower daily.
With vast amounts of debate amongst the public and column inches covering the story on the day, the prank was so convincing that masses of listeners rang the BBC to vent their anger with a spokesperson saying that "Surprisingly, few people thought it was funny."
They also mentioned in the report that the clock hands would be given to the first four listeners to contact the station. Subsequently, a Japanese sailor radioed in from the mid-Atlantic convinced they were in with a shot of winning.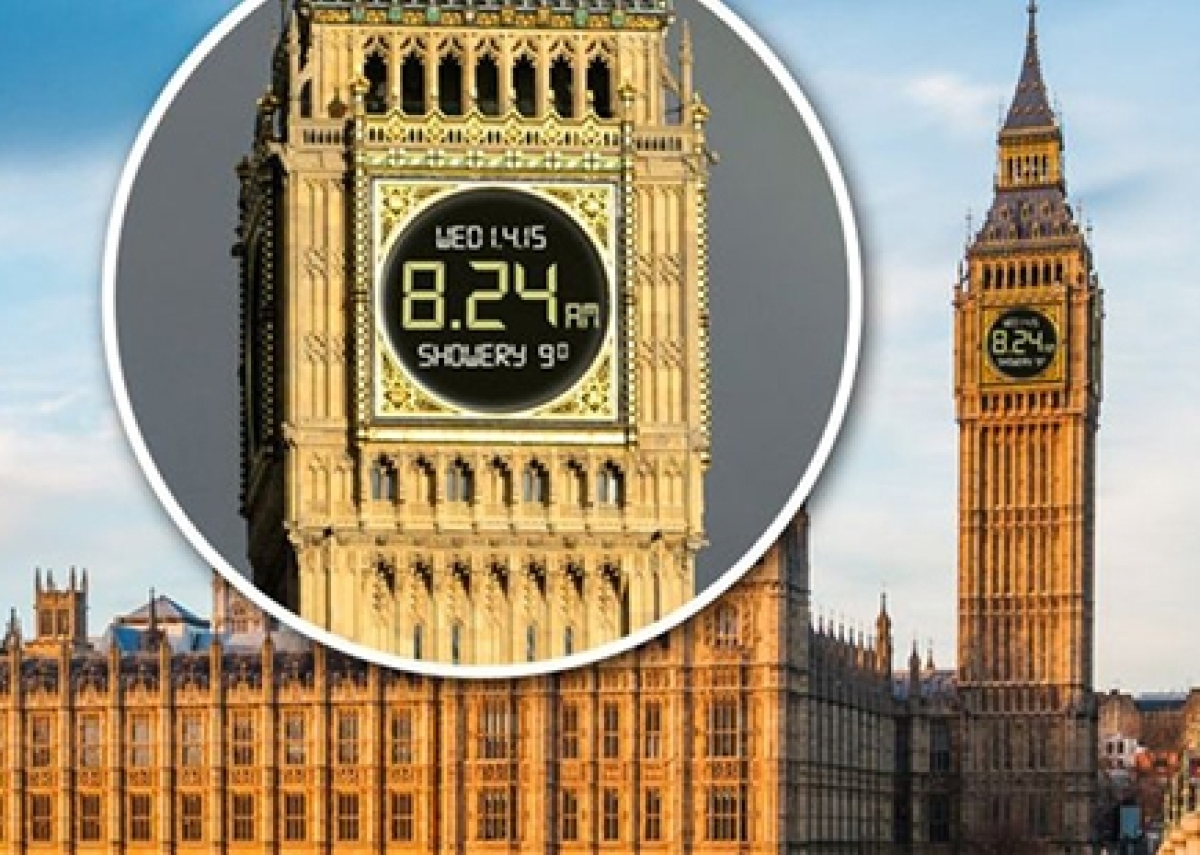 Swiss Spaghetti Harvest
Generally considered the high-water mark of April Fool's stories must be the iconic 1957 BBC Panorama stunt.
A masterclass of a hoax centred around a three-minute segment in which a deadpan Richard Dimbleby offered an uplifting and idyllic view of the town of Ticino on the Swiss-Italian border, who were enjoying a bountiful spaghetti crop for that time of year.
Flashing images of giant pieces of pasta hanging from trees, as a result of a 'mild winter' and the disappearance of the bothersome 'spaghetti weevil'.
Cue local pickers grabbing up armfuls of pasta, drying and serving up meticulously picked spaghetti from the branches as part of the traditional spaghetti festival.
The voiceover explains the relative cottage industry of Swiss production in comparison to their Italian cousins.
Aired at a time when spag-bol was yet to take off the in the way it subsequently did in British homes in the 1960s and '70s, the BBC estimated eight million people watched the programme on April 1st.
A few hundred ringing the switchboard the next day to question what they had seen or ask for more information on how best to grow their own, with the BBC telling them to "place a sprig of spaghetti in a tin of tomato sauce and hope for the best".
Classic.
If you enjoyed this article, you can subscribe for free to our weekly email alert and receive a regular curation of the best creative campaigns by creatives themselves.