Bombay Sapphire's 'Supermarket' art installation at the Design Museum sells creativity
Going to the shops?
Supermarket, an installation by BOMBAY SAPPHIRE and the Design Museum, has arrived at the museum's Kensington high street home, stocking its shelves with essential items packaged in artworks created by a line-up of emerging artists.
Created by AMV BBDO and launched by Ogilvy PR, this installation will allow the museum to welcome much-missed visitors through its doors once again and promote the vital message that 'Creativity is Essential'.
BOMBAY SAPPHIRE believes that creativity is an essential part of being human, making us feel fulfilled and happy.
But during the pandemic our access to art institutions and other vital sources of creative inspiration has been severely restricted. Now, as the UK slowly begins to emerge from lockdown, Supermarket will allow people to nourish their creativity and purchase limited edition works of art – all whilst doing their weekly shop. What's more, they'll be supporting the Design Museum which has suffered a 92% drop in its usual income streams while they do so.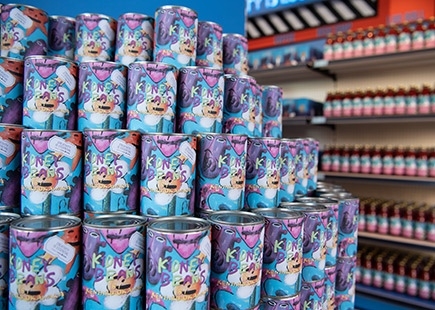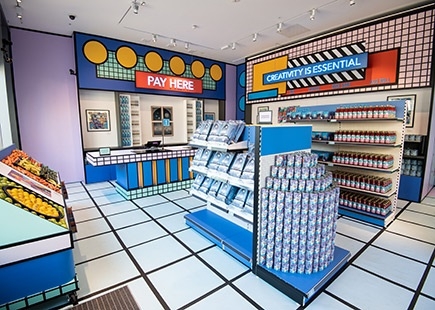 A mission to inspire creativity.
Supermarketat the Design Museum is part of a long-standing mission by BOMBAY SAPPHIRE to inspire creativity in all.
It will be open from the 21 – 25 April, selling essential items designed by a collective of 10 brilliant emerging artists comprising of Amy Worrall, Charlotte Edey, Holly Warburton, Isadora Lima, Jess Warby, Joey Yu, Katherine Plumb, Kentaro Okawara, and Michaela Yearwood-Dan. The project is spearheaded by famed artist and designer Camille Walala who has brought her inimitable visual style to the store itself – bringing art and shopping together in a riot of bold patterns and bright colours.
Natasha Curtin, BOMBAY SAPPHIRE global vice president, comments"Creativity has been at the heart of our brand for over 30 years. We truly believe that creativity is essential, but for much of this past year, we haven't been able to visit our much-loved art galleries and cultural institutions. That's why we're thrilled to be launching this project in support of The Design Museum, creating the world's first artist designed supermarket and demonstrating the vital role that creativity plays in our lives. We hope that this project will provide a blue-print for other creative institutions helping them to welcome back visitors by establishing their own essential shop come art installation".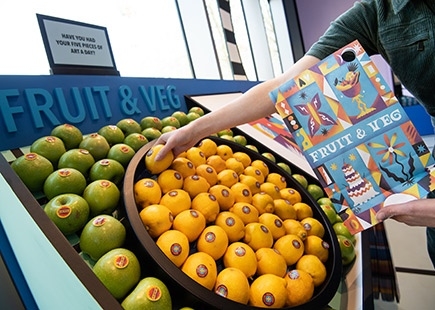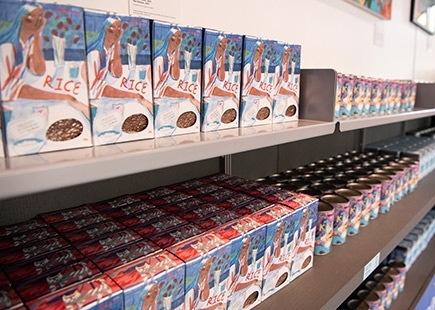 Alex Grieve, chief creative officer at AMV BBDO, says, "In the mind-numbing sameness of pandemic days we have never needed creativity more. But, with all public galleries closed, the chance to be inspired and stimulated by art has been denied us. We believe creativity is essential. As vital to the human condition as food and water. Which sparked a thought: galleries are shut but essential shops are open. Let's use creativity to find a way around the restrictions and turn a gallery into a supermarket so it can re-open and have the packaging of every product in our shop be a work of art from a different artist. Which just goes to prove creativity finds a way".
The essential items available to buy from the Supermarket include rice, tins of kidney beans, tea, coffee, loo roll, bread, pasta sauce, porridge oats, washing up liquid and rice, each one designed by a different artist. In addition, special limited-edition BOMBAY SAPPHIRE and tonic bottles have been created by artist and animation director Ruff Mercy.
The product packaging provided a blank canvas for each artist's work, allowing them to bring their own distinctive style to the project, with 'BOMBAY SAPPHIRE blue' providing the common thread. These mini design classics will be available to buy at regular supermarket prices meaning everyone can own their own work of art without breaking the bank, making creativity accessible to all. Shoppers are advised to be quick – these items have been produced in limited quantities and are predicted to sell out fast!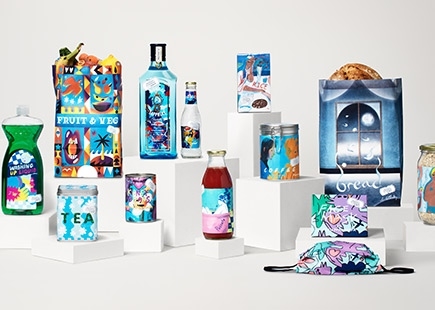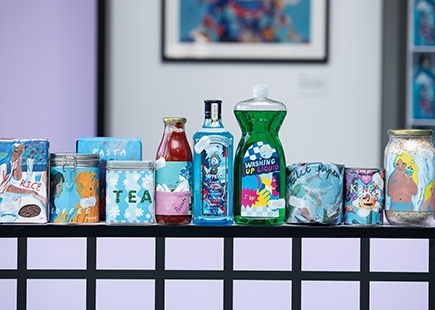 Credits
Client: Bacardi
Brand: Bombay Sapphire
Campaign Title: Creativity is Essential
Client Name: Natasha Curtin, Bombay Sapphire Global Vice President
Creative Agency: AMV BBDO
CCO: Alex Grieve
ECDs: Nadja Lossgott and Nicholas Hulley
Creative Directors: Matt Swinburne and Polina Zabrodskaya
Creative Team: Lauren Peters and Augustine Cerf
Account Team: Anna Covell, Alistair Nichols and Lily West
Strategy Team: Suzanne Barker and Marina Glavan
Project Manager: Katie Fewster
Executive Producer: Laura Graham
Producer: Samantha Roberts
Senior Art Producer: Rhiannon Nicol
Senior Digital Producer: Michelle Walton
PR Agency: Ogilvy Public Relations
PR Agency Team: Jenny McCoubrey (Client Partner), Rosey Stones (Business Director), Becky Bayles (Business Director), Eden Summers (Manager), Gary Grimes (Manager), Shirin Vahdat-Khah (Influence Manager), Emily Woodhams (Executive), Livvy Ripman (Executive)
The Design Museum PR Team: Rioco Green (Media and PR Manager), Joanna Cockerill (PR and Communications Officer)
Partnerships Consultancy: Boster Group, Susan Boster (Founder and CEO)
If you enjoyed this article, you can subscribe for free to our weekly email alert and receive a regular curation of the best creative campaigns by creatives themselves.