British watchmaker Vertex marks the 75th anniversary of the end of WWII with a re-issue of the top secret watch it made for the War Office

A campaign by Andy Lockley, Somewhere up north
In 1943 the Ministry of Supply sent out an urgent tender to any Swiss watch companies not already engaged with axis countries, for a waterproof wristwatch. The specifications were classified as it was to be issued to British forces.
One company to answer the call was based not in Switzerland, but a stone's throw from Whitehall in London's Hatton Garden. Vertex Watch Company still had capability, despite a 250kg bomb landing on its factory two years earlier. Its first obstacle to fulfilling the order was being able to obtain the necessary components from Switzerland which was surrounded on all sides by an axis blockade. But thanks to a clandestine operation as intricate as a watch movement, it managed to get the parts to London and assemble the watch which would become known as the 'Calibre 59 Waterproof Wristlet Watch'.

To honour the 75th anniversary of the official end of hostilities in Europe and Asia, and the soldiers, sailors and aircrew who wore its watches, Vertex has released a limited edition homage to the original in bronze.
Somewhere up north worked with Vertex to create a set launch materials befitting this beautifully crafted commemorative watch. Long copy print executions tell the story of the company's top secret work as a wartime watch suppler to British forces. A story that remained highly confidential for many years. Working with photographs from the 1940's and artefacts from the company's archives, which included spec drawings of the original watch, Somewhere up north created visual compositions inspired by the stories.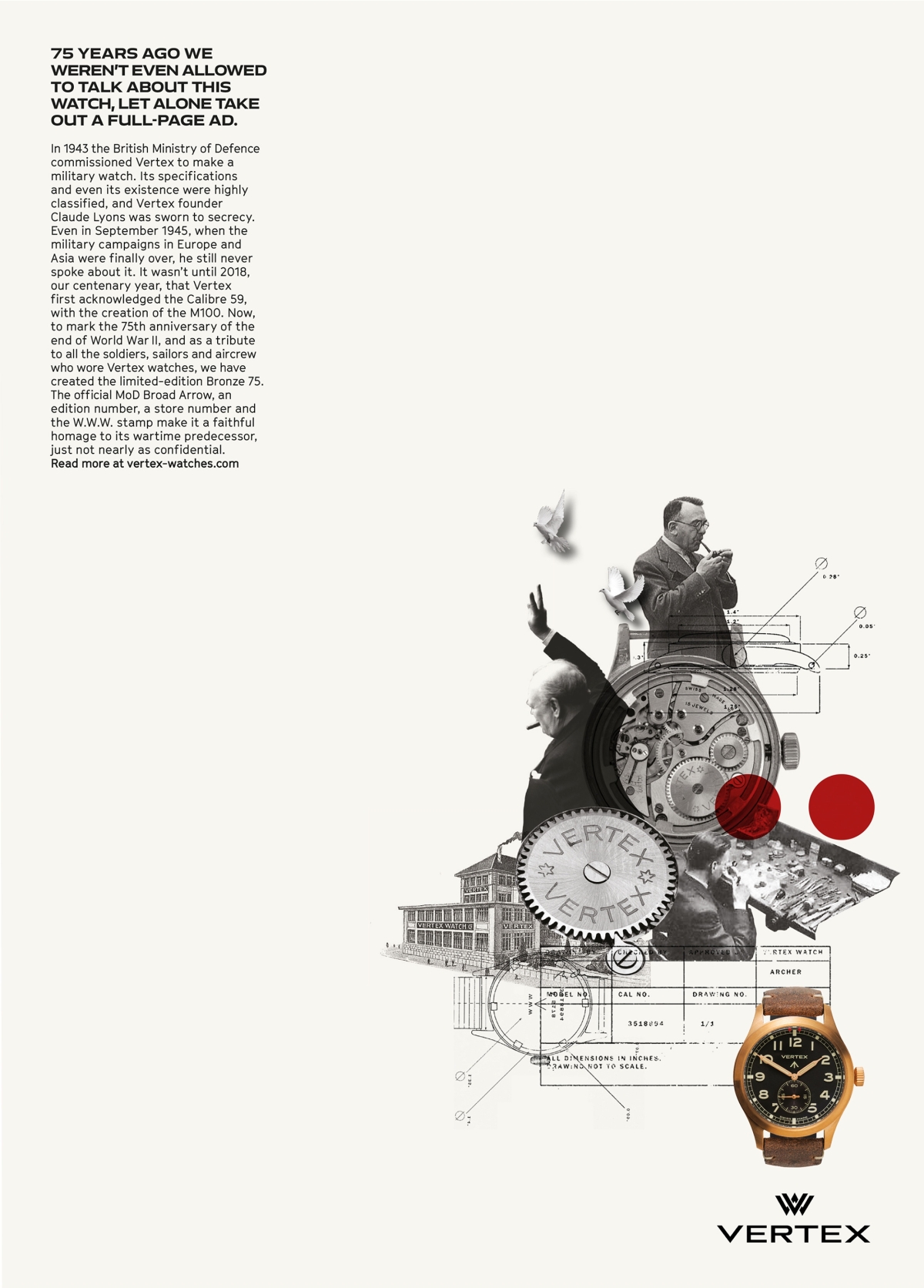 75 YEARS AGO WE WEREN'T EVEN ALLOWED TO TALK ABOUT THIS WATCH, LET ALONE TAKE OUT A FULL-PAGE AD.
In 1943 the British Ministry of Defence commissioned Vertex to make a military watch. Its specifications and even its existence were highly classified, and Vertex founder Claude Lyons was sworn to secrecy. Even in September 1945, when the military campaigns in Europe and Asia were finally over, he still never spoke about it. It wasn't until 2018, our centenary year, that Vertex first acknowledged the Calibre 59, with the creation of the M100. Now, to mark the 75th anniversary of the end of World War II, and as a tribute to all the soldiers, sailors and aircrew who wore Vertex watches, we have created a limited-edition Bronze 75. The official MoD Broad Arrow, an edition number, a store number and the W.W.W. stamp make it a faithful homage to its wartime predecessor, just not nearly as confidential.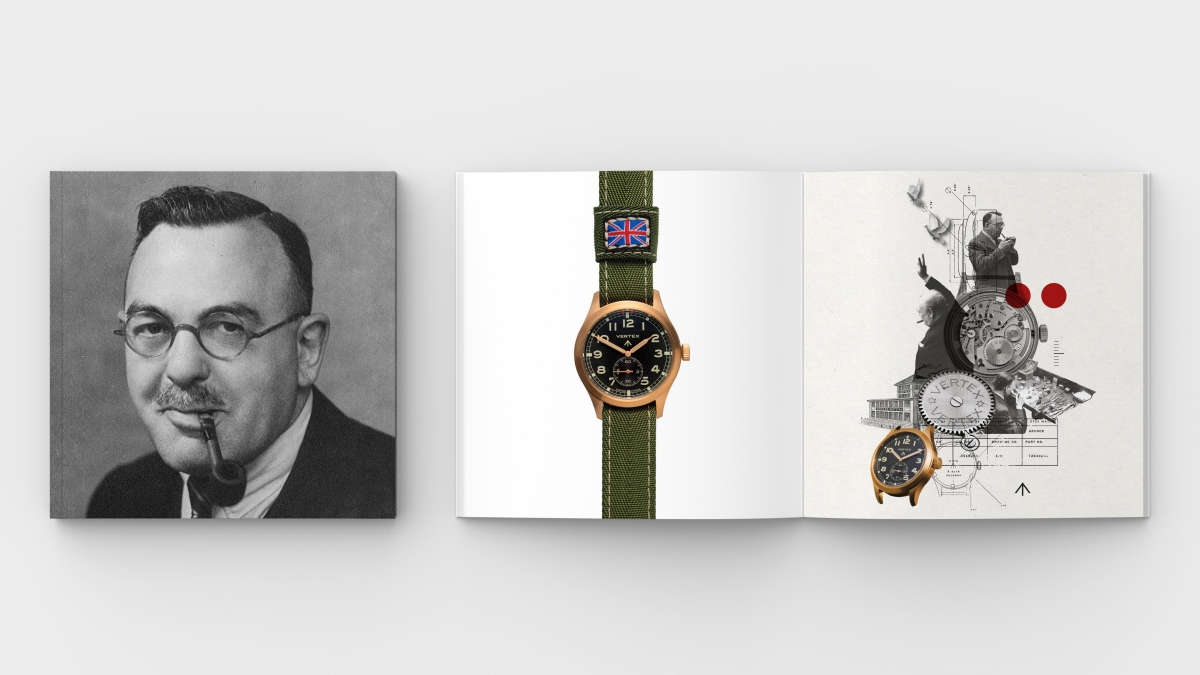 TO BE A SKILFUL WATCHMAKER IN BRITAIN DURING WWII, YOU ALSO HAD TO BE A SKILFUL SMUGGLER.
When the British Ministry of Defence commissioned Vertex Watch Co. to make 15,000 field watches in 1943, our biggest challenge was how to obtain enough watch parts and movements. Even though Vertex had factories in both London and La Chaux de Fonds, the axis blockade of Switzerland made commerce between the two countries extremely challenging. Whilst Switzerland was officially neutral during WWII, she wasn't too neutral, and Vertex founder Claude Lyons knew ways to avoid unmarked boxes being inspected and dockets scrutinised too closely. The British government would have preferred the term 'unofficial trade route' rather than 'smuggling', but either way, the watch parts safely reached the Vertex workshop in Hatton Garden, albeit indirectly.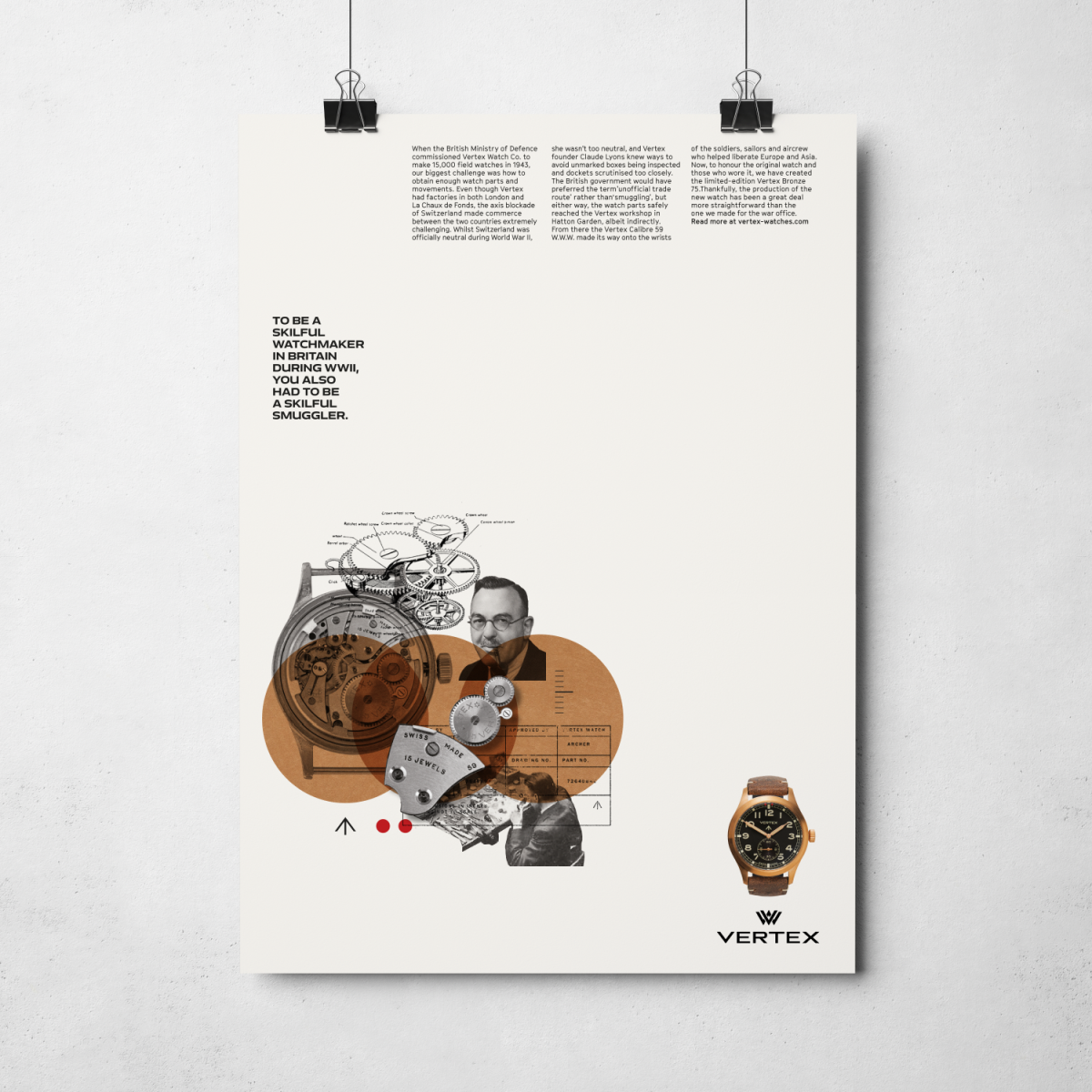 Shaping history
Once Britain's most prestigious watchmaker and a competitor to Rolex, the name Vertex had been forgotten by all but vintage watch collectors. Like many mechanical watchmakers, Vertex fell victim to the quartz revolution and was forced to pull down its shutters for good in 1972. However, in 2017, the brand that made one of the most important military wristwatches of the last century was re-incorporated by Don Cochran, the great grandson of its 1916 founder, Claude Lyons.
"Owning a Vertex Watch is as much about being part of something as possessing something. You not only appreciate the form and precision design of your timepiece, but you are joining the long line of distinguished British men and women who have relied upon its precision in the service of the British army, navy and air force in two world wars."
Don Cochran — Chairman, Vertex Watch Co.
"Vertex is one of those rare brands that has a genuine place in history, indeed its watches helped shape history. It's one of the only remaining companies of Britain's once thriving watch industry. Helping to tell the extraordinary story of its wartime exploits after all this time, is a real privilege and in doing so, we are helping to preserve precious history."
Andy Lockley — Creative Director, Somewhere up north.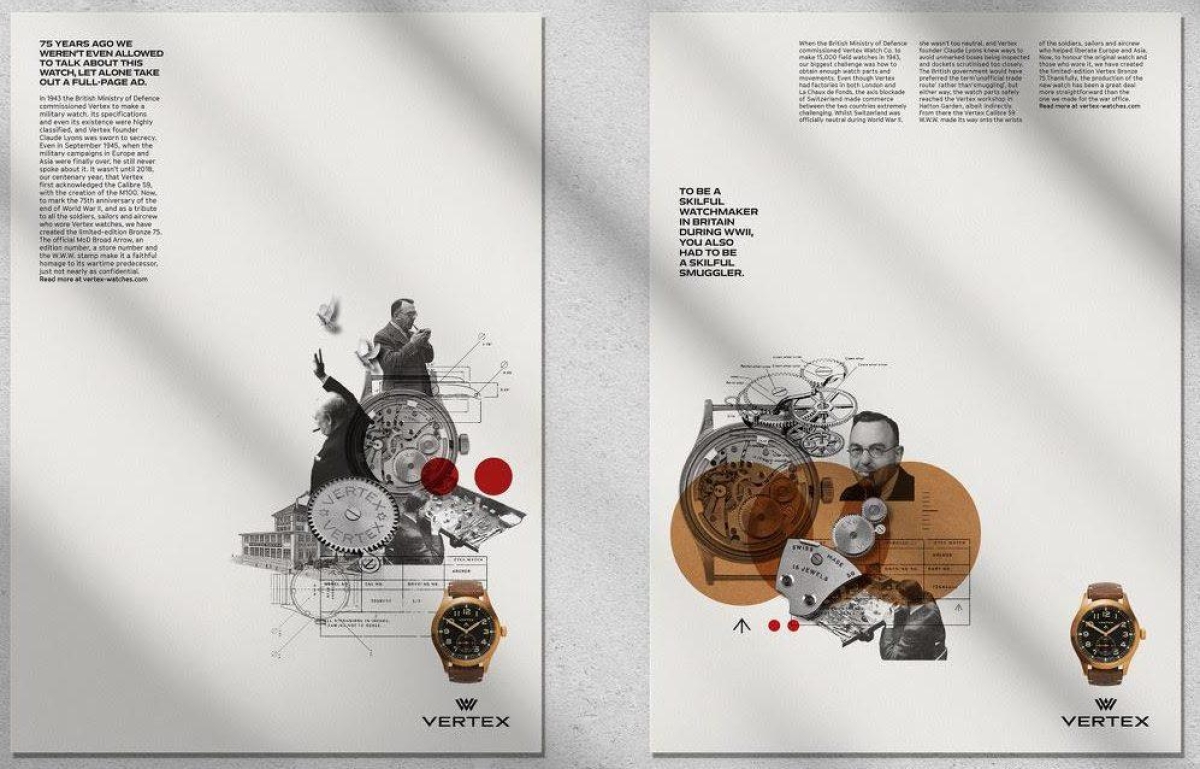 Credits
Creative Agency: Somewhere up north
Creative Director: Andy Lockley
Copywriter: Andy Lockley
Art Director / Designer: Hugh Tarpey
Illustrator: Hugh Tarpey
Client: Don Cochrane, Chairman, Vertex Watch Company
If you enjoyed this article, you can subscribe for free to our weekly email alert and receive a regular curation of the best creative campaigns by creatives themselves.