Brothers and Sisters' first campaign for Champion is about the resilience of the sports brand and its customers

BOAST is a place where you can find out about recent creative campaigns.
It is a space where agencies and creatives can tell us about the new work they are proud of; blowing their own trumpet, so to speak.
Here's the latest from the creative world as we know it.
A campaign by Brothers and Sisters
Champion is celebrating the re-opening of its flagship London store with a powerful out of home campaign by Brothers and Sisters dramatising the resilience of the sportswear brand and its customers.
The line, 'Everyone falls. Champions get back up,' acknowledges the challenges presented by Covid -19 and the lockdown, as well as the spirit of optimism that prevails. The campaign features 3 stories, each one with a picture of a skateboarding fall and then a picture of that skateboarder's subsequent bruise or scrape, representing the audience's ability to fall, take the knocks and still get back up again.
Andy Fowler, Founder & ECD at Brothers and Sisters said, "It is not just announcing a store re-opening, it is announcing all of us beginning to re-open and put our fresh bruises behind us. We tried to capture that deeper inspiration beneath Champion's store reopening post-COVID, all about the mentality of a champion never to give up and always to bounce back from adversity. We hope the campaign inspires us all to bounce back from our metaphorical fall."
The campaign, targeting Champion's 16 to 20-year-old audience, will be fly posted all over London to coincide with the re-opening of the brand's iconic store in Brewer Street, Soho in June.
Brothers and Sisters' images will also appear on social to promote the opening of other shops across Europe, targeting the US sportswear brand's audience in Italy and Amsterdam in particular.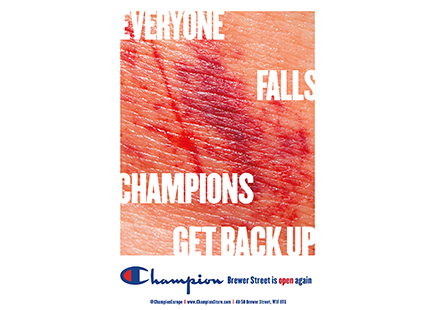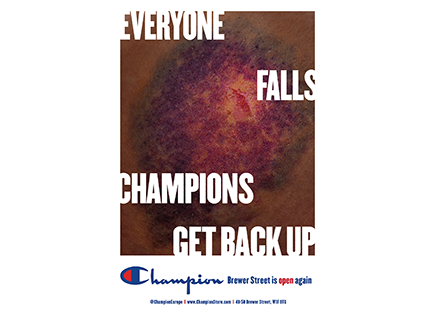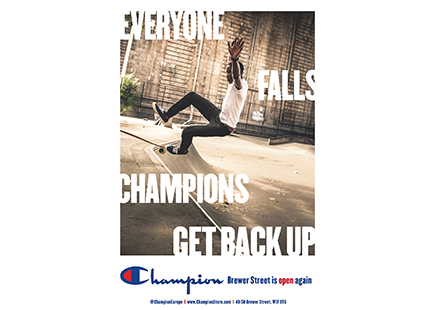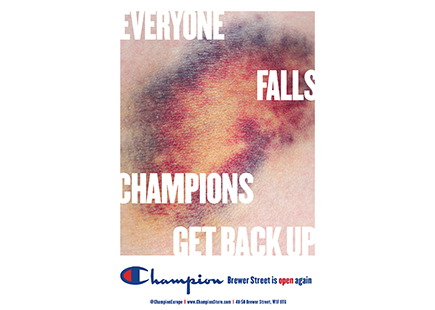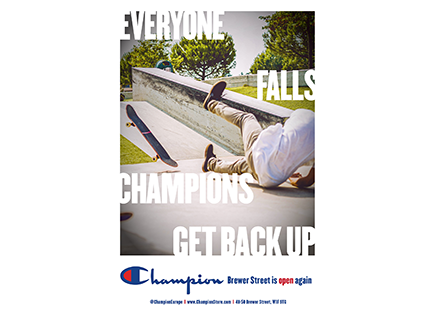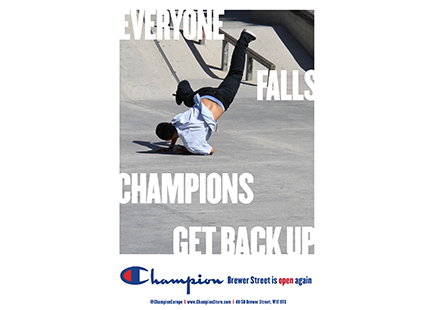 Credits
Creative agency: Brothers and Sisters

Client: Terry Donovan, Creative Marketing Manager Champion Europe
If you enjoyed this article, you can subscribe for free to our weekly email alert and receive a regular curation of the best creative campaigns by creatives themselves.