Waiting for a reply from McDonalds? Burger King has the answer.

A campaign by Uncle Grey Denmark
After a review of their own Facebook pages, Burger King learned that people don't always get an answer to the comments they make online. That's why Burger King decided to reply to all the burger fans they could.
People who have spent time writing a comment online deserve an answer so on Thursday 24th September, the majority of the McDonalds burger fans in Denmark who have been left hanging for days, months or even years, woke up to a reply from Burger King in the form of a helpful, yet funny answer and a free flame-grilled Whopper to try and make up for the lack of attention.
Just helping out.
While working with their own online customer service, Burger King became aware that their closest competitor was not quite on point when it came to online customer service.
As Burger King believes that all burger fans should get the replies they deserve - whether they like flame-grilled Whoppers or Big Macs - they decided to lend a helping hand to their colleagues at McDonalds.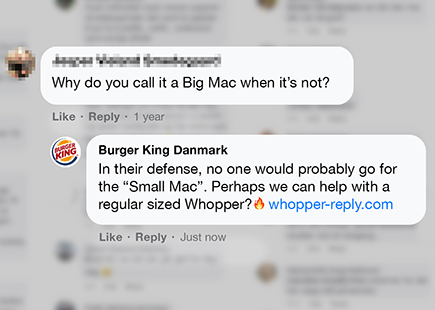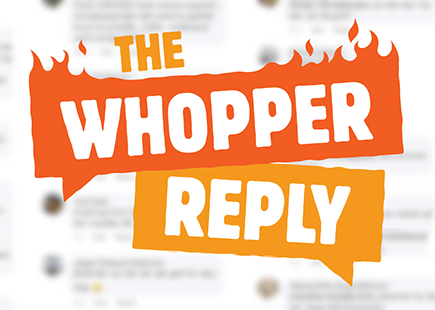 "Customer service is a big part of the entire guest experience and we haven't been doing a good enough job in taking care of our guests online. When addressing this we realised there were even more burger fans out there that deserved a reply. We did what we could to help out, hoping some flame-grilled Whopper love will help make things better again." says Daniel Schröder, marketing director, Burger King Sweden and Denmark.
The campaign "The Whopper Reply" marks Burger King Denmark's promise that everyone gets an answer within 48 hours on their Facebook pages. Burger King has therefore also made sure to answer everyone as far back in time as Facebook allows.
"We have amazing guests that take the time to talk to us. If we write a post people reply to it, sharing their thoughts and helping us get better. We are really lucky to have guests engaging with us like this and in the future, everyone will have an answer within 48 hours", Daniel Schröder continues.
The Burger King team commented on over a thousand replies during the night and for each of them, they gave away a voucher for a flame-grilled Whooper.

If you enjoyed this article, you can subscribe for free to our weekly email alert and receive a regular curation of the best creative campaigns by creatives themselves.