Engine Creative and Rankin raise awareness of lung cancer in never-smokers motivated by their personal stories

ENGINE Creative has come together with photographer Rankin, production house TAG and media agency Wavemaker to create the 'See through the symptoms' campaign to raise awareness of the signs of lung cancer that are often missed. The goal is to improve the outlook for patients by promoting earlier diagnosis of the disease.
Aimed at medical professionals, the dramatic pictures tell the stories of nine lung cancer patients, all of whom were diagnosed too late to be cured. Holding their own x-rays in front of their chests, each person's name, age, symptoms and diagnosis are listed.
The campaign aims to save lives by raising awareness of lung cancer symptoms and addressing the stigma surrounding the disease by highlighting that anyone, young or old, can get lung cancer regardless of smoking history.
The campaign features nine patients – four men and five women, eight never-smokers and an occasional smoker, who were all diagnosed with stage III or IV lung cancer. They range in age from 28 to 65 and each has a powerful story to tell. For all of them, diagnosis took many months and repeated visits to their doctor.
Julian Hough, Chairman of Engine Creative, was inspired to lead the campaign after Jenny Abbott, who has been his best friend since age 13, was diagnosed with the disease aged 54. Jenny has been featured on Woman's Hour (from 32.49) and inspired an article in The Guardian.
Hough said: "My best friend has Stage IV cancer. Terminal. If it was diagnosed earlier, then things may be different. This work will hopefully make a difference. I wish we never had to make it, never had to run it. I cannot thank the team that made it happen enough."
Developed with patient-led lung cancer charities EGFR+UK, ALK+ and the Ruth Strauss Foundation the campaign has been crowdfunded with generous support from friends and relatives and the advertising community.
A further push aimed at a broader audience is planned for November, Lung Cancer awareness month. The campaign is initially targeted directly at GPs in order to avoid creating too great a response, while Covid-19 is still such a pervasive healthcare concern.

The pictures for the campaign were taken at Rankin's studios in North London, with a one-hour time slot set aside for each subject. The shoot was completed at the height of lockdown, with Rankin's team all dressed in full hazmat suits.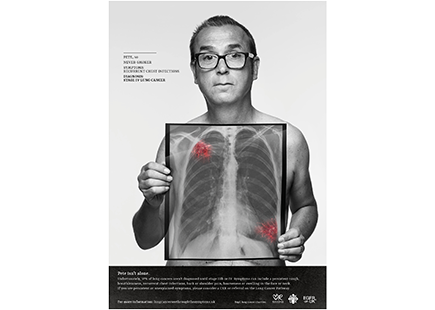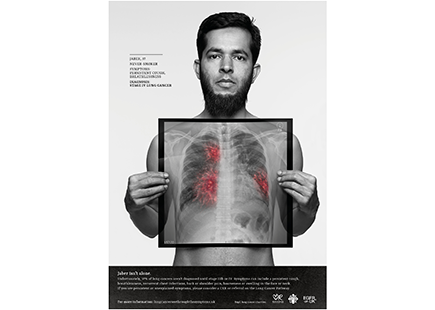 Rankin said: "This has been a passion project for me. Raising awareness that anyone with lungs can get lung cancer is hugely important and a cause that is close to my heart as my mother Anne died of lung cancer in 2005. Meeting and photographing the patients featured in the campaign was a reminder that we need to do more to improve outcomes for all lung cancer patients across the UK. I am delighted to have made a contribution to this goal."
The campaign will run initially in May and June across multi-media platforms targeting GPs and other primary healthcare professionals, including the British Journal of GPs, GP Online and Practice Nurse, with media planning and buying by Wavemaker.

Lung cancer in never-smokers is now the eighth most common cause of cancer-related death in the UK and the seventh most prevalent cancer in the world.
More never-smokers die of lung cancer each year in the UK than die of ovarian cancer, leukaemia, and cervical cancer.

More than 57% of lung cancer patients in the UK are diagnosed at stage 3 or 4, too late for curative treatment, and data from patient organisations suggests that this rises to nearly 90% in the never-smoking population. Women make up 80% of all non-smokers who get a lung cancer diagnosis.
With declining rates of smoking, the relative proportion of lung cancer in never-smokers are increasing. However, most people who never smoke do not think they are at risk of the disease as lung cancer has been traditionally thought of as a 'smoker's disease' by both the public and healthcare professionals.
Credits
Agency: Engine Creative
Chairman: Julian Hough
Creative: Bilel Labjaoui & Charlie Hallam
Agency Producer: Debbie Impett
Assistant Producer: Olive Andrews
Digital Designer: Nick Dinnen
Integrated Project Director: Liz Boothby
Experience Design Director: Chao Gao
Photographers Agency: Rankin
Photographer: Rankin
Executive Producer: Chelsea Stemple
Producer: Grace Finger
Photography Team: Manny Owusu-Afram, Tatjana Galic, Doma Dovgialo and Chloe Burgess
Photography Retouching: True Black Studio
Production Studio: TAG
Creative Producer: Donna Head & Nick Toumazi
Design and Motion Design: Daniel Todd
Creative Retoucher: Adam Howes
Sound Design: Scott Little
Designer: Steven Qua

If you enjoyed this article, you can subscribe for free to our weekly email alert and receive a regular curation of the best creative campaigns by creatives themselves.