Canada Goose turns a regular shopping trip into an immersive experience

The Background
Established in the 1950s, luxury outdoor clothing brand Canada Goose makes jackets for the coldest locations around the world - a proposition that proves difficult to bring to life in the perfectly climate-controlled surroundings of traditional retail stores.
The challenge was to bring the product to life in retail locations so that shoppers had the ability to test out the premium jackets and push them to their limits - whether in the heat of California or rainy winter days in London.
Canada Goose's brand heritage revolves around great adventure and epic feats in the freezing cold outdoors.
The challenge was to create a space that brought these brand values to life and allowed customers to form an emotional connection with the sensation of owning a Canada Goose jacket.

The Big Idea
Despite being a traditional company, Canada Goose has always embraced innovation, so for its new store in Toronto it decided to approach retail from a new perspective and turn the shopping experience into an epic journey of its own.
The solution was a new experimental and multi-sensory retail experience which takes small groups of customers (6 at a time) on an immersive trip inside the elements through interactive installations, large-scale video, and 4D cold environments.
Essentially, a sensory brand experience that you could actually feel.
What They Did
Working with IDEO, Gensler and Digital Kitchen, Canada Goose created a four-part journey where guests could walk across cracking ice, travel to places untouched, and witness unique stories inside a -12°C cold room.
The entrance is an enormous exterior screen that encourages curiosity by showcasing inspiring photography - bringing the outdoors, indoors.
Upon entering, visitors step into a narrow mountain pass. An interactive floor reacts to their footsteps, creating the sensation of cracking ice with every step.
From the crevasse, guests pass into a room surrounded by projections putting them at the centre of original footage shot in British Columbia.
At the centerpiece of the experience, guests have the opportunity to test out Canada Goose's most popular parka in thermal -12°C temperatures. Projections inside this room craft a poetic narrative around key brand ambassadors known as 'Goose People'.
With no clothes racks on display the focus is on the experience.
Once you have chosen your ideal coat it can be delivered to you the same day by courier. Meaning you can purchase a winter jacket at any time of the year and not have to worry about carrying it home.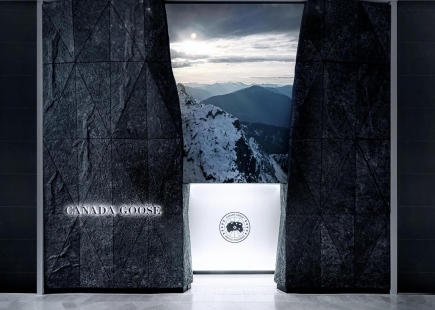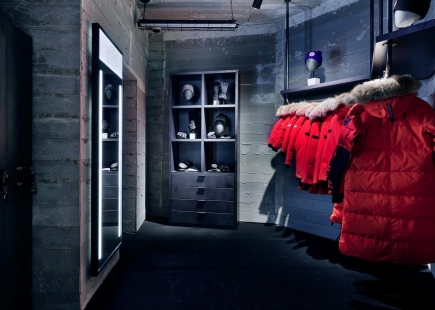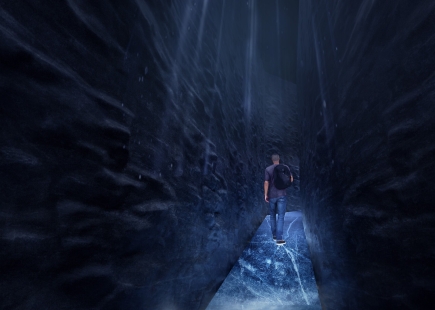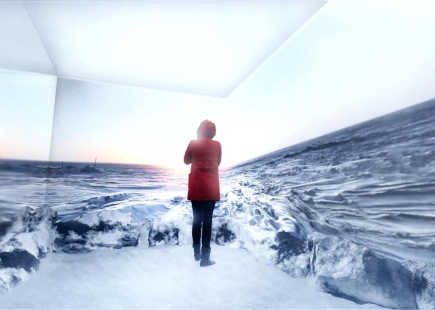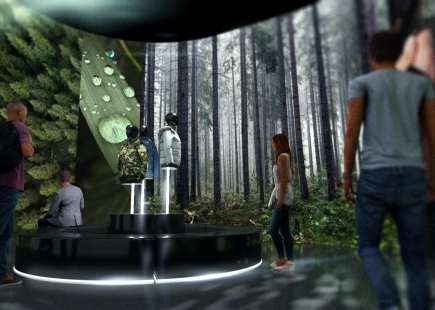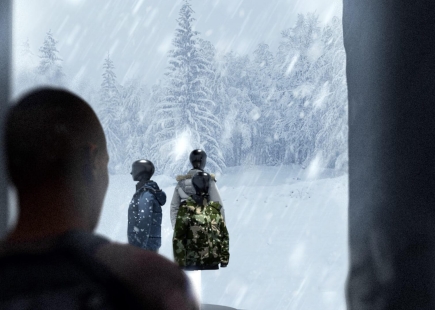 The Review
When we discuss experiential retail many people struggle to understand what that really means.
Is it a nail bar in the corner of a department store or a series of evening talks with designers?
With this new store, Canada Goose has pushed the boundaries of immersive experiences in a retail environment.
They understand that people need to experience how they feel in their products, and justify a higher price tag.
The functional nature of the garments can be demonstrated through a sensory experience that creates attachment; their customers have a story to tell about their shopping experience.
It also cleverly connects the retail experience to the brand narrative in a visceral way. You can feel yourself crossing the Arctic tundra, even in June.
I'd love to learn more about the indigenous communities they support - perhaps weaving that into the narrative of the experience in a further interactive element. This would bring their values to life, as well as highlight the social enterprise programmes they champion.
It's genius and hopefully a sign of things to come, where shops become more than just racks of clothes and turn into destinations.
This is a five-star experience for those that can travel to see it, and I have to visit it in person before I can give it a full 5 stars. And that's what makes a great experience, you'll travel across the tundra to get to it.
Now, let me book a ticket and climb that icy mountain!
If you enjoyed this article, you can subscribe for free to our weekly email alert and receive a regular curation of the best creative campaigns by creatives themselves.