Carlsberg anticipates the nation's thirst for its first pint with friends with 'Welcome Back Pubs' campaign

A campaign by Fold7 and Initiative
Brewer Carlsberg UK has launched a 'Welcome Back Pubs' campaign that captures the nation's appreciation of their cherished local pub and the anticipation of a long-awaited draught pint of Carlsberg Danish Pilsner with friends.

With lockdown restrictions easing and news that pubs in England can safely reopen from 4 July, the brewer moved quickly to finalise and film an integrated campaign within 10 days, ready to mark the cultural moment when pubs can safely reopen their doors having been closed for three months.
Developed by Fold7 and Initiative, the integrated campaign launched on Friday 3 July and includes a two-day roadblock of TV spots – in the style of an escape movie spoof – targeting every slot at 9.30pm; social video reaching every drinking-age Twitter user in the country; an ITV Hub, large format and statement roadside DOOH; and national press takeover with front and full-page ads carrying the message: "Tastes even better when we're together? Probably."

The highlight of the campaign is a new ad that cleverly captures the more mundane moments of life during lockdown that many people have experienced before the action picks up pace, all leading to the much-missed and familiar local pub. The ad climaxes with a perfect pour of a Danish Pilsner in a beer garden enjoyed safely with friends.
Social teasers have already started a daily countdown, with cheeky posts mocking lockdown haircuts and capturing anticipation of the first sip of a draught pint in months, alongside social distancing messages.
The campaign follows the launch of Carlsberg UK's Love My Local digital platform, which encourages pub-goers to support their local pub in a safe and responsible way. Launched initially to help pubs, bars, and restaurants keep trading during lockdown through take-away and donations, this has been enhanced to digitally enable pubs to offer online food and drinks menus, take online payments, and table bookings, capture booking names and become a valuable tool to help publicans reopen safely.
Carlsberg Danish Pilsner has also launched a media partnership with LADbible to celebrate local pubs and to promote the Love My Local platform to pub-goers and publicans.
The past 12 months have seen a period of transformative performance for Carlsberg Danish Pilsner in the UK on-trade, following the beer being rebrewed from head to hop and new chalice glassware being launched into pubs. On-trade performance has seen +6% value growth driven by an increased rate of sale reversing a severe on-trade sales decline with a +£108m swing back to growth, and increased brand perception.
Emma Sherwood-Smith, Director of Marketing at Carlsberg UK said: "During lockdown we've kept momentum behind the brand and supported the industry with Love My Local. In return, we're enjoying our highest levels of brand awareness in over two years. We're incredibly pleased to now be celebrating this shared cultural moment and championing local pubs with a feel-good advertising takeover – turned around in record time with a unique set of challenges.
"Enjoying a draught pint of beer with friends in a pub is part of British culture for many people. Sensing the mood of the nation we wanted to capture the growing anticipation, put Carlsberg Danish Pilsner at the heart of the moment, and most importantly, champion the safe reopening of local pubs."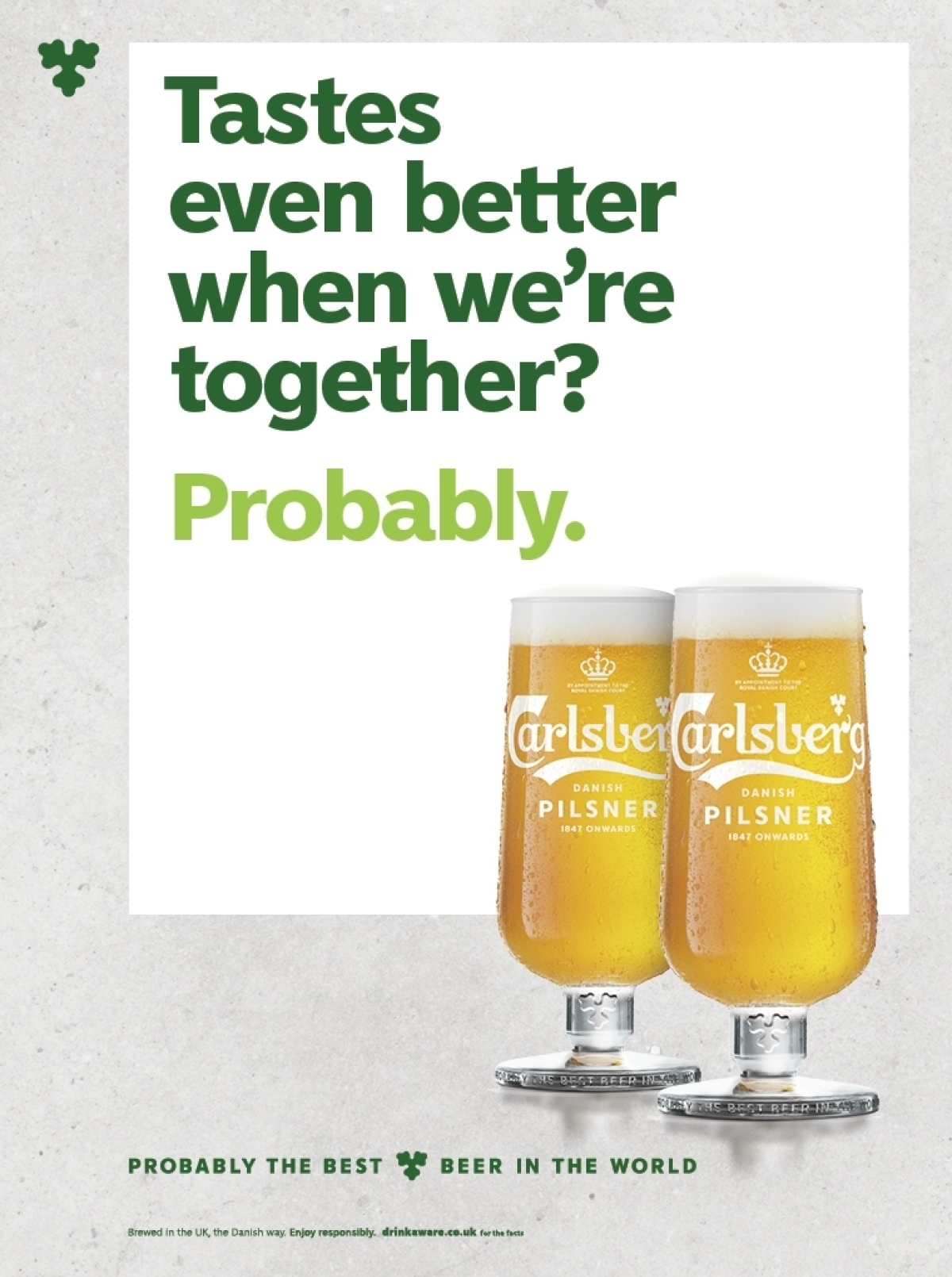 Credits
Project name: Welcome Back Pubs
Agency: Fold7
Client: Emma Sherwood-Smith, Carlsberg UK
Chief Creative Officer: Ryan Newey
Creative: Verity Fine Hosken
Business Director: Sarah Kay
Agency Producer: Lisa Nicholls
Chief Strategy Officer: Yelena Gaufman
Media agency: Initiative
Media planner: Verity Rapacci
Production company: 76 Ltd
Director: Andy Lambert
Editor: Dan Sherwen @ Final Cut
Co-Producers: Mark Murrell and Phil Barnes
DOP: Oliver Curtis
Post-production: Absolute Post
Soundtrack composer: Elmer Bernstein
Sound Designer: Alex Bingham @ Machine
Casting Directors: Kate Evans And Rowena Pointer
Production Designer: Ged Clarke
Offline Producer: Michelle Corney
Colourist: Matt Turner @ Absolute Post
Post Producers: Belinda Grew and Kirsty Murray
Exposure: social, TV, print, online, DOOH
If you enjoyed this article, you can subscribe for free to our weekly email alert and receive a regular curation of the best creative campaigns by creatives themselves.