Dastardly broccoli and menacing peas star in latest vegetable campaign work by adam&eveDDB

BOAST is a place where you can find out about recent creative campaigns.
It is a space where agencies can tell us about the new work they are proud of; blowing their own trumpet, so to speak.
Here's the latest from the creative world as we know it.
A campaign by adam&eveDDB
A malevolent carrot, an aggressive stalk of broccoli and a menacing bowl of peas are all shown who's boss in the return of the 'Eat Them To Defeat Them' campaign, created by adam&eveDDB in partnership with Veg Power and ITV, and supported with a £10 million media alliance between ITV, Channel 4 and Sky.

The new series of six 10-second ads will see different vegetables defeated each week as a fearless child faces down their enemy, in a bid to get the nation upping its vegetable intake.

First to meet its match is carrots, followed by peas, a grouchy ear of sweetcorn, broccoli, a particularly dastardly tomato and a red pepper which is ordered, in no uncertain terms, by its conqueror to 'get stuffed'.
The award-winning campaign talks directly to children and acknowledges that often it takes some willpower to eat all the vegetables we need.
The latest wave of work will also involve more than 1,500 schools with vegetable-related canteen recipes, posters and 450,000 reward charts and sticker packs for kids to take home.

The new TV spots are running on ITV, Channel 4 and Sky, with a combined donated spend of £3 million in broadcast airtime.
This will enable a reach of 80% of households with children – the biggest ever single campaign to promote vegetables in the UK.

The first tranche of work developed for ITV and Veg Power, which appeared in 2019, proved hugely successful, with over 650,000 children eating more vegetables and 18 million more units of vegetables sold – enough for an extra portion of vegetables on every family dinner table in the UK for each week of the campaign.

Mat Goff, Joint Chief Executive Officer at adam&eveDDB, said: "Eat Them To Defeat them is back and its bigger than ever. Impact on this sort of scale requires genuine creativity and genuine partnership and it's great to see an ever-growing coalition of partners putting their money where their veg-filled mouths are."

Clare Phillips, Director of Social Purpose at ITV, said: "The 2019 campaign results really blew us away, showing 'Eat them to defeat them' is a powerful behaviour change tool to get kids eating healthily. So ITV are delighted to be leading it again, mobilising an even bigger alliance of partners, and we hope to get hundreds of thousands of children eating more vegetables as a result."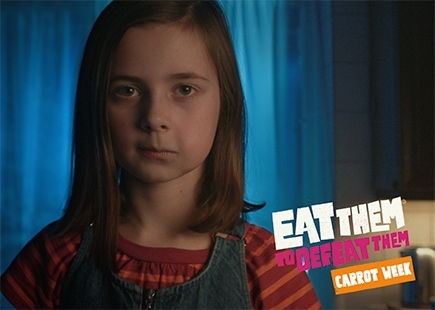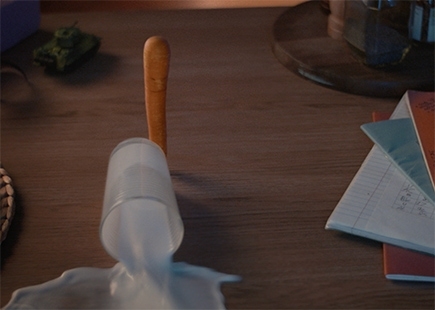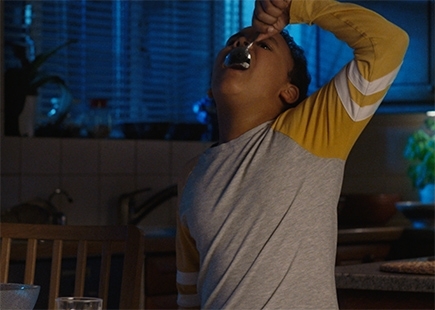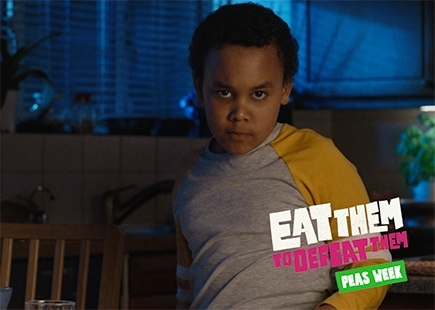 Dame Rosie Boycott, chair of Veg Power, said: "The Eat Them To defeat Them campaign has driven real behaviour change, and is loved by children and adults alike. We've proven that the power of creative advertising can inspire children to eat more veg and reduce their chances of developing diet-related illness, so it's crucial that we build on this success: industry, business and government must forge ahead and promote veg in more dynamic and creative ways."

Matt Salmon, Interim Sales Director at Channel 4, said: "Channel 4 has a proud history of programming that enables viewers to make informed choices around food, health and wellbeing and we believe TV advertising has just as important a role to play in supporting children's health issues.
The fantastic results of 'Eat them to defeat them' 2019 proves the power that TV advertising has to positively inspire and educate people and demonstrates the real social impact broadcaster collaboration is delivering - changing the eating habits of hundreds of thousands of children for the better."

John Litster, Managing Director, at Sky Media, said: "Sky has a rich and extensive history of encouraging young people to take part in healthy and active lives through sport and we are excited to build on this in 2020 by partnering with ITV and Channel 4 in this campaign. The strong results of 'Eat them to defeat them' 2019 is clear evidence that TV advertising has a fundamental role to play in inspiring future generations in a fun and engaging way."

Veg Power is funded by Aldi, Asda, Birds Eye, Co-op, Lidl, Marks and Spencer, Morrisons, Ocado, Sainsbury's and Tesco, with pro-bono contributions from advertising and media partners.
Credits
Client: Veg Power x ITV
Brand: Veg Power
Project/Campaign name: Eat Them to Defeat Them
Client: Clare Phillips (Director of Social Purpose, ITV), Susie Braun (Head of Strategy and Communications, Social Purpose, ITV), Anna Flashman (Social Purpose Manager, ITV), Jo Ralling (Campaign Director, Veg Power), Dan Parker (CMO, Veg Power)
Joint CEO: Mat Goff
Chief Creative Officer: Richard Brim
Creative Director/s: Matt Fitch, Mark Lewis
Copywriter: Lily Hurst
Art director: Will Blackburn
Agency producer/s: Petrina Kilby
Planner/s: Hugh De Winton, Sara Keegan
Account Director/s: Mitch Lovich
Account Manager/s: Clive Olamiju
Business Affairs: Lois Edwards
Designer/Typographer: Mitch Gibbons
Media agency: Goodstuff
Media planner/s: Beth Thomson, Patrick O'Reilly
Production company: Biscuit Filmworks
Producer: Camilla Cullen
Director: Big Red Button
D.O.P: Alex Melman
Editing Company: The Assembly Rooms
Editor: Nick Allix, Katie Truelove
Post Production: Nineteen Twenty
Post Producer: David Keegan/Polly Roberts
VFX Supervisor: Ryan Hadfield
Colourist: Kai Van Beers
Music Supervisor: Charlie Howard, Adam Smyth
Audio Post Production: String & Tins

If you enjoyed this article, you can subscribe for free to our weekly email alert and receive a regular curation of the best creative campaigns by creatives themselves.