Deutsche Telekom and Billie Eilish celebrate the digital optimism of Gen Z in new campaign by Saatchi & Saatchi

A campaign by Saatchi & Saatchi
Saatchi & Saatchi London is behind a new creative campaign for Deutsche Telekom starring five-time GRAMMY award-winner Billie Eilish.
#WHATWEDONEXT shines a light on Gen Z tech positivity with a universal message of digital optimism.
The campaign breaks internationally on 12 August 2020 in line with UN International Youth Day, demonstrating the power and potential of youth in creating a better future.
At its heart is a two-minute film building into a wide-reaching digital and social campaign, featuring Billie Eilish and a host of inspirational Gen Z contributors with real stories to tell.
Created by Saatchi & Saatchi London and directed by Vincent Haycock, it celebrates the incredible things young people are doing today with a powerful message delivered by the voice of the generatio.
An optimistic generation
In the film (footage shot pre COVID-19), Gen Z turn the negative perception of their tech usage on its head, showing how connected technology is actually a powerful tool to affect the things they really care about, from campaigning for the climate and human rights, to creativity and even cyber security.
This sentiment has grown in importance during the unprecedented events of 2020. Research released by Deutsche Telekom reveals that Gen Z shows a high level of optimism for the potential that technology can offer, with 83% saying that connected technology is key to building a better future.
Following the disruptions caused by COVID-19, 93% of European Gen Z think that connected technology can be a useful tool for learning and education. 86% feel that it enables them to connect with online communities through shared passions. 90% say that the engagement of young people is key to building a better future, with 75% saying that social media supports them in standing up for what they believe in.
After kick starting Deutsche Telekom's mission to support this generation as they find their way in a new world, the brand will continue to explore #WhatWeDoNext on their music marketing channel, Telekom Electronic Beats, providing a platform for Gen Z to take an active role in the conversation.
"We all have the potential to make a positive impact on our planet, and I'm hopeful our generation will use their platforms to collaborate and communicate, and make a difference." commented Billie Eilish.
Wolfgang Kampbartold, VP International Market Communications at Deutsche Telekom, said:"The seismic events of 2020 will impact the younger generation for years to come; culturally, socially, economically. We want to provide Gen Z with a voice and a platform from which to demonstrate how they are harnessing the power of connected technology to make a real difference. In collaborating with Billie and our team of young people, we are shining a light on the incredible potential of this generation, as they navigate a new future. The campaign that Saatchi & Saatchi have developed for us has perfectly captured that positive potential of this first generation of true digital natives."
Kate Stanners, chairwoman and global chief creative officer, at Saatchi & Saatchi, said: "There is a misconception about Gen Z that they stare at their screens and do nothing. Deutsche Telekom believes in harnessing the power of technology to improve their lives and the lives of others. They want to enable this generation to fully participate in the opportunities that connected technology can give them, be that social, cultural or economic."
Franki Goodwin, Creative Director, Saatchi & Saatchi added:"When we first met Billie she was 17 and about to play Glastonbury. She blew us away with her authenticity and her understanding of her fans and their relationships with their phones. As I talked to more and more young people I realised that they didn't need our ideas, they needed us to listen to theirs. That's why, for Deutsche Telekom, we created a platform to stand up for Billie's generation and their use of technology for good. Enabling and amplifying young people's ideas feels like a great thing a brand can do right now".
The film is running online and on social media during August and September. Saatchi & Saatchi is also creating Instagram Stories content to feature exclusive BTS interview content with Billie Eilish.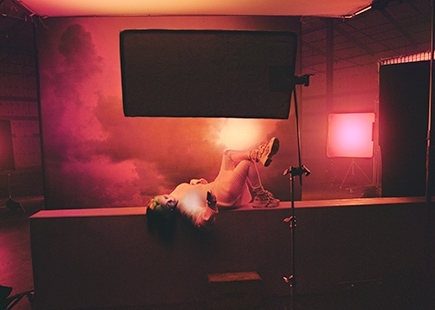 If you enjoyed this article, you can subscribe for free to our weekly email alert and receive a regular curation of the best creative campaigns by creatives themselves.