Direct Line 'out-heroes' beloved icons in new brand campaign from Saatchi & Saatchi

BOAST is a place where you can find out about recent creative campaigns.
It is a space where agencies can tell us about the new work they are proud of; blowing their own trumpet, so to speak.
Here's the latest from the creative world as we know it.
A campaign by Saatchi & Saatchi
Direct Line and Saatchi & Saatchi London have launched a major new campaign starring some of the world's most iconic heroes including RoboCop, Donatello the Teenage Mutant Ninja Turtle and Bumblebee the Transformer.
The new campaign, called "We're On it", is a move on from brand's hugely successful "Fixer" campaign, also by Saatchi & Saatchi, featuring Harvey Keitel as Winston Wolfe, which, since 2014, has driven spectacular commercial returns for Direct Line.
In "We're on it", we see the iconic heroes spring into action to help people in need only to find they've already been #outheroed by Direct Line - because no one solves problems like Direct Line, not even these famous heroes.
Bumblebee, Donatello and RoboCop are the first characters to feature in Direct Line's new brand campaign, with each of them beaten by Direct Line in an emergency situation, including an office break-in and a car accident.
The TV ads were directed by two-time Oscar nominee Bryan Buckley.
The work marks the first time ever Direct Line has brought all its product lines, from personal to business consumers, into a single campaign.
The new campaign launched in March with MediaCom negotiating world-first ad break takeover across both TV and VOD simultaneously on ITV, Channel 4 and Sky. Starting with a bespoke intro per channel, followed by one 60 second and two 30 second ads running in the same TV break, the launch moment alone was set to reach 7.5 million people.
This innovative approach, planned and bought by MediaCom, shows further evolution for Direct Line, moving away from standard ad formats towards brand building 60 second cinematic films.
The activity has expanded into cinema, out of home, social, PR and another media first with Bauer's Kiss station with daily news bulletins steadily revealing more about how Direct Line is beating heroes.
Alongside the new brand campaign, Saatchi & Saatchi has also developed a brand identity refresh consisting of a modern makeover for the iconic red phone on wheels, a new word mark, and a bold, confident new visual identity.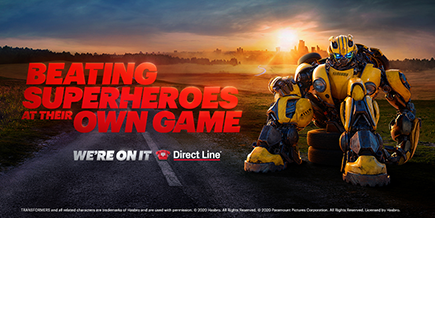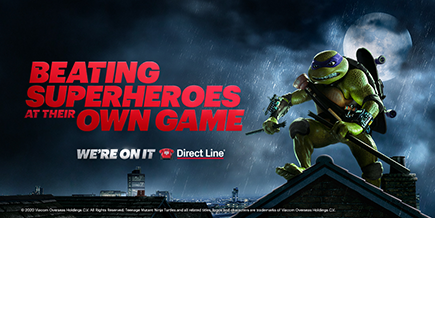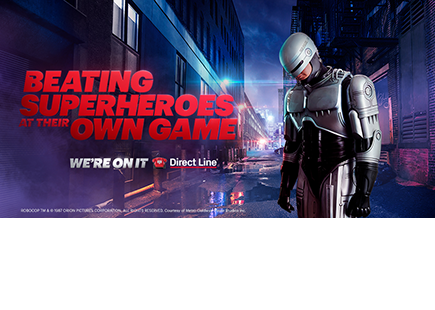 Wendy Moores, Head of Marketing at Direct Line, says: "Our customers know that the second anything goes wrong, we will leap into action and have them covered. Our new campaign suggests that we are so good at doing this that we're even better problem solvers than some of the world's best and most loved heroes, to ensure we stay ahead of the insurance pack.
"The power and flexibility of the idea that Saatchi & Saatchi has created gives us greater freedom than we've ever had to deliver a more cohesive and consistent campaign across the breadth of our product portfolio and through all media channels."
Franki Goodwin, Creative Director at Saatchi & Saatchi says: "This was a brief with Hollywood-sized shoes to fill. It needed a huge idea and true client agency partnership to pull it off. We're so excited to finally be able to share this epic year of work."
Oliver Scargill, Partner at MediaCom adds: "A bold and fun new creative route required a brave, bold and brand-first media approach, something which is seldom seen from the category. The collective willingness to deliver this approach was utterly refreshing and has resulted in an exciting new direction for Direct Line."
Credits
Client
Direct Line, Kerry Chilvers, Wendy Moores, Claire Sadler, Kirsty Hoad, Allie Lawson
Agency
Saatchi & Saatchi
Chief Creative Officer
Guillermo Vega
Creative Director
Franki Goodwin
Creatives
Will Brookwell, Will Helm
Social Creative
Sarah Heavens, Phil Gull & Helen Giles
Agency Film Producer
Rebecca Williams
Agency Creative Producers
Mel Arthur, Rikesh Patel
Creative Director Design
Nathan Crawford
Head of Design
Kerry Roper
Designers
Sam Sheridan, Victoria Draisey, Teresa Goncalves
Account Handling
Alice Flanagan, Paul McHugh, Victoria Turner, Juliet Cornick
Managing Director
Sarah Jenkins
Chief Strategy Officer
Richard Huntington
Planning Director
Rui Ferreira
Production Company
Hungry Man
Director
Bryan Buckley
Production Company Producer
Matt Lefebvre
Editor
Final Cut / Cabin

Sound Design
Sam Ashwell & Mark Hellaby @ 750mph
VFX and Character Animation
The Mill

Music
Andrew Feltenstein & John Nau @ Beacon Street Studios
Tom Player @ Twenty Below Music
Media Agency
MediaCom
Chief Transformation Officer
Sue Unerman
Partner
Oli Scargill
Strategy Director
Jon Hildrew
Business Directors
Alex Jockelson, Marine Turner
Planning Managers
Robbie Coakley, Stefan Jovanoski, Giuseppe Negro
Implementation Planning
Aron Jackson, Gill Reid, Rick Chambers, Matt Burton, Nate Barker, Ade Fadairo, Allison Windegaard
AV Implementation
Joe Phelan, Victoria Pennant, Shannon Browne