EE's close shave with a robot barber shows confidence in its network when it matters

The UK's best network for 4G and 5G, EE, has put high performance and innovation front-and-centre in its latest campaign, to highlight that when it counts, you can count on EE's mobile network. The star of the show, second to EE's network, is Lucifer actor, Tom Ellis, who puts his neck, and more specifically, his lockdown beard, on the line, in the shave that was shot live using the mobile network and robotic arm controlled remotely by a barber.
The campaign sees the Welsh star 729 metres above sea level on Snowdon / Yr Wyddfa, Wales. Using EE's 4G network from a vantage point on the Pyg Track walking route, Tom is on a video call on the Samsung Galaxy S21 5G, where he is jovially teased by EE favourite Kevin Bacon, who himself wears his lockdown facial hair with pride, before taking the hot seat – a barber's chair which is set atop the rugged vista.
Ellis, nominated as 'Best Actor' and 'Best Villain' at this year's inaugural Critics Choice Super Awards for Lucifer and recently announced to play a leading role in Players, a romantic comedy from Netflix, takes a deep breath in preparation of his riskiest stunt to date. He's about to be clean-shaven by a state-of-the-art robotic arm that is remotely-controlled, live and for real, over EE's network, by a barber based in Clapton, London, who is 250 miles away.
EE has teamed up with advertising partner Saatchi & Saatchi, production company Smuggler, and global production partner The Mill, in this next level creative production, which launches tonight on ITV's Coronation Street and The Masked Singer, with highlights during this weekend's high-powered TV programming, including French Open Tennis, Monaco GP and Sicario 2. With media planned and managed by Essence, the campaign will be supported through the line, including TV, Video, YouTube, Digital Audio, Podcasts, Social and OOH.

From 250-miles away, the barber and his celebrity customer can only communicate over live video call – from the vantage point that sits along the Pyg Track, Ellis uses the same 4G network available to EE customers, while the Barber uses 5G on EE from his London location. With the critical moment upon him, Ellis asks: "Kev, are you sure about this?". Kevin Bacon casually replies, "Relax, it's all connected to the EE network".
EE's one-of-a-kind Robot Barber arm, developed by The Mill, features a fully mechanical custom designed hand that grasps the razor blade and carefully mirrors the gestures of the barber who, through the use of five tracking markers and state of the art motion-capture technology, is being tracked precisely as he moves.
The next level network demonstration relies on low-latency and high-speed data transfer to ensure a smooth shave, only possible over EE's award-winning network. Enabling motion data from the sensors attached to the barber's custom-made gloves and his specially crafted razor to be transferred in real-time, updating the arm's position at hundreds of beats a second, to sync with the Robot Barber arm at Snowdon / Yr Wyddfa. The impressive precision was so accurate, viewers could see the barber breathing by looking at the robot arm.
With accuracy to less than one-tenth of a millimetre, through the combination of EE's award-winning network, real-time tracking and precise robotic control, Ellis' is revealed clean-shaven for the first time in 6 years.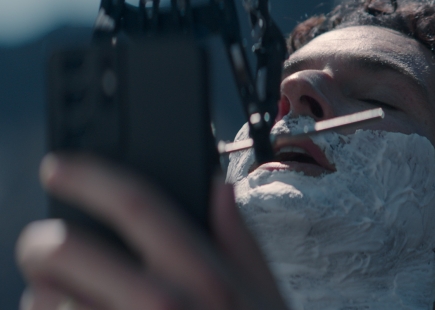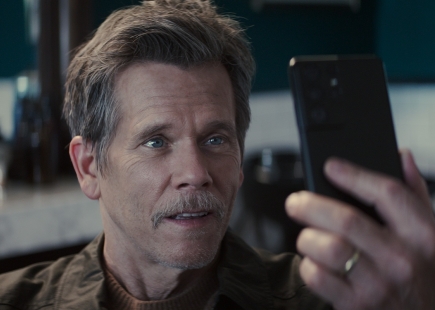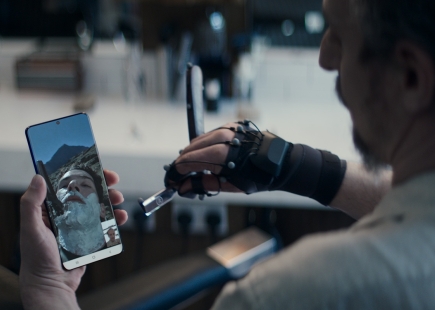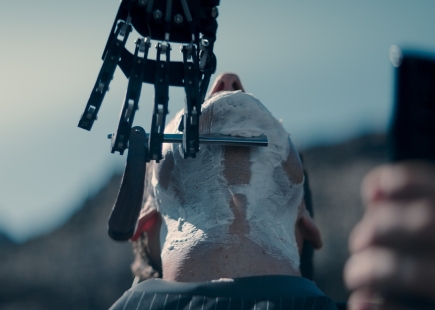 Actor, Tom Ellis, said: "It's easy to take mobile connectivity for granted. Out of sight, out of mind… that is until it lets you down. Whether it's to connect with my family when I'm shooting away from home, to do an audition over video call, or to run scenes remotely, I've got to be able to count on the network being up for the task when I need it most. Getting shaved by a robotic barber is a pretty extreme way of showcasing the importance of a high-performing network, but I figured someone's got to put their neck on the line."
With advertising partner Saatchi & Saatchi, EE's approach to campaigns focuses on pioneering, real-life, authentic demonstrations of its technology in action. EE has brought to life creative executions, including an AR gig with Bastille and over the last year, a real-time EE BAFTA AR pre-show performance, created using EE's 5G network, with Liam Payne.

Guillermo Vega, CCO at Saatchi & Saatchi, said: "We've been working with EE to show what its network and technology can do today, in a typically EE fun and irreverent way. While consumers may not be in the market for a remote shave right now, knowing that the performance of EE's network to handle such a task, is a pretty fun way to let consumers know that when it comes down to it – you can count on EE."

Credits
ADVERTISING AGENCY: SAATCHI & SAATCHI LONDON
CHIEF CREATIVE OFFICER: GUILLERMO VEGA
EXECUTIVE CREATIVE DIRECTOR: DAN TREICHEL
CREATIVE DIRECTOR: FRANCESCO GRANDI
HEAD OF ART: RODRIGO CASTELLARI
CREATIVES: ALICE MARANI AND CRISTIANA CANDIDO
PLANNING PARTNER: KRISTIAN HENSCHEL
SENIOR PLANNER: JACK TREW
MANAGING PARTNER: HUMPHREY TAYLOR
BUSINESS LEADER: CHARLOTTE ELWIG
ACCOUNT DIRECTOR: VITALIA FLORIS
EXECUTIVE PRODUCER: RICHARD FIRMINGER
PRODUCTION ASSISTANT: GEORGIA DAY
MEDIA BUYING AGENCY: ESSENCE
PLANNING DIRECTOR: SOPHIE FRANKS
PLANNING MANAGER: GRACE MURPHY
PRODUCTION COMPANY: SMUGGLER
DIRECTOR: HENRY ALEX RUBIN
TECH PRODUCTION COMPANY: THE MILL EXPERIENCE
EDITOR: SCOT CRANE @ THE QUARRY
AUDIO: JON CLARKE @ FACTORY
CITY / COUNTRY: UK
EXPOSURE: NATIONWIDE