Wonderfully rebellious film starring Iggy Pop for heritage brand Marshall

Work by Dog Eat Dog
Dog Eat Dog and Kevin Castanheira team up once again with A.M. Sekora and Marshall to deliver new film 'Never Stop Listening'.
For more than half a century, it has been the mission of Marshall to always be listening; to the ones that no one else would listen to, the rebels and the misfits.
It has always been and will always be the ambition of Marshall to make these voices heard. The 'Never Stop Listening' campaign aims to highlight the importance of listening in all its forms, and the way that listening shapes the world and influences perspective. It speaks to the brand's rich heritage of rebellion, originality and unity, as well as its alignment with, and evolution alongside, countercultures throughout the ages. The campaign will promote three products in the Marshall line-up: Monitor II A.N.C., Major IV and Mode II.
The 60 second hero film, which was shot in the USA (Miami), UK (London, Manchester, Liverpool) and Sweden (Stockholm), sees Iggy Pop on tour, embodying the loud, unapologetic spirit of Marshall, while mavericks, outliers and countercultures past and present are seen connecting through Marshall products, standing tall together, to create and change their own worlds.
The godfather of punk also provides a rousing voiceover, explaining how listening brings us together and fosters a feeling of belonging.
Director Kevin Castanheira says: "It's a dream to continue my collaboration with such an iconic brand like Marshall. For myself and creative director A.M. Sekora, Iggy Pop was the perfect person to deliver this message, being a true rebel and icon of originality. When approaching the project I wanted to make sure the visuals didn't outweigh the meaning of the script, so kept it as grounded as possible while also embracing some cinematic elements. Shooting on a mix of Kodak 35 mm and 16 mm helped create an authentic image and visually emphasise the incredibly rich heritage of Marshall."
This is the eighth time Castanheira, Dog Eat Dog, Sekora and Marshall have worked together in half as many years.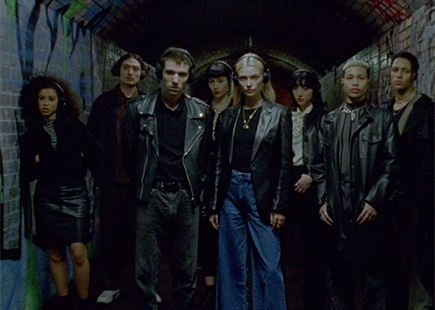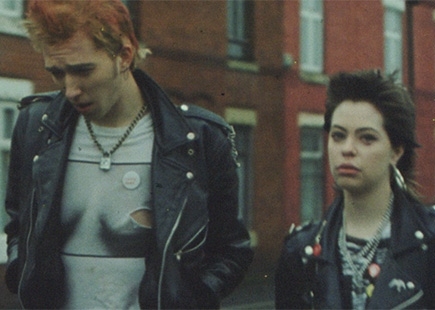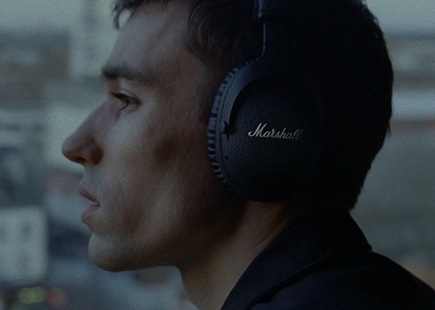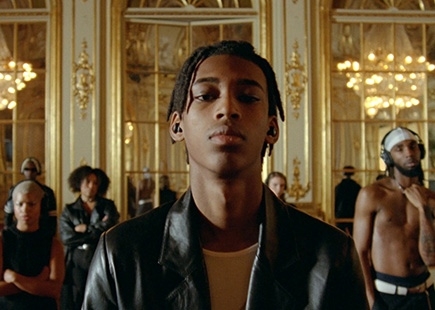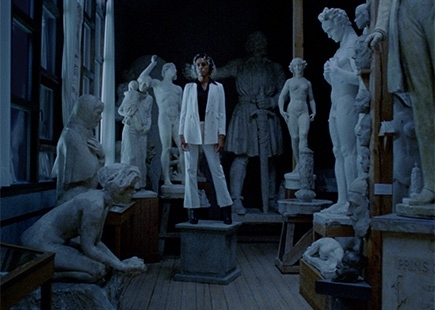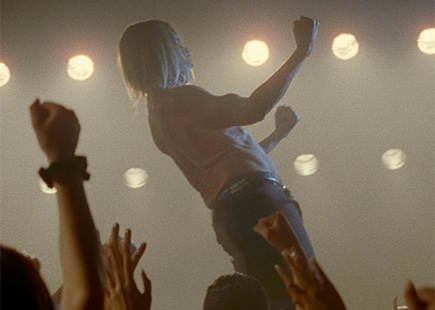 Marshall creative director, A.M. Sekora adds: "As we've been working hand in hand on projects for the last several years, we've been able to form more of a partnership that I can trust with working alongside Kevin Castanheira and Dog Eat Dog. It's more than just a deal, there is an understanding and a kinship that's been built between us all. We've been able to move past the "client relationship" where we need to talk contracts and SOW's for days, allowing Kevin and me to focus solely on the creative. This point is quintessential for us at Marshall as we don't work in the conventional client, creative agency, production agency fashion."
Dog Eat Dog EP/Founder, Harvey Ascott, comments: "Working on Marshall campaigns keeps us on our production toes. The creative is always exciting and boundary defying. The intricacies of the right casting, the right art direction, the right styling - even down to shooting on film - all has its challenges but we always produce fantastic work we can be proud of, and we are especially proud of the 'Never Stop Listening' campaign."

Credits
Marshall
Creative Director - A.M. Sekora
Director / Photographer - Kevin Castanheira
Creative - Logan Wilmont
Producer - Harvey Ascott
Production Company - Dog Eat Dog
Executive Producers from Dog Eat Dog- Mark O'Sullivan & Harvey Ascott
Director of Photography - Todd Martin
Photographer - Dean Martindale
Lead Cast & VO
Iggy Pop as himself
Iggy Pop appears courtesy of Thousand Mile Inc
Management - Henry McGroggan
Iggy Pop Personal Assistant - Spencer Weisberg
Models
Sarah Holt
Prim Patnasiri
Kit Wharton
King Owusu
Dania Macias
Jewaria Gazaele Luu
Malik Lewis
Tom Serner
Elsa Sjokvist
Alfred Lindstrom
Fabien Florence

Featured Artists
Asta Stensson
Beri Gerwise
Emmanuel Emenike
Hanan M
Louise Linderoth
Marika Sjoblom
Vera Carlbom
Anders Ldoff
Emma Sjosten
Venus Rami
Asheq Talukder
Kevin N Yeko
Julia Dang
Skinheads
Adam Thompson
Miriam
Elliott Hughes
Lucy Gill
Thomas Walmsey
Tom Harrison
Chris Wood
Joe Graham
Callum Rogers
Sterling Kelly
Ben Dutton
Stuart Everett
Clint Jolley
Jesse Richardson
Natty Campbell
Mark Atkinson
Philip Carson
Christoher Roe
Harry Collins
Wayne Rogerson
Dave Gordon
Joseph Hart
Stephen Mcintosh
Mathew Roe
Paul Batho
Jack Dottie
Jamie McIntosh
Aba Shariff
Christ Own
Who is Orion
Aminah Ali
Crew
Casting Director - Emma Garrett
Stylist - Tereza Ortiz
Production Manager - Alice Pitt Carter
Production Assistant - Gaby Codardo
Stockholm, Sweden
Production Company - Bell & Light
Producer - Rob Andersohn & KP Pearson
Line Producer - Peter Ekman
Production Assistant - Anni Olivemark
Director Of Photography - Robin Assemeier
Stylist - Sofie Krunegard
Production Designer - Andreas Blom
Make Up Artist - Sara Denman
London, UK
Location Manager- Danny Bedford
Gaffer - ONX
Grip - Dan Essex
1st AD - Tristan Hefele
Steadicam Op - Richard Lewis
Production Designer - Ben Lack & Sam Waters
Hair & Make Up - Gabby Floyd
Manchester / Liverpool, UK
Production Manager - Anna Jones
Production Designer - Stuart Hudson
Location Manager - Gary Looker
1st AD - JP Lebon
2nd AD - Shelley Lankovits
Steadicam - Will Lyte
Gaffer - Phil Brookes
Grip - Dave Leigh
Stylist - Steven Spencer
Miami, USA
Line Producer - Natasha Chapman
1st AD - Shawn Thomas
Gaffer - Edgar Cabral
Art Director - Damian Fyffe
Make Up & Hair - Mariana Hernandez
Celebrity Stylist - Ise White
Post Production
Offline Edit
Edit Company - Ten Three
Editor - Stephen Dunne
Assistant Editor - Blaine Pearson
Grading Company- Framestore
Colourist - Simon Bourne
Colour Producer - Chris Anthony
Colour Assist - Adam Stannard
Post Company - UNIT
Alec Eves - Flame/VFX artist
Chris Southwell - Film Audio
Darryl Bolton - EP
Jake Saunders - Post producer

Music
Original music by DOLCE
Film Processing and Scanning - Cinelab London
Dailies Colourist - Paul Dean
Film Recording / Film Out - Adrian Bull
Film Lab Commercials Producer - Aarti Mahtani
If you enjoyed this article, you can subscribe for free to our weekly email alert and receive a regular curation of the best creative campaigns by creatives themselves.