'Good Taste with a Twist': Kronenbourg 1664 Blanc launches new campaign by Fold7

BOAST is a place where you can find out about recent creative campaigns.
It is a space where agencies and creatives can tell us about the new work they are proud of; blowing their own trumpet, so to speak.
Here's the latest from the creative world as we know it.
A campaign by Fold7
Kronenbourg 1664 Blanc has unveiled its first work since appointing Fold7 as the brand's Global Creative Partner in January.
The new campaign 'Good Taste with a Twist', underlines the *wit beer's premium positioning and French heritage, making its standout blue bottle and signature flavour with a hint of citrus the hero. The work depicts a world of playful elegance, introducing surprising twists to modern French icons. Key visuals include a French bulldog sporting a blue moustache, a frosty lemon-squeezing blue lobster and a trunk turned cooler.
1664 Blanc is one of the brands in the Carlsberg Group portfolio, and growing all over the world. The campaign will run in over 40 markets including China, Russia, South Korea and Canada, initially digital and social with TV, outdoor and instore scheduled for later in the year. The campaign aims to accelerate brand awareness by challenging category norms and presenting 1664 Blanc as a premium lifestyle brand rather than a beer.

*Wit beer refers to the style of flavoured wheat in the beer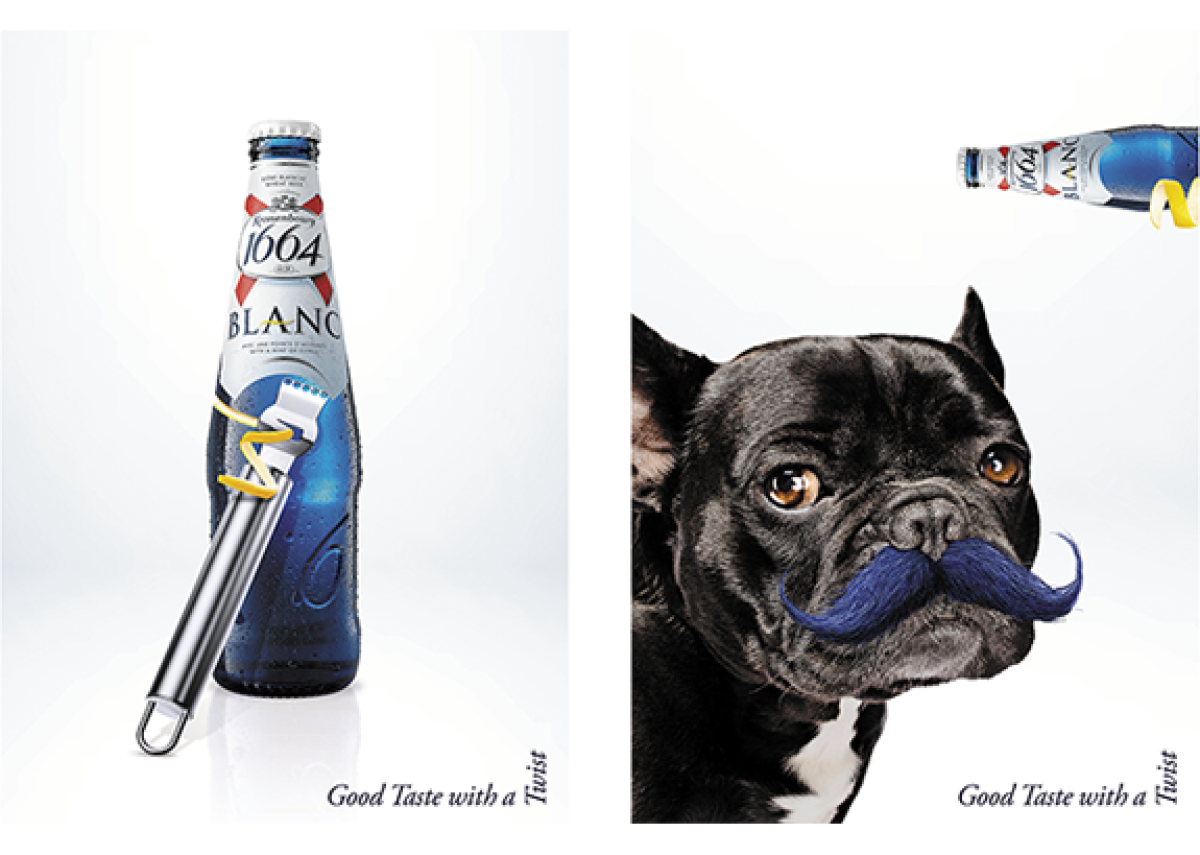 Steve Stringer Carlsberg VP Craft & Speciality said: "We're delighted to bring this beautiful campaign, created in partnership with Fold7, to beer drinkers across the world. It really encapsulates 1664 Blanc's distinctive character and flair and we can't wait for people to see it."

Ryan Newey, Chief Creative Officer Fold7 added: "Luxury is not what it used to be. The campaign unveils our definition – playful elegance, Frenchness with a twist. It's a great product, we're delighted to be a part of this next phase for the brand."

Credits
Project Name: Good taste with a twist
Agency: Fold7
Client: Steve Stringer - VP Craft & Specialty, Carlsberg Group; Nikola Maravic - Marketing and Innovation Director; Viktor Holm-Larsson - Global Brand Manager
Creative Director: Adrian Lim and John Yorke
Art Director: Simon Helm
Social Creative: Verity Fine Hosken
Creatives: Jo Taylor and Kiran Strickland
TV Production: Michelle Hickey
Art Buying: Maggie Roberts
Planning: Yelena Gaufman, Caitlin Evans
Media agency: Initiative
Design: Jamie Craven, Alex Gill, Ben Gibbons,
Account Management: Stuart Lundy, Hazal Karabulut