Gousto launches campaign for new food finder directory created by M&C Saatchi

BOAST is a place where you can find out about recent creative campaigns.
It is a space where agencies and creatives can tell us about the new work they are proud of; blowing their own trumpet, so to speak.
Here's the latest from the creative world as we know it.
A campaign by M&C Saatchi
Leading recipe box company, Gousto, has launched a through-the-line campaign to promote its new Food Finder directory, designed to support local food businesses during lockdown. The campaign runs across organic and paid social, PR and out-of-home advertising developed in collaboration with creative agency M&C Saatchi.
Gousto is now delivering over 1 million meals to UK households every week but saw an opportunity to leverage its tech capabilities to support the small business heroes that are helping to feed the nation. Food Finder was developed in just ten days by Gousto's in-house tech team and provides a platform for customers to connect with food businesses that are still delivering in the local area.
Users can enter their postcode to access a list of grocers and other local food businesses who are offering delivery and collection. The directory is completely non-commercial, for both businesses and customers.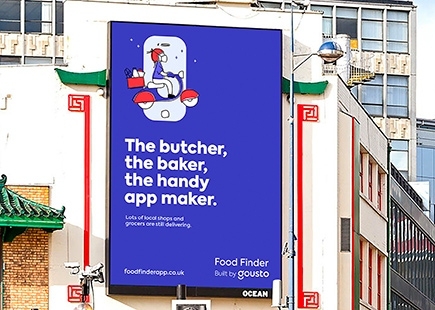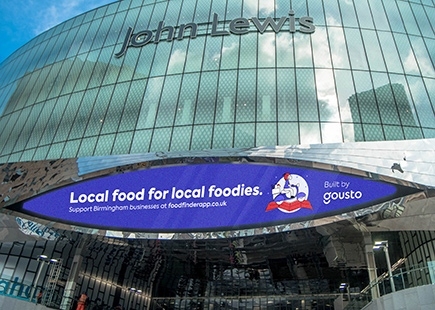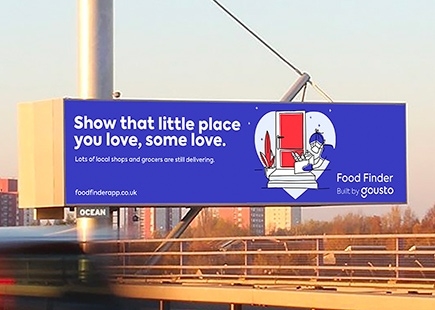 After seeing Gousto's Food Finder directory, M&C Saatchi approached its client proactively with the idea of creating an out-of-home campaign to extend awareness further. M&C Saatchi secured out-of-home advertising space for the push from Ocean Outdoor, as part of the £10m fund the media owner is offering to SMEs during the Covid-19 outbreak.
To drive awareness of Food Finder, M&C Saatchi has created a series of outdoor ads which will run in key UK cities. The boldly coloured executions, which seek to engage with both consumers and business owners, use an illustrative style and feature lines including "The butcher, the baker, the handy app maker". The ads will be supported by paid and organic social media activity encouraging small business owners to sign up to the directory.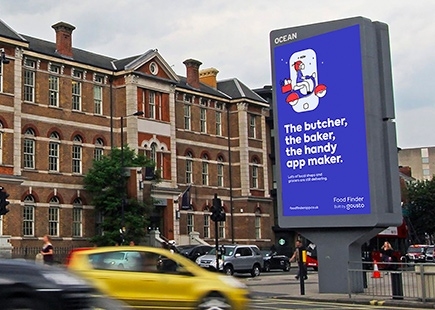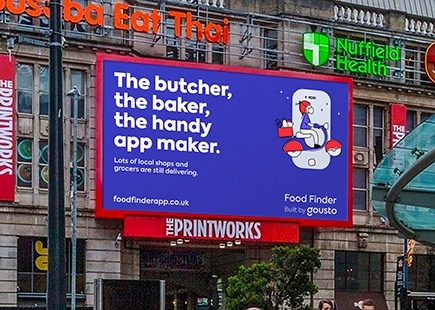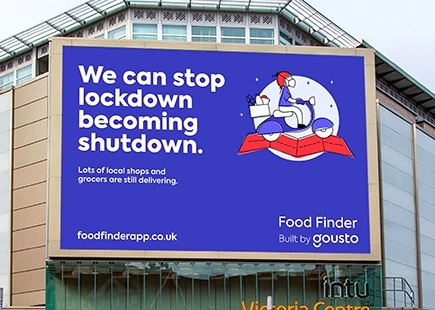 Tom Wallis, Chief Marketing Officer at Gousto said: "It's really important that we show our thanks and support to all the independent grocery businesses that are feeding their local communities, through thick and thin. That's why we've harnessed our incredible tech capabilities to build the Food Finder directory. We hope this campaign will help spread the word and ensure more support for the small business heroes that are keeping Britain fed, whilst helping those in need of grocery home deliveries."
Ben Golik, Chief Creative Officer, M&C Saatchi, added: "It's amazing how quickly and confidently the team at Gousto moves to make things happen. They created the Food Finder directory in a matter of days and have worked with us in record time to launch this campaign. We love working with them at this pace, particularly on important initiatives like this."

Credits
Creative agency: M&C Saatchi

Managing Director: Tom Firth
Head of M&KE: Niall Wilson
Chief Creative Officer: Ben Golik
Head of Studio: Grant Skillen
Client: Gousto
Brand Director: Anna Greene
Head of Brand Marketing & PR: Carlie Wittred
Product Designer: Tereza Sustrova
Software Engineer: Alex Kelly
Product Manager: Alex Reade
Media:
Catherine Morgan, Director of Ocean Labs, Ocean Outdoor