Volvo shows why climate change is the ultimate safety test in global campaign by Grey

Volvo goes electric.
Grey has created the Ultimate Safety Test campaign for Volvo Cars. After leading the industry in automotive safety for decades, Volvo Cars is now broadening its focus to make sure sustainability becomes as ingrained in the company culture as safety always has been.

The global campaign, which covers TV, online video, social, digital, OOH and radio and print, is part of wider integrated and marketing efforts from Volvo Cars that reflect the company's commitment to climate neutrality and electrification.

In the new film, a spokesman called Bjorn takes viewers on a tour of Volvo's impressive safety tests over the decades, and then up north to the arctic circle, where he asks whether a 100-foot drop qualifies as the ultimate safety test.
A collapsing glacier provides the answer, interrupting the film with stark reminder that the biggest threat to our safety isn't on the road.
Today, climate change is the ultimate safety test.

This bold statement represents a new chapter for Volvo Cars and its ambition to become a climate neutral company across its value chain by 2040. Their plan to become a fully electric car company by 2030, with half of their global sales being fully electric by 2025, is a key step towards reaching this ambition. Last year one in three of its cars sold in Europe was a rechargeable model. Volvo Cars is hoping to lead the industry's transition to zero emission mobility which is critical to limiting the impacts of climate change.
"I am very proud to bring the Ultimate Safety Campaign to life", said Mike Johnstone, head of central marketing and brand at Volvo Cars."Sustainability is now as important as safety to us, with climate action having the highest priority, and Volvo Cars has one of the most ambitious climate plans in the car industry. That's why we're proud to highlight the work we are doing through this campaign taking real action to combat global warming".
Volvo Cars' plan builds on its conviction that fewer and fewer people want traditionally powered cars. With current and future legislation expected to boost the market for electric cars, Volvo Cars also expects accessible, high-quality charging infrastructure will be more common, accelerating the demand for fully electric cars.
Javier Campopiano, chief creative officer Europe and creative chairman UK at Grey said: "Working for Volvo Cars, a brand that cares, both about people safety and the world we live in, is a privilege. By creating the notion of the Ultimate Safety Test, we've just crystalized those principles and the menace we face our planet faces; a collapsing glacier represents the ultimate and biggest threat, the one we all need to tackle to be safe".
The film was shot by Ivan Zacharias at Smuggler in extreme conditions: the crew went all the way to the Arctic Circle and filmed in temperatures of -10C, wearing polar expedition suits in order to be able to operate.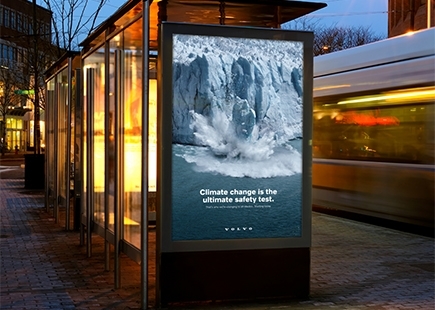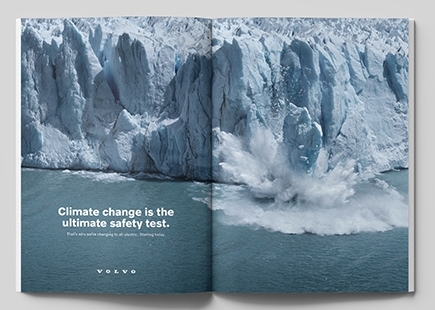 Credits
Client: Volvo Cars
Head of Central Marketing & Brand: Mike Johnstone
Director Brand Management: Johanna Arvidsson
Creative Agency: Grey
Global CCO: John Patroulis
CCO EU & Creative Chairman UK: Javier Campopiano
President/CCO UK: Laura Jordan Bambach
Global ECD, Volvo: Emiliano Gonzalez De Pietri
Creative Directors: Sam Haynes / John Gibson
Copywriters: Sam Haynes / Javier Campopiano
Art Director: John Gibson
CSO: Raquel Chicourel
Strategic Planners: Bhavin Pabari / Gilliam Caldwell-Dunn
Chief Client Officer: Jeremy Pyne
Business Director: Justine Johnson
Account Director: Andy Wynn
Account Manager: Cara Simcock
Agency Senior Producer: Lindsay Moyes
Agency Print Producer: Richard Ross
Designer: Michael Stephens
Social Media Agency: Wildfire
Managing Director: Olivia Clarkson
Creative Director: Vikesh Amey Bhatt
Account Director: Charlotte Scott
Strategy Director: Asad Shaykh
Production Company: Smuggler
Production Company Producer: Nick Landon
Director: Ivan Zachairas
D.O.P: Jan Velicky
Production Design: Robin Brown
Photographer: Philipp Rohner, Getty Images
If you enjoyed this article, you can subscribe for free to our weekly email alert and receive a regular curation of the best creative campaigns by creatives themselves.