Harley-Davidson and Droga5 NY remind us that riding is the human experience we are all craving in a disconnected world

BOAST is a place where you can find out about recent creative campaigns.
It is a space where agencies can tell us about the new work they are proud of; blowing their own trumpet, so to speak.
Here's the latest from the creative world as we know it.
A campaign by Droga5 NY
Harley-Davidson came to Droga5 with the ambition to build the next generation of riders around the world by expanding the brand into new spaces and accessing new customers.
Harley-Davidson is a true American icon. One entering new global markets and product segments, like LiveWire, at a rate like never before. And doing so in a rapidly shifting cultural landscape.

But despite all the innovation, the benefits of riding a Harley-Davidson haven't changed in its 116-year history.
The physical, emotional, mental, even spiritual effects of riding are actually more relevant today than ever before.

In a world that's increasingly isolated, disconnected and numb, riding is the kind of human experience people are craving. The adrenaline rush of a ride that stays with you for days. Being out in nature while everyone's stuck inside. Participating in a real, live community that spans the globe. Having your hands glued to a pair of handlebars, rather than your phone.
It's healing.

Our first piece of work for Harley-Davidson, "Breathe", tells this story.
A Harley-Davidson rider races to outpace 'the voice of technology' that gently instructs him to stay connected to the matrix. As the rider begins to leave the connected world behind, gentle instructions give way to desperate commands, until he bursts out into a world all his own, where the constant drip-feed of updates and alerts cannot follow.

We've also evolved the Harley-Davidson brand identity and creative platform to focus more on the experience of riding, the feeling and its benefits.
A direction that blends blurred landscapes, bikes and real riders with gritty depictions of the sights and sounds that stay with you long after a ride has ended. It's a visual language designed to honor the brand's heritage, while guiding the next 116-years of growth with a new generation of riders.
This design shift starts to come to life through an evolved brand look and feel, which signals the progression of the iconic brand and ups its appeal to more riders around the world.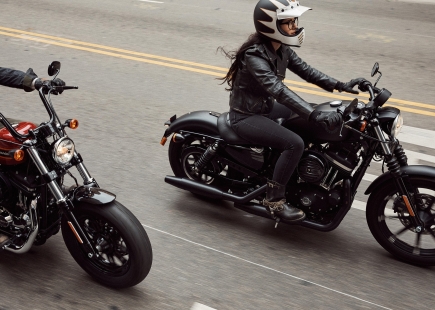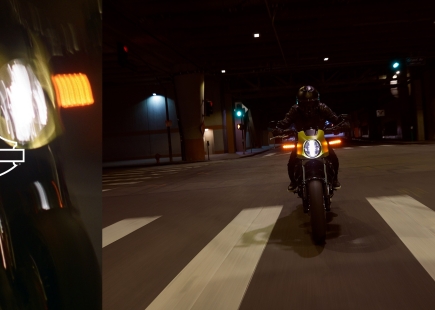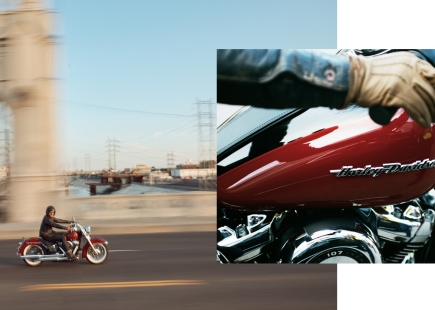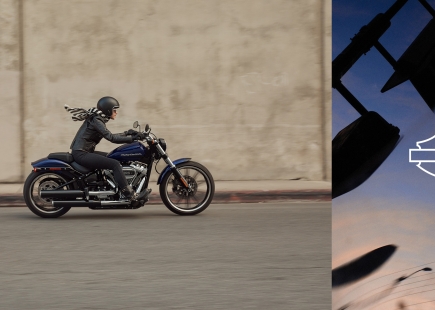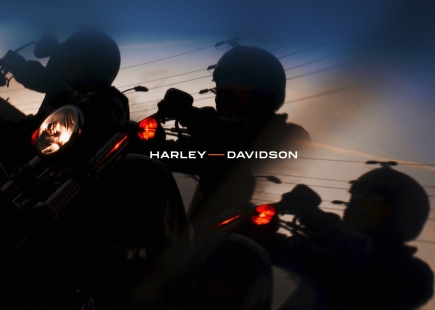 Credits
Agency Droga5 NY
Creative Chairman David Droga
Global Chief Creative Officer Neil Heymann
Co-Chief Creative Officer Felix Richter
Co-Chief Creative Officer Tim Gordon
Executive Creative Director Casey Rand
Executive Creative Director Kevin Brady
Creative Director Thom Glover
Creative Director Marybeth Ledesma
Associate Creative Director George McQueen
Associate Creative Director Tom McQueen
Senior Copywriter Dan Litzow
Art Director Gemma Slack
Copywriter Jenny Yoon
Art Director Maria Kouninski
Chief Design Officer Jason Severs
Group Design Director Rich Greco
Group Design Director Devin Croda
Group Experience Design Director Craig Wong
Senior User Experience Designer James Garvey
Associate Director, Experience Design Jenny Clark
Experience Designer Owen DiRienz
Junior Experience Designer Xin An
Design Director Anna Fine
Senior Designer Albie Eloy
Content Strategy Lead Louise Dreier
Content Strategy Director Paul Vogel
Senior Design Content Writer Jeremy Zerbe
Performance Writer Rob Mellinger
Design Director Mark Yoon
Senior Designer Kathryn Brylinsky
Designer Allison Lee
Chief Creation Officer Sally-Ann Dale
Director of Film Production Jesse Brihn
Associate Director of Film Production (All Films) Ruben Mercadal
Executive Producer, Film (Breathe + Magic Hour) Gulshan Jaffery
Senior Producer, Film (Night Trails) Liliana Vega
Senior Producer, Film (Magic Hour) Jeremy Fox
Producer, Film (Magic Hour) Forrest Holt
Producer, Film (Product Films) Kelly Appleton
Co-Director of Interactive Production & Integration Lead Tasha Cronin
Producer, Interactive Colin Neff
Producer, Interactive Aaron Matys
Associate Producer, Interactive Michelle Levitch
Associate Producer, Interactive Lauren Williams
Director of Print + Fabrication Services Rob Lugo
Director of Art Production Cliff Lewis
Associate Director of Art Production Bianca Escobar
Senior Art Producer Heather Black
Associate Director of Print + Fabrication Services Riely Clough
Executive Producer, Producer, Print Alyssa Dolman
Senior Producer, Print Rose Mahan
Junior Producer, Print Abe Nowels
Music Supervisor Mike Ladman
Senior Business Affairs Manager Whitney Vose
Global Chief Strategy Officer Jonny Bauer
Head of Strategy: New Business Will Davie
Strategy Director Grant Flannery
Senior Strategist Claudia Vitarelli
Head of Communications Strategy Dean Challis Communications
Strategy Director Kathryn Ruocco
Communications Strategist Clark Cofer
Junior Communications Strategist Soheyla Escher
Chief Intelligence Officer Amy Avery
Group Data Strategy Director Christina Fieni
Data Strategy Director Tradd Salvo
Data Strategist Greg Berard Junior
Data Strategist Shelby Lance Group
Account Director Julia Albu Group
Account Director Mike Tooley
Account Director Cara Roberts
Account Supervisor Chelsea Elliott
Account Supervisor Tim Leathart
Account Manager Hayley Howell
Associate Account Manager Lindsay Squires Senior
Project Manager Hillary Jordan
Senior Project Manager Stephanie Liu Jr.
Project Manager Amanda Cohen





Client Harley Davidson
Production Company (Breathe) Smuggler
Director Jaron Albertin
DOP Mattias Königswieser
Executive Producer Allison Kunzman, Patrick Milling Smith
Producer Nick Fewtrell

Service Production Company (Breathe) Unit and Sofa, Prague
(Night Trails) DOP Adam Arkapaw
Producer Joey Zadwarny
Production Company (Magic Hour) Epoch Films
Director Elena petitti di roreto
Executive Producer Melissa Culligan
Producer Ritu Paramesh
Production Company (Product Films) Venture Visuals
Director Ryan Espinosa
Executive Producer Thomas Kranzle
Editorial (Breathe) Cut and Run NY
Editor Jonnie Scarlett
Executive Producer Ellese Shell
Editorial (Magic Hour) Exile Editing
Editor Robert Lopuski
Executive Producer Sasha Hirschfeld
Editorial (Night Trails) Work Editorial
Editor Rich Orrick
Executive Producer Erica Thompson
Editorial (Product Films) Second Child
Editor Matt Badger
Executive Producer Scott Chin
Post Production (Breathe, Night Trails, Magic Hour) The Mill
Executive Producer Andrew Somerville
Telecine (Magic Hour + Breathe) Damien Van Der Cruyssen
Telecine (Company 3 - Night Trails) Tom Poole
Creative Director Gavin Wellsman
Post Production (Product Films) Second Child
Color / VFX Second Child
Music & Sound Design (Breathe) Q Department
Creative Director Drazen Bosnjak
Mix (Breathe) Sonic Union Mixer David Pappa
Executive Producer Vicky Ferraro
Mix (Night Trails, Magic Hour) Wave Studios
Mixer Aaron Reynolds
Executive Producer Vicky Ferraro
Junior Producer Eleni Giannopoulos
Music & Sound Design (Product Films) Second Child
Mix / Sound Design Jesse Peterson
Production Company Second Child
Managing Director Scott Chinn
Senior Retoucher Natasha Kaser
Senior Retoucher Mike Vorrasi
Senior Retoucher John Clendenen
Graphics Studio Manager Virginia Vargas
Producer, Retouching Michael Mockler
Producer, Graphics Nereida Valles
Senior Editor Matthew Badger
Editor Victor Hermosillo
Design Director Pravin Chottera
Assistant Editor Simone Maurice
Assistant Editor Martin Keating
Senior Post Producer Sara Mills
Photography

Production Company Crawford & Co
Photographer Alex De Mora
Production Company Jake Mills Production
Photographer Christian Weber
Photographer Magdalena Wosinska
Photographer Jack Davison