How an Australian charity raised money for food-deprived kids by selling empty boxes of cereal

The Background
Foodbank Western Australia is a charity that provides food relief and breakfast programmes to the hungry.
According to their findings one in five children in Western Australia (WA) is food-deprived, with over 100,000 kids going without breakfast every morning.
Not able to rely on the government, which was cutting Foodbank WA's funding in half, the charity used out of the box thinking to drive support and donations from the wider Australian public and help hungry children.
The Big Idea
In the run up to Christmas Foodbank WA stocked empty cereal boxes in supermarkets.
These boxes of 'Hungry Puffs' represented what 100,000 kids wake up to every morning for breakfast: nothing.
Every $5 box of Hungry Puffs purchased at the supermarket checkout created a meal for 10 food-deprived local children. Virtual boxes could also be purchased online.
What They Did
At the heart of the idea was the empty cereal box and getting that in supermarkets, as that was the environment in which the idea had the most impact. It was surely no mean feat to get supermarkets across Australia to give up valuable shelf space to stock nothing, but 40 supermarkets were persuaded to do just that.
The design of the Hungry Puffs packaging ensured it stood-out to supermarket customers perusing the cereal aisles, which are normally awash with brightly coloured brands fronted by cartoonish characters.
The Hungry Puffs box was entirely black and white and featured inversions of popular cereal box tropes, including a picture of an empty cereal bowl, claims to have "no nutritional value", be "fibre free" and with a serving suggestion of 0g.
This austere creative direction had the effect of disrupting the shoppers' normal journeys down the cereal aisle, asking them to think about the many kids that go without breakfast every day.
In addition to the packaging the agency behind the idea also created a TV spot, ran radio advertising, developed a Hungry Puffs website, scored some high-profile coverage in Australia and got the backing of the influential, from celebrities to politicians and food bloggers.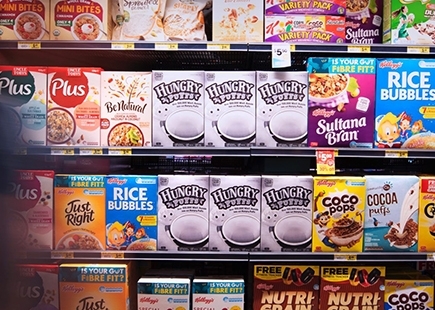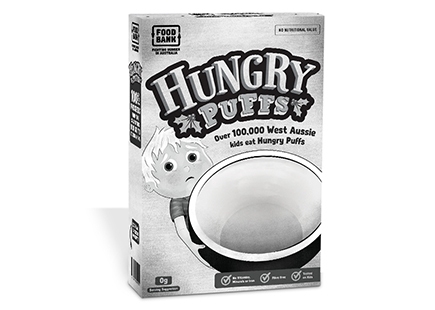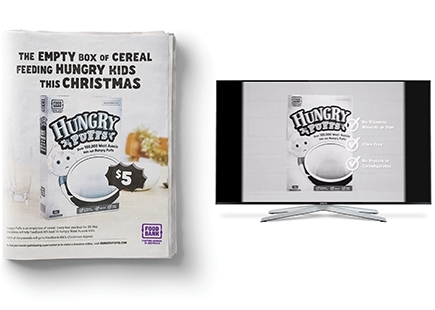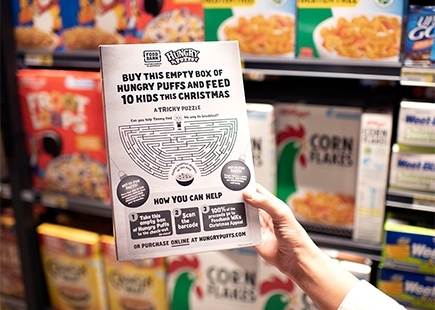 The Review
At first glance of this I thought the idea of launching an empty cereal box was a neat way of making a statement and getting people's attention for a good cause.
But did it amount to more than a good stunt?
Would regular shoppers actually buy an empty box of cereal?
And would enough buy it to actually make a difference to food-deprived children?
Well, 'yes', 'yes' and 'yes' are seemingly the answers to those questions.
Going by figures from the agency credited with the idea, $312,000 was raised in donations purely from Hungry Puffs purchases, providing over 625,000 meals to hungry children. This represented a doubling of donations from the previous year.
Apparently the budget Hungry Puffs was just $15,000, and that modest spend was ultimately dwarfed by the huge amount of donations received.
All in all this was a simple, clever idea that got people talking and, crucially, got people acting.
In Hindsight
Not a huge amount to say here. The idea's won prestigious industry awards, including a D&AD Yellow Pencil and it has been rolled-out at a bigger scale because it was so effective as a fund-raiser.
From a sustainability point of view you could question the potential waste created by making and selling loads of empty cardboard boxes (presumably they are recyclable).
And perhaps there's a missed opportunity in not following up the idea by approaching major cereal brands to have them donate a percentage of their cereal sales to Foodbank WA.
This aside, Hungry Puffs was a great idea that succeeded in making something out of nothing.
If you enjoyed this article, you can subscribe for free to our weekly email alert and receive a regular curation of the best creative campaigns by creatives themselves.