Ikea releases meatball recipe for fans missing the iconic dish during lockdown

BOAST is a place where you can find out about recent creative campaigns.
It is a space where agencies can tell us about the new work they are proud of; blowing their own trumpet, so to speak.
Here's the latest from the creative world as we know it.
A campaign by Hope&Glory
Week six of a Covid-19 imposed lockdown, and the light at the end of the tunnel gets a little dimmer with every passing government announcement.
The tone of collective social media feeds across the nation get that little more melancholy as the delights of the outside world seem farther and farther away.
So, to combat cabin fever and bring a little wonder into people's everyday lives, IKEA worked with Hope&Glory to release a certain meatball recipe to the world – encouraging people to get creative in their home and helping raise a smile during lockdown.
Feeding popular culture
The easy to follow recipe was packaged up in inimitable IKEA style with a six-step guide listing out exact measures and how-tos in making the delicious Swedish meatballs and cream sauce.
Releasing the recipe via IKEA's social media feeds and through some good old fashioned media relations, the news followed a series of announcements from IKEA around it supporting the community through Covid-19.
These included the reopening of some of its Swedish Food Markets, so key workers have access to essential items and the repurposing of Wembley and Gateshead car parks into drive-through testing centres for NHS staff.
Dominique Daly, Associate Director, Hope & Glory PR: "IKEA's purpose-driven culture is as infectious as their wry sense of humour is funny, and this ability to engage with popular culture is a real dream from a creative perspective. Combine this with the outpouring of love and genuine cult status of the humble IKEA meatball we knew this is a rich vein in which to mine creative ideas that resonate with a UK public currently in need of something to smile about.
Working with IKEA's team of experts to turn their recipe into something entirely achievable was step one, but we knew that presenting it in the iconic assembly instructions style was something that IKEA fans would love. How much they loved it, staggered even us.
For me, this is a great example that often the simplest of ideas can be some of the best so long as you genuinely understand what clicks with consumers and execute it well."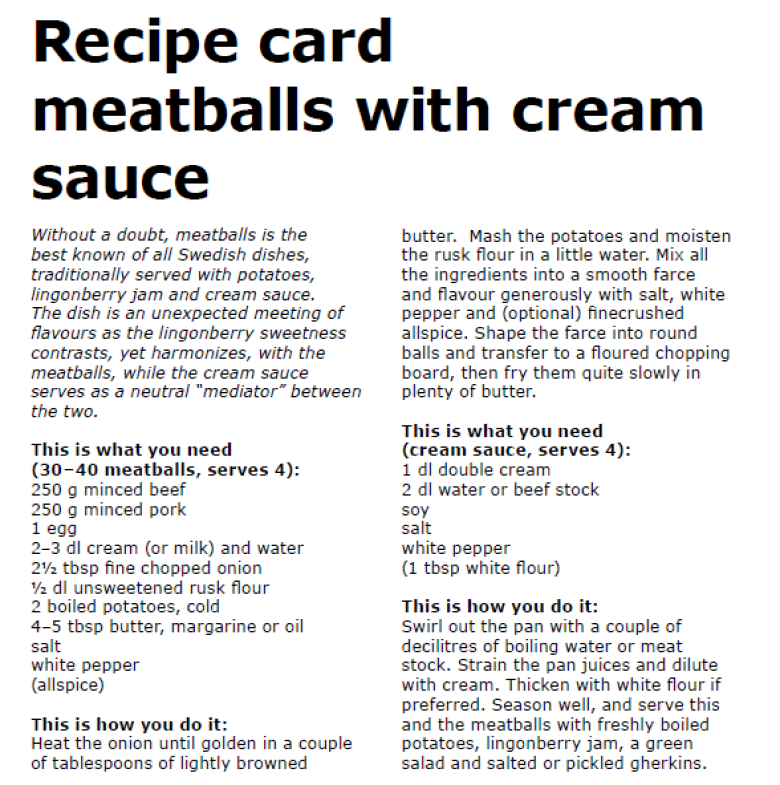 Exceeding expectations
Although the sense was that the media, and public, would love this one, it's fair to say that the results were overwhelmingly positive, with extensive coverage in the UK across most national and consumer press, before quickly going global.
Well exceeding expectations, to date, the recipe has secured over 170 pieces of news and features coverage, including the front page of The Daily Star and crackers in the Evening Standard, Buzzfeed, Mail Online, The Times, CNN and Fox News in the USA. Along with a tonne of pieces elsewhere.

It caught the public imagination so much that Mail Online ran a series of follow-ups covering the elation and debate that erupted across social media as proud home cooks posted their efforts.
All in all, this simple campaign raised a much-needed smile in this time of need.
Credits
PR agency: Hope & Glory PR
Client: IKEA
Designs: Moustache Design
If you enjoyed this article, you can subscribe for free to our weekly email alert and receive a regular curation of the best creative campaigns by creatives themselves.