In conversation with Create Not Hate founder Trevor Robinson OBE, and some of the young creatives involved in the initiative

Create Not Hate was first launched in 2007 by Trevor Robinson OBE. Its aim was to give young marginalised people in London pathways into jobs in the creative and media industries.
Following the death of George Floyd and the resurgence of the Black Lives Matter movement, Create Not Hate was relaunched earlier this year.

Creative Moment's editor, Lucy Smith, sat down with Trevor Robinson OBE after Create Not Hate's successful relaunch at Notting Hill Carnival in late August, to talk about the initiative and his plans for its future.

Lucy Smith: Why did you launch Create Not Hate?

Trevor Robinson: I first launched Create Not Hate back in 2007 to open the eyes of black inner-city kids to their creative potential – and the potential of a career in the creative industry.
I decided to bring it back in 2020 for the same reasons – the creative industry's lack of creatively-diverse talent. Other sectors have reaped the benefits – notably, music and sport. But the creative industry – the ad industry, especially – is not aware of the black talent out there, and the black talent out there is not aware of the ad industry.

LS: Tell me about some of the incredible young people who you have worked with on this, and some of their ideas.

TR: The young people involved in Create Not Hate 2020 are aged between 13 and 22 and pretty similar to the young people we met the first time around. But I wasn't prepared for the power and intensity of today's kids' first-hand experiences. All had personal stories to tell, some of being stopped and searched on the way to the sessions where we met.
I'd lined up mentors – from companies including Engine, Red Brick Road, and Ridley Scott Creative Group – and I brought on young black creatives to come up with the themes to inspire the young people's creative work. So I thought I had it all covered.
However, when one kid showed me the handcuff marks still on his wrists from having been stopped and searched for drugs on his way to meet us – beneath a Black Lives Matter poster in Notting Hill, can you believe it – it just blew me away. I was impressed by how clever they were. And also by how passionately they sold their ideas to us. They had so many ideas, too.
One is a 17 year-old schoolkid from Camberwell called Emmanuel. He was a spokesperson for a group of three – he and his two friends – and he came up with some powerful ideas. These include two short films for a series called 'That's Not Me' which my agency, Quiet Storm, then went on to help him to make. In one, 'Heated Conversations', a white couple misinterpret a heated exchange seen but not heard through the window of a café, in which three black youths rehearse a scene from Shakespeare's Romeo & Juliet.
When he stood and spoke at the Create Not Hate launch event in late August, to coincide with when the Notting Hill Carnival should have happened, he spoke with the passion and power of a thirtysomething politician. Another powerful piece of work is a poster series by Jennelle, Princess, Oshea, Jaiden, and Raphael – about the micro-aggressions and gaslighting black people and people of colour in the UK face. A series of taunts and cliches are written across a black man's back. This is part of a poster series called 'The Little Things Build Up'. The kids and their ideas were so thoughtful and sharp.

LS: Was the work the young people came up with what you expected – did anything surprise you?

TR: One particular kid, a 13-year-old, stood out for me. He wanted to know why people treat us like this. Why they want to provoke us into conflict, to push us to be criminals. And he said he wanted to ask the police why they talk to us the way they do, to help teach them some manners.
It was such a simple idea, but it also has such power. We now hope to help him do just this – talking in person with police in Merton. If something like that – being stopped and searched, handcuffed and humiliated in the street – happened to a white 13-year-old, there would be outrage.

LS: The re-launch of Create Not Hate came about following the death of George Floyd. Was that a watershed moment? In what way is now different from the world before?

TR: I wanted to do my bit because of George Floyd and the worldwide Black Lives Matter demonstrations that followed but in my own way. As someone well-known in this industry, I have a platform so I set out to use it – to get more than my friends to listen; to gain movement in the industry.
The aim is to show the creative industry the talent that it is missing. Now is about utilising the talents out there. Rather than simply talking in terms of diversity and inclusivity, this is – as it should be – about harnessing a greater array of creative talent to secure the industry's future.
I'm a realist. The timing was right. People were saying this must stop and looking at what they could and should do. In a lot of cases the problem was not bigotry but apathy. I hoped – and still do – that society will change itself, but I'm not prepared to wait. It made sense to do something practical that the industry could buy into, and to strike while the iron was hot."

LS: Create Not Hate is clearly close to your heart. How do you hope the initiative will progress from here?

TR: There is plenty of work from Create Not Hate that is yet to be seen and we are now working towards rolling out more to coincide with Black History Month in October, which Channel 4 has offered free TV spots to showcase.
We are putting work out to raise awareness and challenge people out of being apathetic. On top of that, we are talking to more people within the industry about becoming mentors to encourage the creative work of more young people. We will host other sessions and workshops with other young people to produce more creative ideas, though not yet.
Also, we are talking to companies – both agencies about offering young people opportunities to find out more about working in the creative industries, and others either to help fund us on an on-going basis or get involved in other ways. There are opportunities for companies to work with young creatives to produce products and designs, for example.
When I launched Create Not Hate in 2007, I funded it myself but struggled to keep it going – not least because of the recession. This time around, we want proper funding to make it sustainable. We will work to raise money from donations to keep going, though it is something that should really be funded by the government, of course.
Ultimately, though, I hope this is a swing door that will swing both ways: this is about benefitting kids, but it is also about benefitting the creative industry.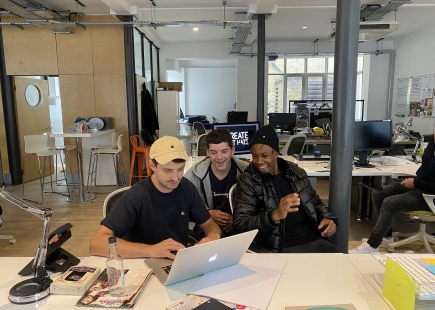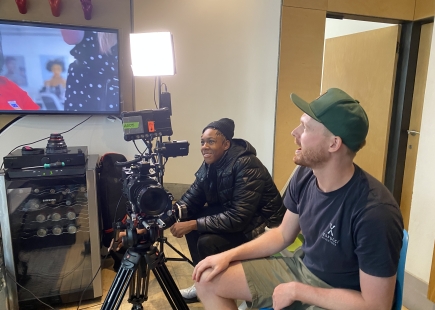 Jennelle, 16, co-creator of the poster 'The Little Things Build Up'
Q. What was the thinking behind your creative work?

A. This idea for our poster focuses on micro-aggressions and gaslighting towards black people and people of colour, especially in the UK. We decided to put this idea in the form of posters. Watching my idea being brought to life was very surreal. It was also really encouraging, as it finally gave me the opportunity to express myself and have a voice about an important issue.

Q. What does creativity mean to you?

A. To me, creativity means allowing your imagination to run wild and free with no limitations. I believe when you're able to step outside the box – ignoring fear and doubt – this is when real originality, creativity and authenticity shines through.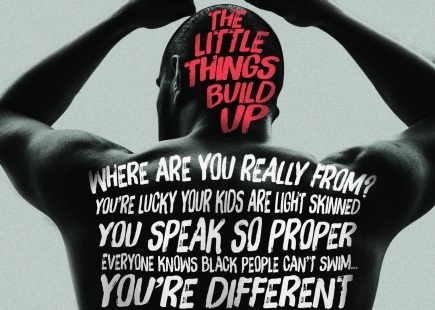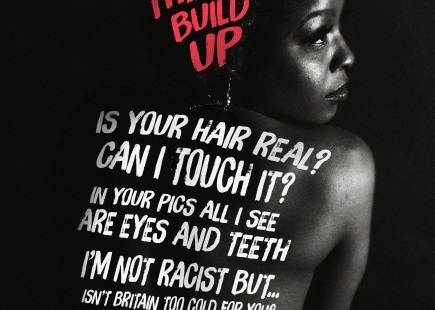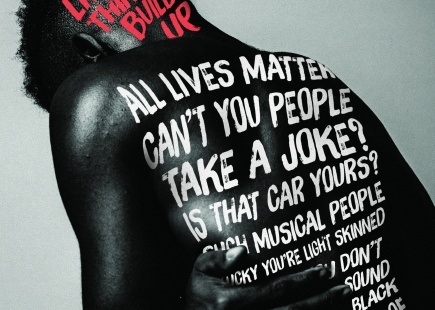 Emmanuel, 17, co-creator of the films 'Heated Conversations' and 'Stitches'
Q. What was the thinking behind your creative work?

The idea behind the work I created is about perceptions – how people naturally put others in boxes. Of course, it is a natural thing for people to do. But some part of me always wanted to scream out, 'I'm smarter than your son' when people would look at me funny for the way I dressed or how I spoke. Perceptions and stereotypes are things that have affected me and will continue to affect my life. So I wanted to come up with something light-hearted, because sometimes that's the best way to reach deaf ears.

Q. What does creativity mean to you?
Creativity, to me, means the ability to express myself.

Keiran Charles-Chase, 17, co-creator of the "That's Not Me" t-shirts
Q. What was the thinking behind your creative work?

The idea behind the t-shirts came from an incident that happened to me. I was stopped and searched on my way home and I felt, because I was wearing a durag and the perception behind it, being a young black man in the UK really made me look like a bad person. It increases your chances of being stopped and searched and it's really sad that happens. So the idea of 'perceptions' was the echoing message incorporated in the t-shirt designs.

Q. What does creativity mean to you?

The idea of creativity to me is expressing myself and getting my ideas down. We have a voice for a reason and we really need to use it.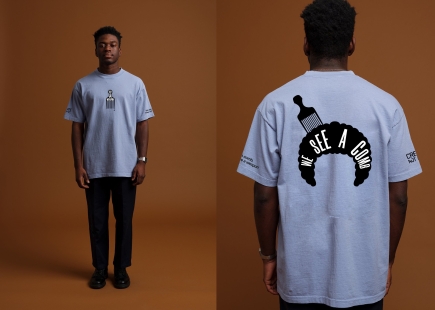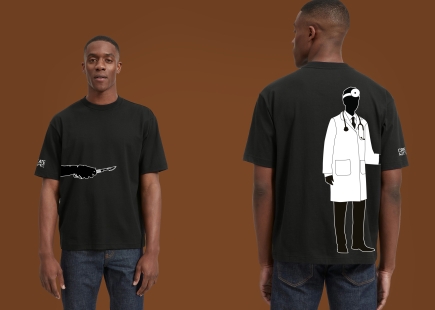 If you enjoyed this article, you can subscribe for free to our weekly email alert and receive a regular curation of the best creative campaigns by creatives themselves.