ITV's 'Drama vs Reality' series continues with an unexpected reality star kidnapping

G&T
Uncommon launched the next instalment in ITV's 'Drama vs Reality' brand campaign, which highlights the wealth of drama and reality shows that are available on ITV Hub, in these two hugely popular genres.
The campaign features a series of unlikely pairings, and shows ITV stars from drama and reality TV stopping at nothing in the fight for viewers' attention, with the next installment titled 'G&T'.
Following the first unlikely pairing of Bafta-winning actor Jason Watkins going head-to-head with Love Island winner Kem Cetinay, the next film in the series stars actress Katherine Kelly ahead of her new ITV drama 'Innocent', which launches 18th May.
In the film, Katherine arrives home after a day on set, and starts to prepare a well-deserved aperitif. She dances freely around her kitchen, as she takes her time to de-stress and unwind from a long day. In preparing her drink, the actress runs out of tonic. We follow her movements to her store cupboard to unexpectedly find a TOWIE star tied up and held captive. Katherine retrieves her much-needed tonic and with a cold, hard stare, reminds them to stay quiet.
To keep viewers guessing, there are two surprising endings for the film, one featuring Pete Wicks held captive and in another, it is Bobby Norris.
The ad airs on ITV, just before new ITV drama 'Innocent', in which Kelly stars. The campaign was created with Uncommon Creative Studio and shot by Oscar-winning Director Tom Hooper (The King's Speech, Les Misérables) whose credits also include the iconic ITV drama Prime Suspect. Alongside cinematographer Barry Ackroyd, whose BAFTA nominated work includes the iconic Green Zone, Jason Bourne and The Big Short, and Terry Needham, the 1st assistant director on Black Hawk Down.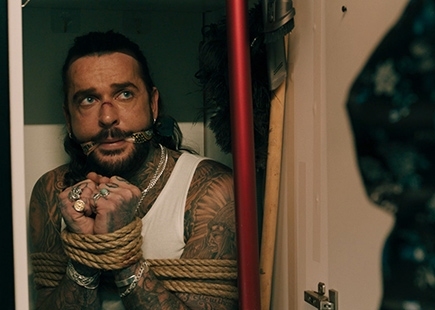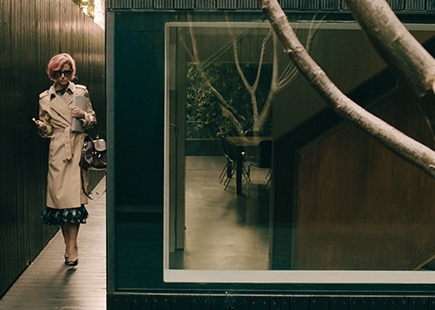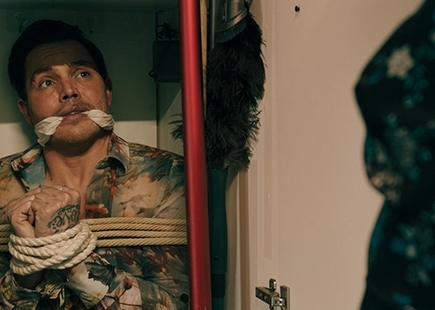 Credits
Campaign Name: Drama vs Reality
Client: ITV
Marketing Director: Paul Ridsdale
Head of Brand Marketing: Brendan Dinen
Brand Marketing Manager: Rebecca Throp
Brand Marketing Exec: Harriet Lowe
Creative Studio: Uncommon
Director: Tom Hooper
Production Company: Smuggler
Prod Co Producer: Nick Sutherland Dodd
Executive Producer: Sara Wallace
Managing Director: Fergus Brown
DOP: Barry Ackroyd
Production Designer: Eve Stewart
1st AD: Terry Needham
Editor: Russell Icke
Senior Assistant: Steven Waltham
Offline Executive Producer: Annabel Bennett
Post Production: Electric Theatre Collective
Shoot Supervisor: Giles Cheetham
Post Production: Producer: Magda Krimitsou
Post Production Coordinator: Larisa Covaciu
VFX Supervisor: Taran Spear
Digital Intermediate provided by: Goldcrest Post Production
Digital Colourist: Adam Glasman
Online Editor: Daniel Tomlinson
DI Producer: Jonathan Collard
Director of Post Production: Rob Farris
2D Team: Matt Jackson, Alberto Pizzochero, Kia Coates, Rafa Vormittag, Rich Roberts
Anthony Moore: Executive Creative Director — Audio
James Utting: Sound Design and mix
Frankie Beirne: Assistant Sound Engineer
Deborah Whitfield: Audio Producer
If you enjoyed this article, you can subscribe for free to our weekly email alert and receive a regular curation of the best creative campaigns by creatives themselves.