Land Rover take launch of new Defender up a gear with experience company Imagination

A campaign by Land Rover and Imagination
The Defender needs to be experienced to be truly understood. Therefore, Land Rover has engaged global experience agency and long-term partner, Imagination, to create an integrated launch to emotionally connect all consumers with the iconic product.

Land Rover and Imagination's multifaceted experience campaign comprises of a global launch film and dramatic product reveal at Frankfurt Motor Show, as well as a cutting-edge VR experience and an AR app enabling customers to visualise the interior and exterior of the new Defender. Importantly, there are multiple opportunities for consumers to interact with the vehicle.

Land Rovers have earned a unique place in the hearts of explorers, humanitarian agencies and adventurous families across the world. Proven in the harshest environments on Earth, the new Defender maintains this bloodline and re-establishes the Defender family alongside Range Rover and Discovery.
Driven by a passion and respect for the original, the new Defender delivers a transformational breadth of capability and advanced all-terrain technologies to redefine adventure for the 21st century, while remaining true to the pioneering spirit that has been a Land Rover hallmark for 71 years.
Imagination, in partnership with Carnage, has created an epic product reveal film that introduces the new Defender to the world and brings to life its proposition: 'Capable of Great Things'. The film was shot in Kazakhstan, one of the most land-locked places on earth, ⁠— where the new Defender, driven by mountaineer Kenton Cool, can be seen tackling rivers and descending mountain edges. Cool, who has summited Everest 14 times, then navigates through the awe-inspiring scenery of the Valley of the Castles, in Charyn Canyon, to reach the global reveal moment.
Premiered across all of Land Rover's channels, the film in Frankfurt ended dramatically with Kenton Cool jumping seemingly from screen to real life by scaling an 11-metre climbing wall. This then transformed into a 42-degree incline the new Defender descended to drive out and reveal itself to the world.
Visitors to the Motor Show, which is open from 12th-22nd September, have the opportunity to visit the Jaguar Land Rover Motor Show exhibit designed by Imagination. At its heart is an immersive Land Rover Defender VR experience, part of the Land Rover Labs programme.
This adrenaline-fuelled virtual reality experience allows visitors to travel to dramatic landscapes and see the most capable SUV in action. The immersive experience places the audience on a helicopter where they are set a mission, to train as an aerial photographer for Land Rover's Special Ops Media Team. The aerial view demonstrates the vehicle's transformational capability and advanced all-terrain technology. Visitors can then share their mission across all social channels.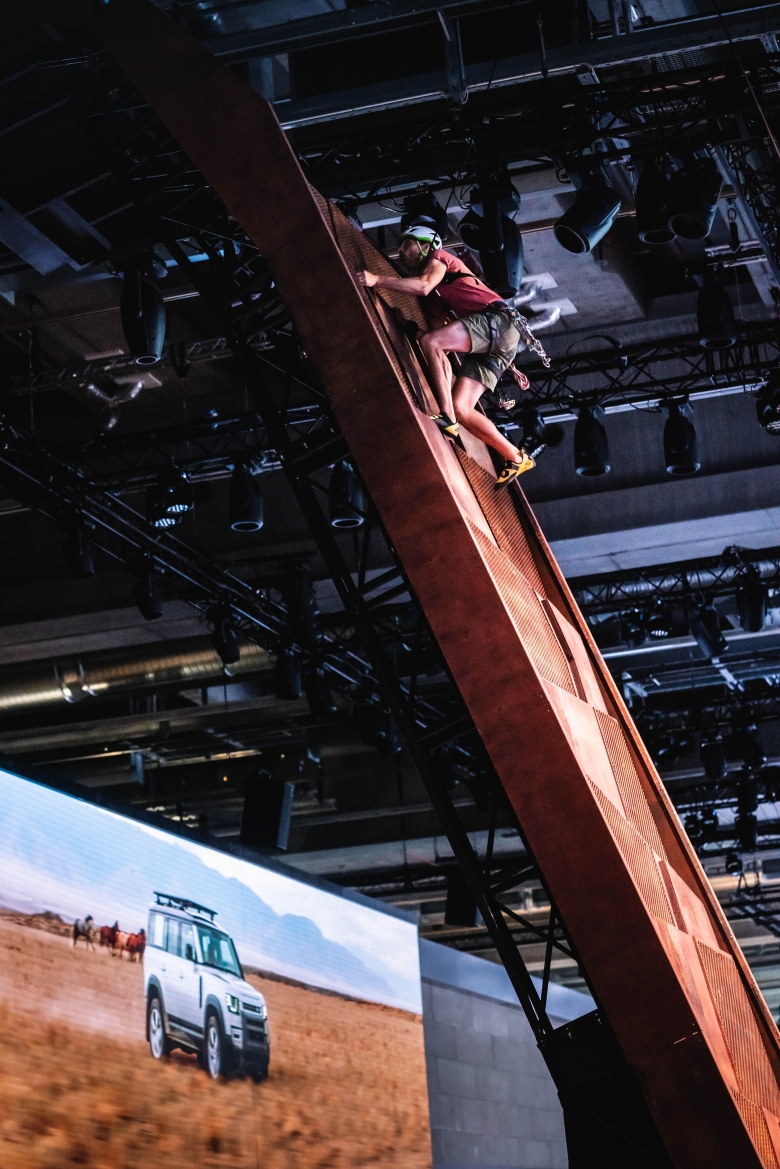 Imagination has also created media previews for the automotive press, global experience guidelines for customer events and retailer launches.
Defender has kick-started the most integrated experience campaign in Land Rover's history, with this series of highly creative, dynamic, immersive cutting-edge projects providing significant depth and reach global audiences.
The experiences will travel to numerous global events throughout this year.
Fiona Pargeter, Global Customer Experience Director at Jaguar Land Rover, said: "The Defender launch has been truly momentous for the Land Rover family and one of the most eagerly anticipated reveals for some time. We are driven by creating experiences our customers love for life and Imagination are a key partner in delivering experiences that emotionally connect audiences with the reimagined icon."
Ross Wheeler, Global Business and Creative Director at Imagination said: "The Defender is an extraordinary product and needed a series of extraordinary moments to introduce it to the world. It is our most ambitious launch to date and we're proud to have been part of a campaign which matches the incredible excitement that Defender will generate as one of the world's most recognisable and loved vehicles."