Why Mastercard failed to score with its World Cup effort
Background
Now then. By nature I'm not a negy person – I tend to see the good in things and am known amongst my nearest and dearest as 'defender of all'.
But this blows the mind. Granted every brand wants a piece of the beautiful game – and it's harder and harder to cut through – but to gamify child hunger? In such a tasteless way? Beggars belief...

The Big Idea
So what was the actual idea? Mastercard agreed to donate 10,000 meals to hungry children in Latin America and the Caribbean every time Messi or Neymar Jr scored in any major tournament from the World Cup until March 2020. It would do this by giving the equivalent value of the meals to the World Food Programme (WFP). 'Goals that Change Lives' was part of Mastercard's Start Something Priceless campaign which aims to combat childhood hunger and malnutrition in Latin America and the Caribbean.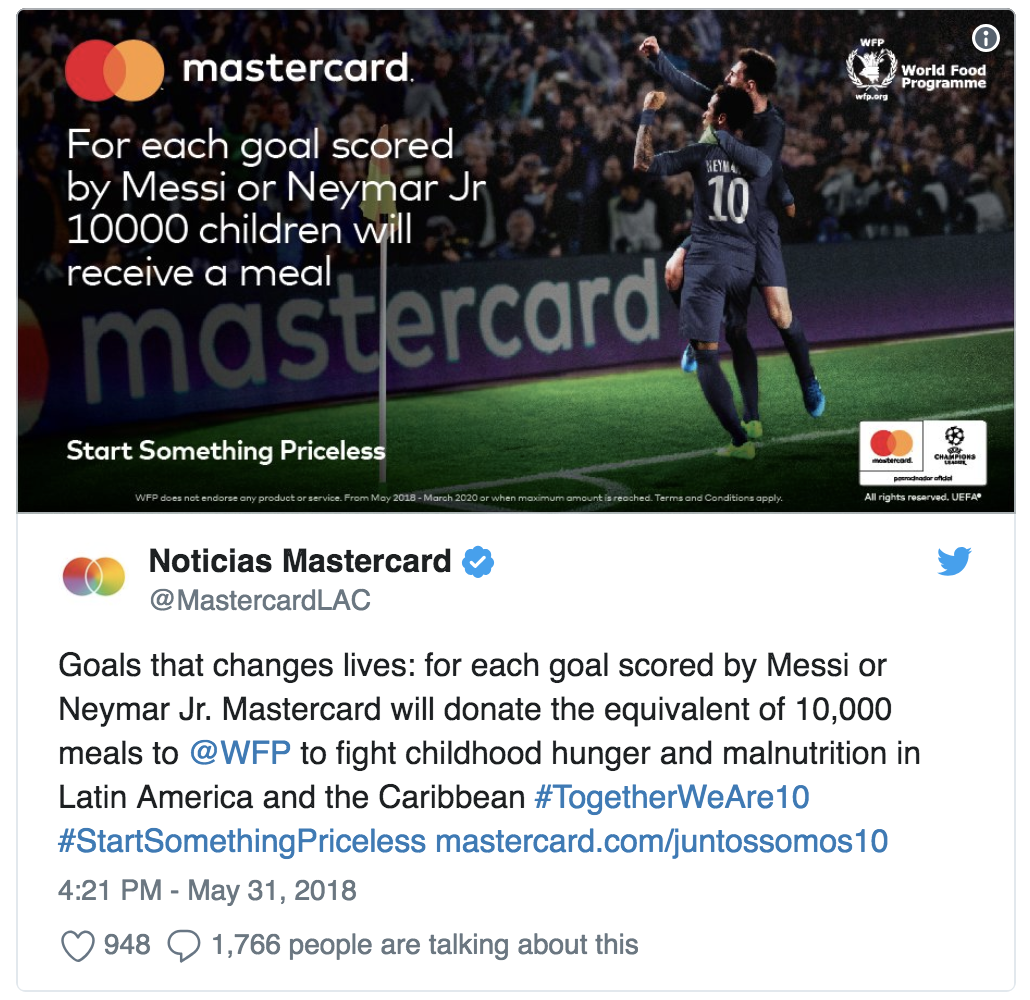 What They Did
It's worth saying that this campaign wasn't designed for this market – it was launched in Latin America – and is just one tactical execution that's part of a bigger commitment to provide 100 million meals for those in need, 100 million!!
And that's what so pains me about this. That's a considerable commitment even for a global giant like Mastercard and there are so many great things about this initiative. But I just don't understand how one such ill-conceived element got through, what you'd think would have been an incredibly rigorous approvals process, not just within Mastercard, but also Messi and Neymar Jr's people.
Review
So essentially it took a powerful commitment, added a bit of jeopardy and wrapped it in a mechanism that linked to sport. All these are classic components to ensure the world took note of its generosity. It is doing its bit and people should know about it. But it's hard to understand how it didn't predict the inevitable 'hunger games' stories that would follow. It started on social – a medium that doesn't care if this was a campaign just for Latin America – and then spread like wildfire.
Soon the media picked it up and before long it is playing defence, having to justify its actions. And, of course, no one references the 100 million meals ultimate goal – I had to dig to find this – they just focus on the poor taste of this idea.
In Hindsight
There's nothing wrong with a bit a jeopardy – and asking others to play a role in a social giving campaign like this is great. But it should have focused on the fans. With a bit of creativity it could have got its message out there and made people feel great about enabling good things to happen. But linking to the players – with such high stakes per goal – just leaves a bad taste in the mouth. Should the goal keeper that blocked that ball feel bad and personally donate 10,000 meals? Or maybe just let it in? All just a bit wrong.
So my Creative Moment Score? A generous 1. Why? Because the overall initiative is great, even if this execution was beyond poor.
In summary, it partnered with Messi and Neymar Jr to create opportunities for good PR, but ended up just scoring an embarrassing own goal. Damn shame.
If you enjoyed this article, you can subscribe for free to our weekly email alert and receive a regular curation of the best creative campaigns by creatives themselves.