Meet The Maker: Creative Moment talks to the women behind the epic #painstories work for Libresse

#painstories has hit a nerve.
The recent campaign for Essity's brand Libresse acknowledging the pain endured by many women due to endometriosis and other conditions speaks clearly to those who have experienced this.
#painstories, like its mothership predecessor 'wombstories' is a taboo-busting campaign, deeply rooted in research enabling it to speak out authentically.
We asked the creators, AMV BBDO, what they did, how they did it and why. Our answers come from Augustine Cerf, creative, and creative partner Lauren Peters as well as executive creative director Nadja Lossgott. We also speak to Anna Rose Kerr, creative director at Ketchum and practice director Amber Organ who created the Pain Museum.
Full credits for the work can be found here.
Lucy Smith: How did you arrive at the concept of creating a 'Pain Dictionary'?
Augustine Cerf: The Pain Dictionary came out of my own personal experience of not having the language to express my own endometriosis pain.
It can be a terribly lonely experience having so much pain raging quietly inside you, and no way to express it to others. I was often asked to place my pain on a scale of 1-10 and I personally found that quite reductive, and difficult to use.
So, we wanted to create a new, rich language that people could use as a tool to give proper expression to pain.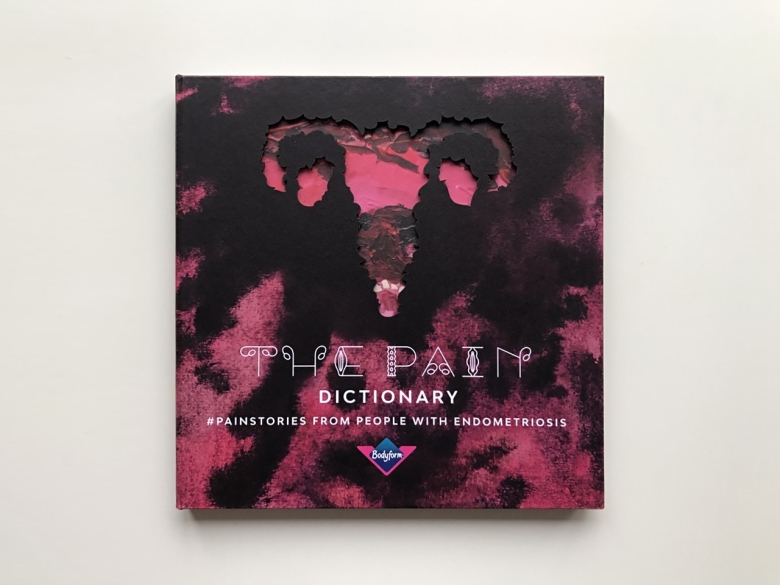 LS: As #wombstories illustrates, to visualise pain through art is a powerful way of expressing feelings. How did you get to the heart of what these women were experiencing and then create it as a visual?
Lauren Peters: We started by asking the right questions. We asked them how it really felt.
Pain is often experienced in images – it's a way to make sense of what is happening to you. As soon as we started to ask the right questions, something was unlocked, and suddenly people could share those experiences more fully.

We commissioned all-female artists to bring the pain descriptions to life.
We tried to use as many artists who had endometriosis, like Venus Libido and Ellie Pearce, to illustrate their own pain definitions.
Venus Libido said: "For me, it was important to convey how debilitating this condition is and the severity of the pain. It was very therapeutic actually especially as an artist I always process things better through visual representation. I also love that now when anyone asks me what endometriosis feels like I can just open my phone and show them this image. I'll also be showing any Dr who tells me my pain can't be that bad, a regular phrase that many endo suffers hear far too often."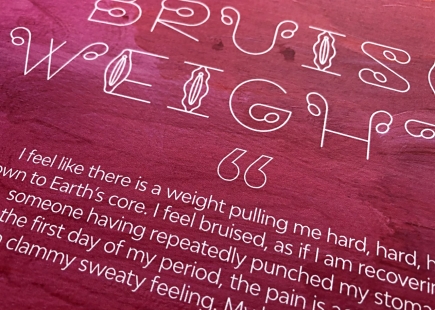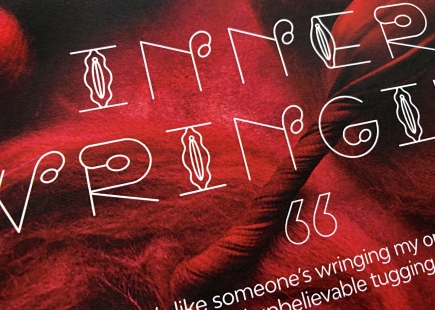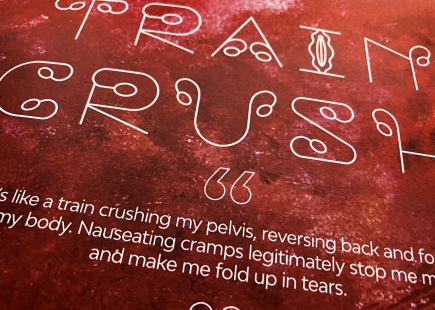 LS: The copy is also visual and creates pictures in itself. The strong colours alongside such guttural language is presented in a font that tells its own story. Was this the intention?
LP: Yes, we wanted each pain word to make you feel something, immediately – both visually and linguistically – so that people could really begin to empathise with what endometriosis sufferers really live with. And see that it's not just a "bad period".
It was important for us that all the artworks felt personal, organic and put every raw nerve on display in the medium that was chosen by each person.

The custom typeface we created for Wombstories and Painstories is a stylized typographic version of a woman's womb. We wanted the typeface to be as beautiful and as evocative as the personal artwork that sat below it.
There are little nuggets of biology hidden and expressed in each letter.

LS: Can you give some detail behind why you decided to create the 'Pain Museum'?
Nadja Lossgott: Together with our brilliant partners Ketchum, we wanted to tell the broader picture –– The Pain Dictionary is all about centring the real, subjective experience of endometriosis sufferers.
But, all of this happens in the context of the gender pain gap. We wanted to tell that story too, so that we could place the raw, emotive experiences of the dictionary inside the systemic and cultural issues that fuel the diagnostic delays and research gaps that made The Pain Dictionary necessary in the first place.
The Pain Dictionary listens to endometriosis sufferers, and gives them the tools to express their experiences. The Pain Museum delves deeper into why that's so important.

Anna Rose Kerr: The Pain Museum starts with the staggering stat that half of people worldwide believe period pain should be endured in silence! To change that opinion more of us (including those who don't have periods) need to be normalising this conversation loudly and proudly.
With physical exhibition spaces off limits right now, we wanted to immortalise the experiences of endometriosis sufferers and create conversational prompts for those who may have never talked about "wombs" or "periods" before.
Amber Organ, who was instrumental in the concept, adds; "Severe pain shouldn't be endured, and we hope that by raising awareness it will ultimately help reduce diagnosis times and help women to feel understood and supported. If even one person comes away from viewing the Pain Museum and gets an earlier diagnosis for endometriosis, we will consider this campaign a huge success."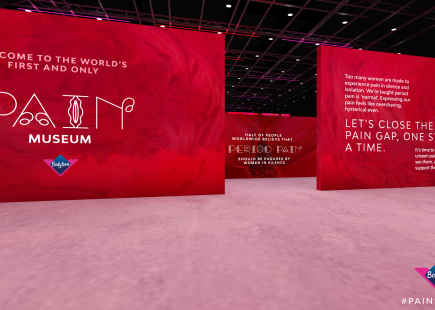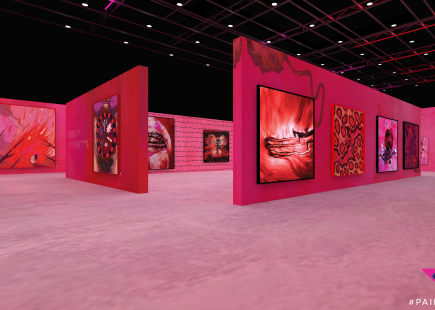 LS: You have understood the pain of real women who have suffered in silence for years. What does it mean to you personally to have been able to share that pain in this work?
AC: For me, this is has been a hugely personal and emotional experience because I have endometriosis, and I live with pain every day.
I feel extremely grateful to work with people who have not only understood me and supported me personally, but helped me to turn my pain into something productive, and meaningful, that can help others feel understood.
When I tell people I have endometriosis, the most common response is "what's that?". There is still such a long way to go.
I hope that the #painstories project can help people to express their pain, and to feel less lonely inside it. I hope too that people in pain might identify with the dictionary and recognise their own pain in it, which could accelerate diagnosis.

If you enjoyed this article, you can subscribe for free to our weekly email alert and receive a regular curation of the best creative campaigns by creatives themselves.