Miller Genuine Draft aims to recapture 'genuineness' in its brand refresh

Molson Coors Beverage Company has unveiled a game-changing new identity for '90s icon Miller Genuine Draft (MGD) in a move to reinvigorate the brand.
Working with global brand-led creative agency BrandOpus, the new look is aiming to restore the authenticity of the brand and reflect 'genuineness'. It launches across North America this month.
Famous for its unique, cold-filtered process, MGD established itself as one of the biggest US beer brands in the '90s but had lost relevance with consumers in the two decades since.
The BrandOpus team identified that the MGD brand lacked an emotive meaning that was compelling at the point of purchase. The team's analysis also identified that the brand's assets were lacking in visibility and distinctiveness which was stopping them from being easily identified and remembered.
Prior research suggested that a humble authenticity sat at the heart of the brand, which was supported by the genuineness inherent in the brand's name. The BrandOpus team embraced a more authentic, 'nothing-to-hide' aesthetic celebrating people who forge their own path. Shifting away from its elaborate and ornamental styling, BrandOpus stripped back the beer brand for a raw, more honest version of itself.
The gold, black and red palette is still there, likewise, the eagle - which had previously played a secondary role on pack - has been recreated as a more distinctive icon. Re-vitalised with a more contemporary style, the carefully hand-crafted eagle is a symbol of American confidence and character. The red sun asset has also been strengthened so that it now acts as a beacon for the brand.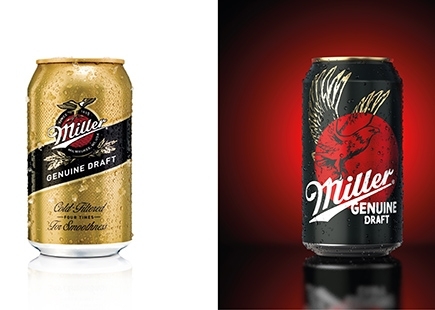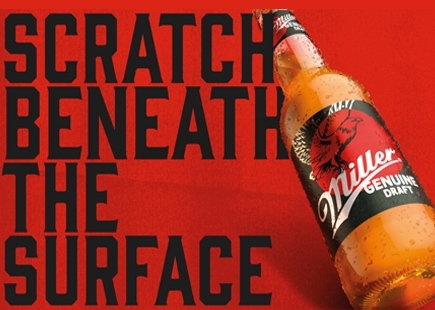 Paul Taylor, chief creative officer and founding partner, BrandOpus, comments, "Historically seen as authoritarian and static, we breathed meaning back into the brand through a more powerful and lively execution of the eagle. Captured at the heart of the identity, we believe this distinctive asset brings a sense of depth and discovery to every moment with MGD."
The redesign is a nod to MGD's authentic roots - reinforcing a bond with past consumers, while opening up the brand to a wider audience.
"BrandOpus has crafted a new identity for Miller Genuine Draft which amplifies the equities and reimagines them for today and the future," comments Anne Pando, senior marketing manager, Miller Genuine Draft. "Our flying eagle becomes the proud icon of a brand which once again has reason to soar."
The bold new work extends across the brand's identity and packaging.
If you enjoyed this article, you can subscribe for free to our weekly email alert and receive a regular curation of the best creative campaigns by creatives themselves.