Muscular Dystrophy UK "Walk the last bit to work" starring Carmela by Atomic London

BOAST is a place where you can find out about recent creative campaigns.
It is a space where agencies and creatives can tell us about the new work they are proud of; blowing their own trumpet, so to speak.
Here's the latest from the creative world as we know it.
A campaign by Atomic London
Muscular Dystrophy UK has teamed up with creative agency Atomic London to create a new campaign to raise £1m towards lost income.
The charity is encouraging Londoners to stay away from packed tubes during Covid-19 and join Carmela in a virtual walk to work by donating their £3 tube fare. The campaign will feature across outdoor, digital and social media.

Carmela Chillery-Watson, a determined and engaging six-year-old from Devizes, has been in complete lockdown – shielding – since March and cannot leave her house. Carmela was diagnosed three years ago with a very rare congenital muscular dystrophy and has gone on to raise thousands of pounds for Muscular Dystrophy UK. But her condition means that even when lockdown eases and people begin to return to work or school, Carmela and many thousands like her will continue to stay shielded at home for many more months.

'Walk the last bit'
Like many charities, Muscular Dystrophy UK has suffered a huge loss in donations since the coronavirus pandemic hit, totalling more than £2.8m, and is at very real risk of running out of funds to support the 70,000 people in the UK like Carmela. In a bid to raise these much- needed funds, Atomic London has come up with the idea to 'Walk the last bit'.

The campaign will see Carmela turned in to a digital 8-bit version of herself, walking through an 8-bit Pixel Art map of London, created by the digital artists Eboy and featured on the iconic Piccadilly Lights billboard. Londoners will be invited to 'walk with her' by walking the last mile to work and donating their £3 tube fare via text. In return for each donation, a digital person will be added to the billboard alongside Carmela in an attempt to raise an unprecedented £1m for the charity.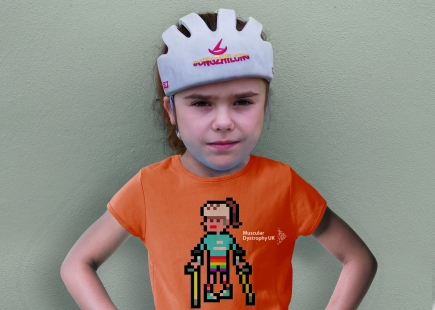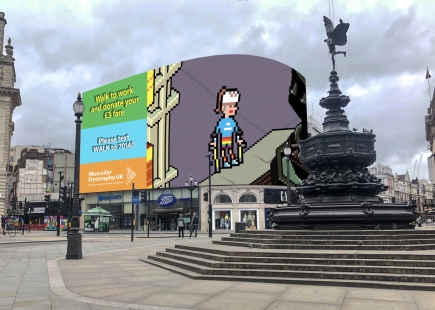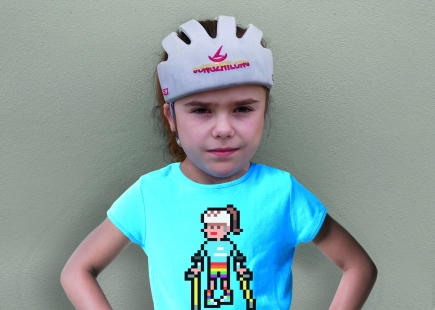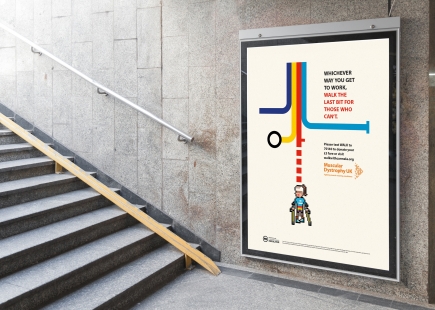 If Carmela can walk a mile, we all can
Creative partner Guy Bradbury said, "As our industry and many others like it return to work, we want to tap into existing behaviour around COVID 19 and get everyone to walk the last little bit to work, for those who can't. By donating the money they save they will ensure 70,000 people don't get left behind".
Stephen Mooney, Director of Marketing and Communications at Muscular Dystrophy UK, added: "There is lovely strength and depth to the idea of seeing Carmela virtually walk the streets of London, during a time when it is not physically possible for her to leave her house. We're thrilled to be able to give Carmela the chance to feature on Europe's largest digital billboard after all the amazing fundraising she has done for Muscular Dystrophy UK."
Beyond the Piccadilly Lights billboard, the campaign is bidding to create a Carmela takeover with promotion on social platforms and feature across partnering media space and key influencers to encourage people across the country to walk to work. Because if Carmela can walk a mile, we all can.

Join Carmela and text WALK to 70140 to donate your £3 tube fare and see an 8-bit version of yourself join this iconic billboard.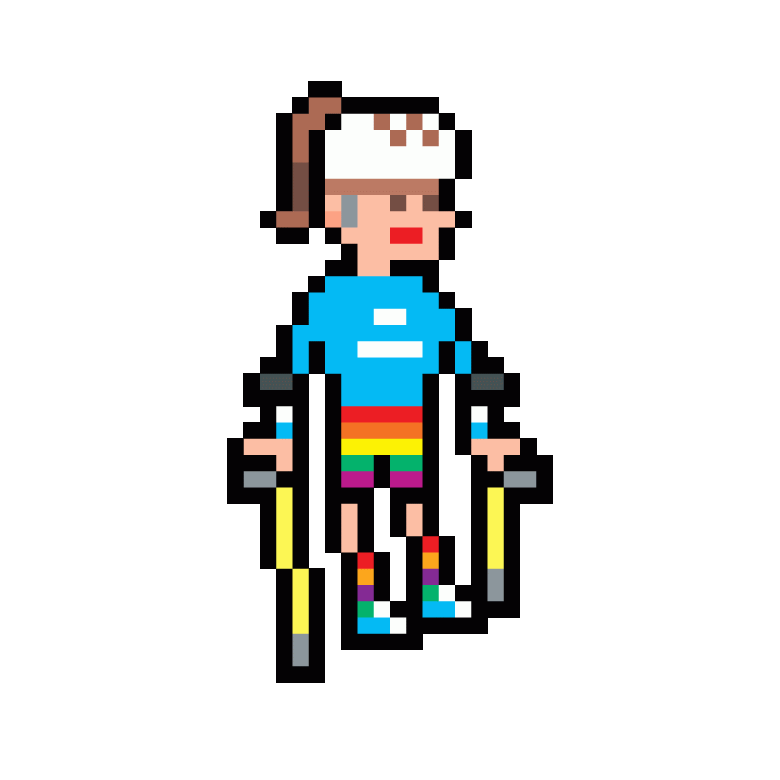 Credits
Executive Creative Directors: Guy Bradbury & Dave Henderson
Head of Planning: Steve Hopkins
Creative Director Art & Design: Pete Mould
Creative: Ben Gough, Amilcar Torija
Senior Account Manager: Catherine Martyn
Senior Project Manager: Charlie Berry
Motion Graphics: Richard Green, Max Sizeland
Illustrator: Eboy
If you enjoyed this article, you can subscribe for free to our weekly email alert and receive a regular curation of the best creative campaigns by creatives themselves.