Nothing, not even a global pandemic, stops the annual Macmillan Coffee Morning

A campaign by AMV BBDO
Macmillan Cancer Support has launched a campaign to encourage the public to take part in the Coffee Morning fundraising event.

Created by AMV BBDO, the agency's first work since winning the account dramatises that nothing, not even a global pandemic, stops the annual Macmillan Coffee Morning.
The TV, digital, and radio campaign broke 6 July and runs until the end of September to highlight that, as treatments have been delayed, Macmillan's work has never been more vital and neither has the fundraising generated by the Coffee Morning, now in its 30th year.
AMV's campaign, which encourages people to hold different kinds of coffee mornings for the post-COVID world, and to do whatever it takes to get involved, makes a virtue of lockdown shooting conditions, blending live action with myriad animations styles, developed together with London studio Blinkink.
The agency team and Macmillan embraced a mixed media approach combining stock and b-roll footage, animation, claymation, graphic design, and a two-day shoot run in line with all current regulations and guidance.
This has resulted in 10 and 30-second films featuring a series of short vignettes, which become more bizarre and exaggerated as they develop. Reinforcing that because cancer doesn't pause for a global pandemic, neither does Macmillan Cancer Support, they dramatically contrast scenes of Armageddon - falling meteors, rampaging robot vacuum cleaners, hipster zombies, hell itself freezing over - against the triumph of the public coming together to put on a Macmillan Coffee Morning in the face of adversity, all for a worthy cause.
The 30-second radio spot takes a similar approach, using audio to convey various doomsday scenarios – from a plague of locusts through to the more imaginative rampaging mutant librarians – before encouraging people to support the Coffee Morning.
Now in its 30th year, Macmillan's Coffee Morning officially takes place on Friday 25th September 2020, but hosts can hold their events any time, and this year it's never been easier to get involved. In response to the coronavirus pandemic, the charity is changing up its popular Coffee Morning format for the first time, with hosts able to hold a virtual event with a backdrop of baking creations, or even a safe and socially distanced doorstep stall.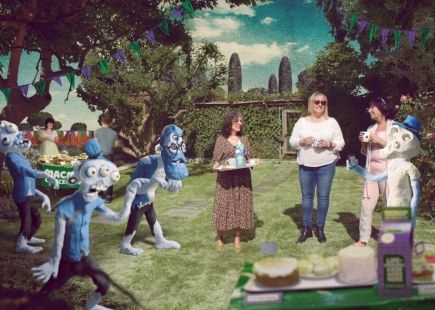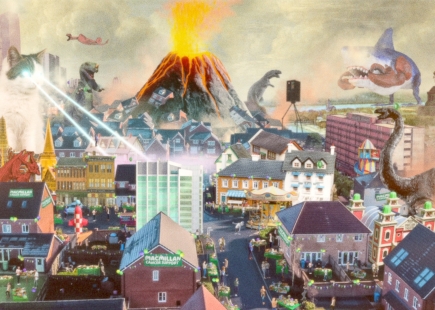 Claire Rowney, Macmillan's executive director of fundraising, marketing and communications, said: "We are thrilled to be launching this new campaign for Macmillan's Coffee Morning. Like many charities, Macmillan is facing a significant drop in income at a time when people living with cancer need our support more than ever before."
"We wanted a Coffee Morning campaign that would really galvanise the nation and communicate the positive impact every donation makes, and AMV has really risen to the challenge. The end result is something we believe is totally original - I'm fairly certain we are the first charity to feature three-eyed zombie hipsters in a TV advert, anyway."
Michael Pring, deputy chairman and CMO at AMV BBDO said: "The work shows the gritty, determined side of Macmillan and urges the public to join in the Coffee Morning in the same spirit – with a dose of good humour along the way."
Credits
Head of Brand Advertising: Joanna Juber
Gabby Greaves: Marketing Manager
Creative Agency: AMV BBDO
Creative Directors: Andy Clough, Rich McGrann
Copywriter: Dan Warner
Art Director: Andy Vasey
Director: Chris Bristow + Sam Gainsborough
Executive Producer: Bart Yates
Producer: Georgina Fillmore
Agency Planner: Tom White, Nicola Willison
Agency Account Team: Alex Bird, Rachel Dymond, Angela Kwashie
Agency Producer: Sophie Honour
Media Agency: Zenith
Production Company: Blinkink
Director: Chris Bristow and Sam Gainsborough
Production Co. Producer: Georgina Fillmore
Post-production Company: Framestore
Business Affairs: Cate Killeen
Audio Post-production: String & Tins
Live PM: Sophie Peskin
PA: Molly Turner
Compositors: John Moore, Brad Purnell, Theo Nunn
Edit: Mdhamiri Nkemi, Tom Fisher
2D: Freya Hotson, Andrew Clarke
DOP: Joe Gainsborough
Casting: Emily Tilelli
Props: Isobel Irwin
If you enjoyed this article, you can subscribe for free to our weekly email alert and receive a regular curation of the best creative campaigns by creatives themselves.