Now would be a great time for Guinness to build upon its ad, Never Alone, featuring rugby hero Gareth Thomas

The Background
The Rugby World Cup is upon us again, not that you'd know about it if you turned on your TV.
Last year, every single advert break in the run up to the other FIFA World Cup was plastered with Harry Kane plugging something.
But beyond the channels showing the competition, there's been a curious lack of big-budget, rugby-related ads and content from brands.
Is it because it's hard to make a broad audience care about rugby union, a sport largely played by a narrow section of British society? Maybe brands are worried about England crashing out of the tournament early like they did last time? Or is it because there's a lack of interesting storytelling opportunities to be found in the rugby world?
Back in 2015, ahead of the previous Rugby World Cup, Guinness showed everyone that there are stories worth telling within the sport for those who scratch a bit more under the surface.
The Big Idea
Guinness highlighted the story of former Welsh rugby captain Gareth Thomas, who became one of the most prominent athletes in UK sport to come out as gay in 2009.
Gareth wasn't just a trailblazer in rugby, he was a trailblazer amongst all sportspeople in the UK.
Guinness used the heightened public interest in rugby ahead of the Rugby World Cup in 2015 as an opportunity to highlight his journey to becoming the first openly gay rugby union player.

What They Did
Guinness gave Gareth Thomas' story the full cinematic experience, creating content that juxtaposed the physical struggles that he faced on the pitch with the internal struggles he was experiencing as he battled with his sexuality and the strain he faced to keep it secret from his teammates and coaches.
The advert mixes shots of Gareth facing the rough and tumble of playing rugby on the field with shots of his off-the-field turmoil including him staring out over a gloomy cityscape, and nervously walking around darkly light innards of the Principality Stadium.
This footage is accompanied by a haunting piano soundscape and narration courtesy of Gareth himself.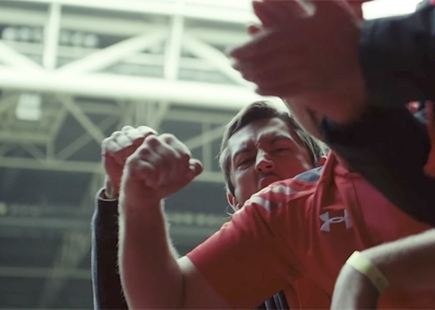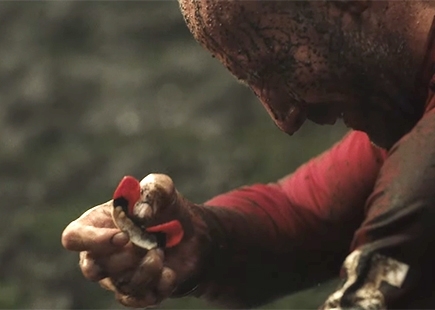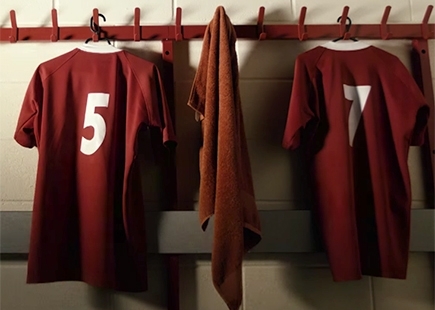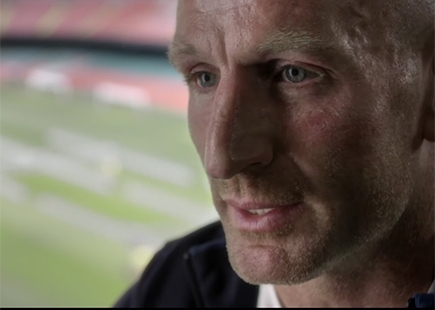 The Review
All too often, there's a temptation for brands using sportspeople in ads to lean towards stereotypes, ie, if using a rugby player then you must feature gratuitous close up shots of the athlete's glistening torso (preferably in the shower) and focus in on traditional concepts of masculinity most associated with the sport – physical strength, power and resilience.
This content works so well because it avoids any of these clichés – Guinness gives Gareth the space to tell his own story without the brand being clumsily shoehorned in.
This is an uplifting piece of content, but luckily there's no clinking of glasses or slo-mo shots of black stuff being poured.
Guinness has to be applauded for resisting this urge. As a result, it is able to tell an authentic, uplifting and moving story that allows the audience to make the obvious connect to its 'Made of More' brand platform.
Having Gareth himself doing the voiceover also really helped maintain a sense of authenticity to the video as it feels like it's his story not Guinness's.
Could the advert be accused of co-opting a positive LGBT story of acceptance for commercial gain, ie, is it an early example of woke-washing? Perhaps, but I think in this context it's justified.
In rugby, an individual is made stronger as part of a team and a team is made stronger by the strength and resolve of its individual members.
Gareth Thomas's decision to come out to his coaches and teammates made his team stronger because their acceptance and support freed him up to excel at doing what he does best – playing rugby.
In Hindsight
Although Guinness continues to champion pioneers who defy expectations (see this year's Liberty Fields campaign), it feels like it missed an opportunity this year by not tackling the other less talked about topic in the rugby and indeed the wider world.
Over the weekend, Gareth Thomas revealed that he has been diagnosed as HIV positive and that he wanted to use his announcement to "break the stigma".
Just after making the announcement he competed in the Ironman triathlon in Pembrokeshire and was applauded the whole way around the course by huge crowds – a compelling story – some would even say that his courage was the perfect embodiment of being 'Made of More'.
Let's hope Guinness agrees and that it puts equal weight behind supporting the next chapter in Gareth's story.
Rugby is also currently experiencing a mental health crisis as highlighted by brave players like Kearnan Myall who are speaking up about the mental strain that the game puts upon players and the lack of support they're given to deal with it.
In 2015, featuring an openly gay athlete as the star of an advert was progressive, but in 2019 it would be nice to see creative brands like Guinness continue to move things forward by drawing attention to other pioneers like say an outspoken advocate for action on mental health or an HIV+ ex-rugby legend that challenging perceptions of the condition.
Given that the primary audience for Guinness ad spots during World Cup itself will be men aged 18-60, it feels like this would have been a topic worth delving into in further detail for this hard-to-reach audience.
If you enjoyed this article, you can subscribe for free to our weekly email alert and receive a regular curation of the best creative campaigns by creatives themselves.