VCCP and O2 launch Pay & 'glo' – the contract free tariff with all the brightest bits of O2

BOAST is a place where you can find out about recent creative campaigns.
It is essentially a space where agencies can tell us about the new work they are proud of; blowing their own trumpet, so to speak.
Here's the latest from the creative world as we know it.
A campaign by VCCP
O2's Pay As You Go tariff has been refreshed, offering customers' Big Bundles with unlimited minutes and texts, enriched data, and access to the brightest bits of O2 without any of the commitment.
Exclusive to O2, customers can enjoy Priority; a collection of invite-only moments to help them do more of the things they love.
From one-of-a-kind treats and experiences, to access to the best in entertainment, with gig tickets available 48 hours before general release.
Plus, customers can also connect to an impressive 16,000 Wi-Fi hotspots across the UK.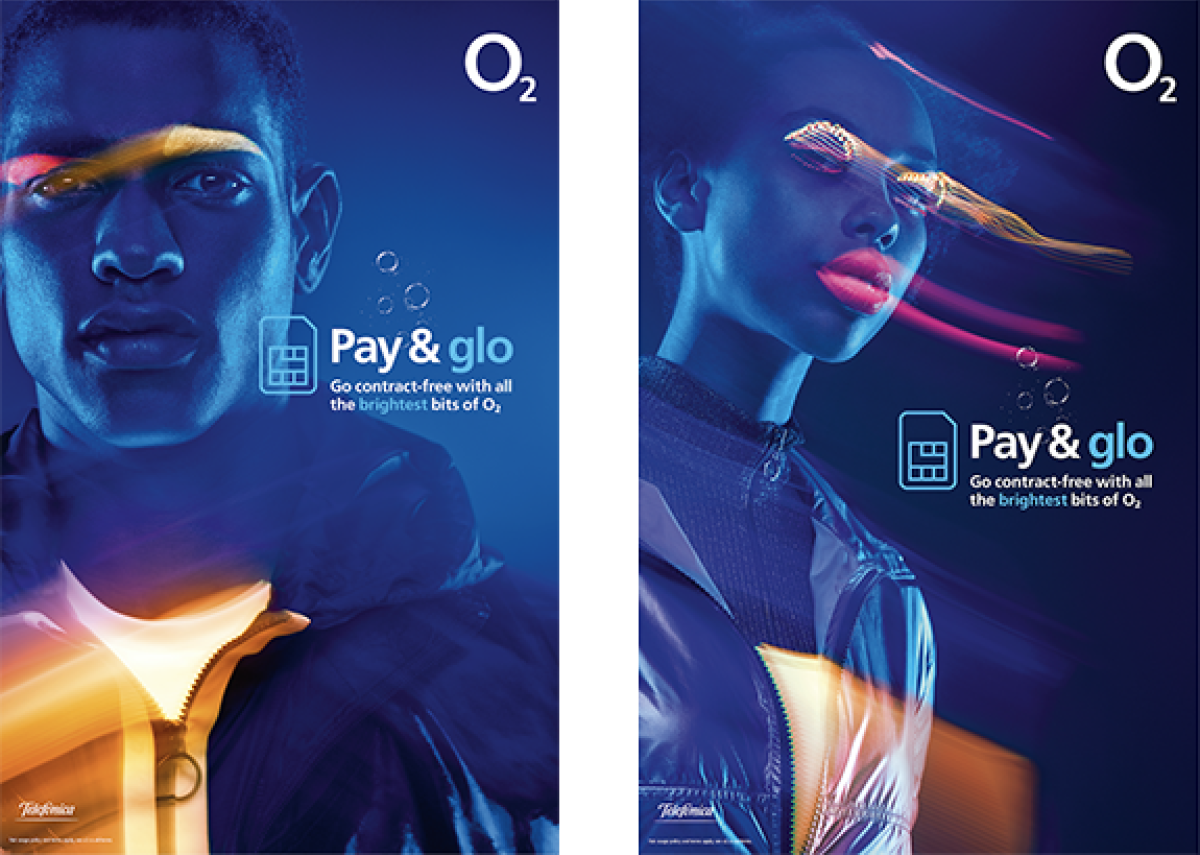 VCCP were tasked to rebrand and reposition O2's Pay As You Go tariff, and inject it with a bit more youth and attitude. Given that Pay As You Go is usually associated with OAP's and people looking for burner phones, this was no mean feat.

We love a pun, so the visual idea and new name came very quickly.
'Pay and glo' was born.

We knew we needed a striking look and feel, that would leap out in both the dull world of tariff advertising, and the rainy grey days of November.

The task was on to find some cutting-edge image makers to help bring our idea alive. Quickly.

Guy Moore, CD on the project, had been a long time fan of Warren Du Preez and Nick Thornton Jones's work. They were perfect for the job in hand. We couldn't believe it when they found a little window in their busy schedules and were able to 'fit us in'.
We were all on the same page from the word go. Or should that be glo? They loved our concepts, we loved the energy and vision they had for the project. And we were all totally in agreement about the level of the 'day-glo' or 'ultra-violet' look. Nothing that made it look dated, or cheesy.
We wanted strong characters for our cast. We found four amazing models who looked great and moved well in front of the camera in their ultra-violet make-up and wardrobe. None of them seem to mind that we daubed them in weird and wonderful colours on a very long day shooting stills and footage.
We are all thrilled with the final images and film for this campaign, and loved working with these two very inspiring image makers.
If you ever get the chance to work with Warren and Nick, grab it with both hands. We'll fight you for them.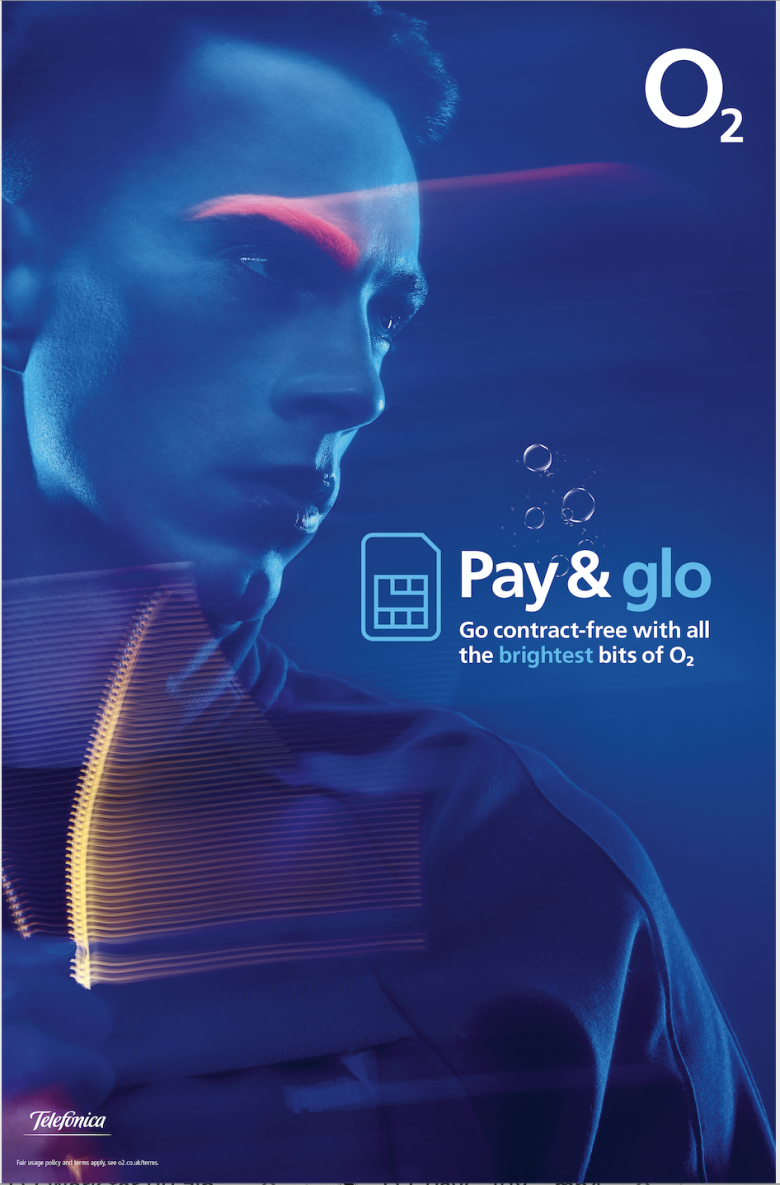 Nina Bibby, CMO, O2, said: "Our new Pay & glo campaign highlights how our new and improved Big Bundles offer the freedom and flexibility of being contract free whilst still being able to benefit from all the brightest bits of O2.
Guy Moore, Creative Director, VCCP: "Renaming and reshaping the exceptionally crowded Pay As You Go category and then bringing it to life with the striking images and photographic talents of Warren Du Preez and Nick Thornton Jones was an absolute delight. We're chuffed to bits."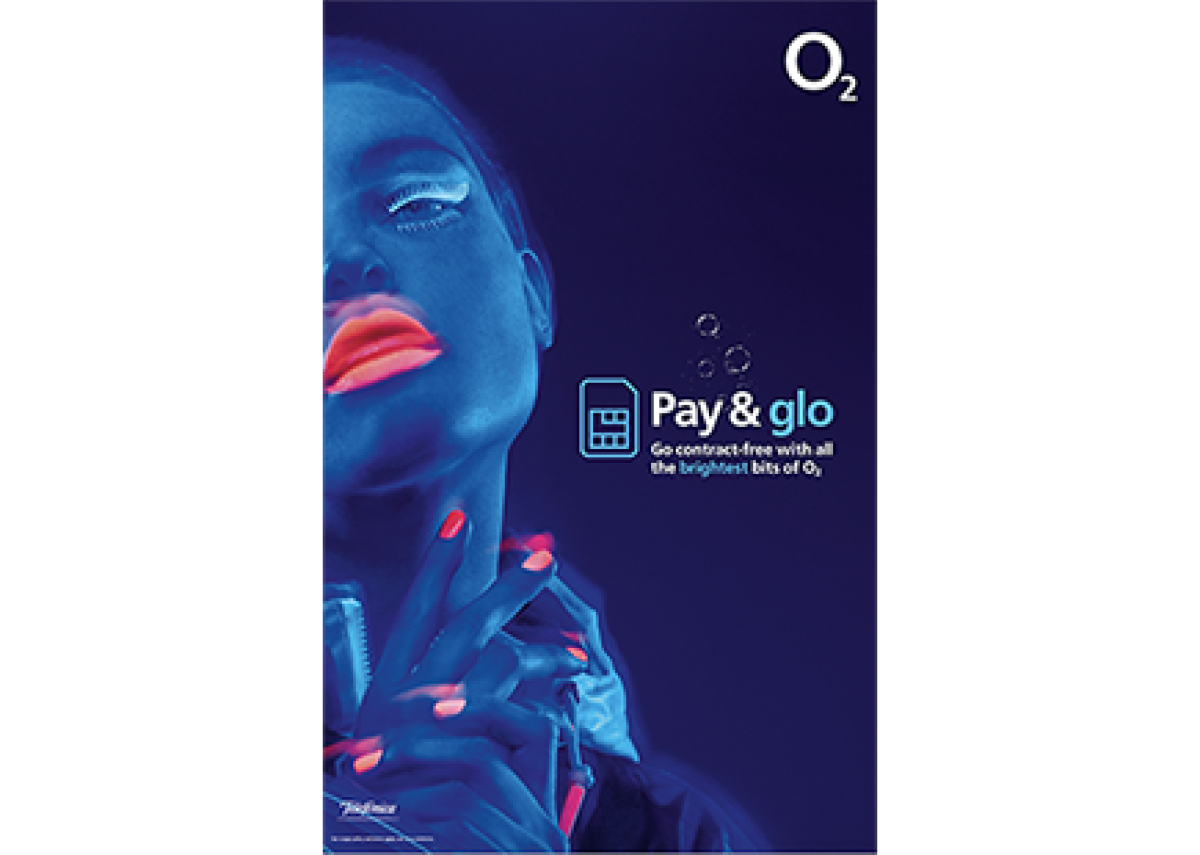 Credits
Client: 02
Creative Agency: VCCP
Media Agency: Havas
PR Agency: Hope & Glory
Executive creative director: Darren Bailes
Creative directors: Guy Moore, Jim Capp
Copywriter: Pip Bishop
Art director: Chris Hodgkiss
Digital associate creative director: Jon Bancroft
Planners: Ellie Gauci, Max MacBeath
Head of 02: Rose Bartel
Account directors: Emma Harvey, Sarah Crowther
Account manager: Emily Saada
Integrated project director: Simon Keyworth
Photographers: Warren Du Preez & Nick Thornton Jones
Retoucher: Studio Invisible
TV producer: Charlie Hodges
Post producer: Lisa Dolan
Digital producer: Ailsa Bryce
Creative producers: Samantha Adam, Lynda McDonald
Radio Producers: Rosie Good, Sydney McGauran
Production company: Immortal Films
Directors: Warren Du Preez & Nick Thornton Jones
Executive producers: Campbell Beaton
Editor: Jos Newbolt
Post-production - 2D Artist: Duncan Horn
Post House: Process Post Production Ltd
Colourist: Jess @ Framestore
Audio post-production: Jeff Smith @ 750mph