Public Health England launch annual Stoptober campaign with new creative focusing on lung health

A campaign by M&C Saatchi
The annual Better Health - Stoptober campaign is launching for its ninth year to encourage the nation's smokers to quit.
In 2020, smoking prevalence among adults in England is at a record low of 13.9%,2 however there are still an estimated 6.1 million smokers.3 The campaign aims to drive quit attempts at scale using a familiar calendar moment to encourage smokers to act now.

This year the campaign, which sits under PHE's new Better Health brand, is focusing on the improvement of lung health through quitting smoking.
Developed by M&C Saatchi, the new creative for the campaign uses a 'breathe easier' approach, referencing how smoking damages the lungs and reminds smokers that there is no better time to quit. The creative directs smokers to a host of Stoptober resources available to them, including the Stoptober app, Facebook messenger bot, and online communities, Personal Quit Plan, SMS, and daily emails.
Time to quit
The campaign, costing approximately £1 million, will run across OOH, online, social media, radio, PR and partnerships kicking off from the 21st September and running until the end of October. The activity will target smokers aged 35 to 60, but this year also has a new focus on younger smokers (aged 18-34), as younger audiences are seeing an increase in smoking during the pandemic.4 This is in spite of data from Action on Smoking and Health (ASH) that calculated over a million people in the UK stopped smoking during the coronavirus lockdown.5
The campaign is launched in partnership with leading UK health organisations including ASH, BLF, BHF and Cancer Research UK, who are joining in the call to get the nation's remaining smokers in England to give quitting a go this Stoptober. The campaign has also partnered with Amazon, Superdrug and Boots.
Stoptober is the annual campaign under PHE's new umbrella brand, 'Better Health Let's Do This' (which has the overarching ambition of inspiring millions to improve their health) encouraging smokers across the country to join in and give quitting a go for the month of October. Stoptober provides the information and support people need to quit smoking for 28 days, based on research that if a smoker can make it to 28 days smokefree, they are five times more likely to quit for good.6
Commenting on the new campaign, Alexia Clifford, deputy head of marketing, Public Health England, said: "Stoptober has become a national calendar moment and has encouraged over 2 million quit attempts. There's never been a better time to stop smoking with a wide range of support available to people. Lung health is more important than ever, and I hope that this year's campaign will continue to encourage many more smokers to quit."
Ben Golik, chief creative officer, M&C Saatchi said: "Many creative approaches have been tried and tested over the years to reach and motivate smokers. Simplicity always wins out. This campaign uses striking visuals to show both the damage of smoking and the benefits of quitting – the two most powerful levers we can pull. Harm and hope blend into a single visual story focused on the lungs. And in a year we have never been more aware of the dangers to our lungs, it's a powerful and pertinent metaphor."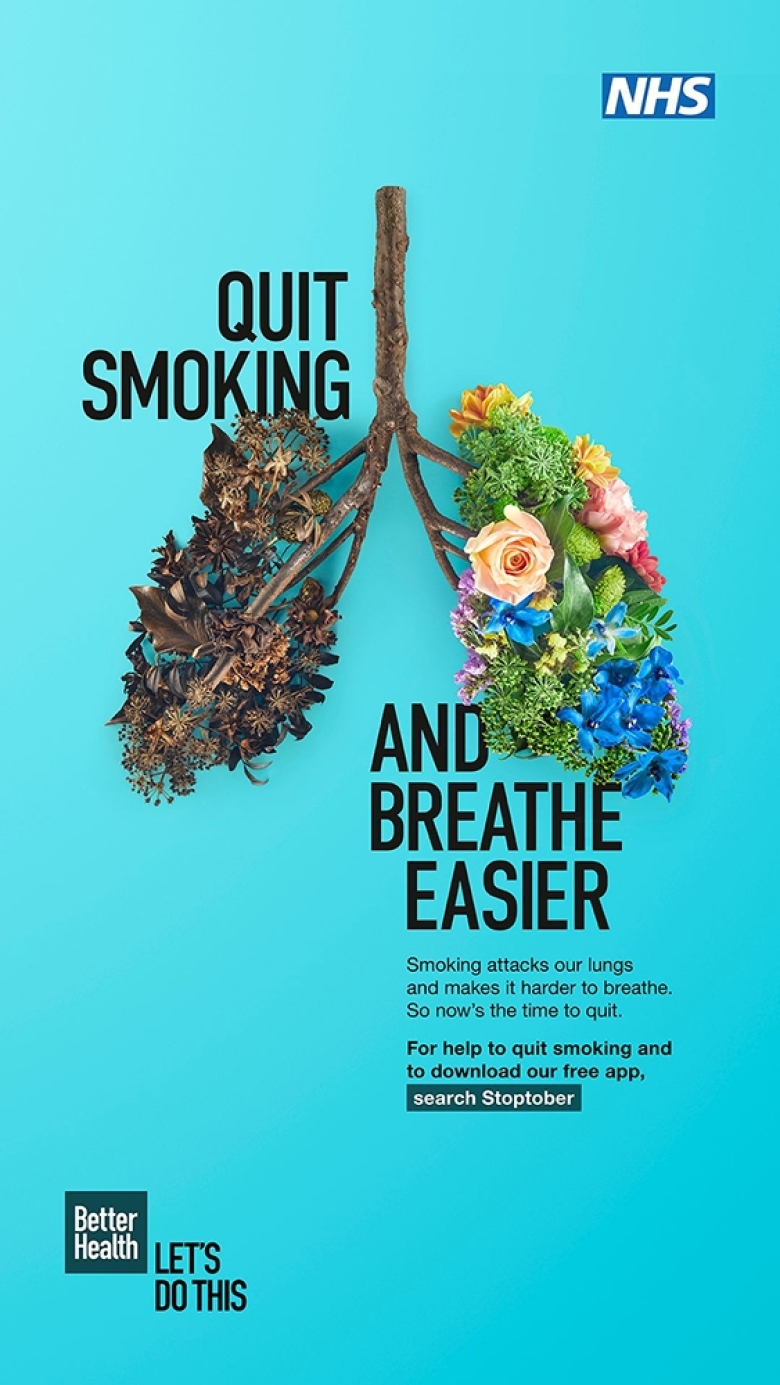 Credits
M&C Saatchi:
Chief Creative Officer: Ben Golik
Becky Brice: Creative
Amy Parkhill: Creative
Business Director: James May
Account Director: Rory Gilbride
Producer: Eliot Liss
Director/DoP: Wilson Hennessey
Producer: Niall Horton-Stephens
Rick Waller @ Rick&Joe - Edit and Post Production
Paul Baker @ 3D Studios - Models
Tom Lane @ Creative Outpost - Sound Design