One of the coldest places on earth bids for 2032 Summer Games

A small town in Finland highlights the rapid changes in climate with an important and urgent message
The closer to the poles, the more one may feel the impact of climate change. Salla, the coldest town in the Finnish Lapland region, is already experiencing it. So they decided to make it known.

Suffering from the consequences of an increasingly unpredictable weather and shorter winters, this small town above the Arctic Circle stepped up and called the world's attention to the problem in a very unlikely way: by proclaiming its bid to host the 2032 Summer Games.
The purpose of the announcement, which wasn't actually a real bid, was a call to the world to help with the ongoing climate crisis. And even though there were no real intentions for the town to submit the bid, Salla followed all steps and protocol in order to host the Summer Games, including creating a logo, a bid book, uniforms, promotional activities and naming a mascot. They also published a disclosure video.

Keep cold
"Our intention here is clear: we want to keep Salla as it is, and our winters cold and full of snow. So, there was this crazy idea: to host the Summer Games in one of the coldest towns on the planet. If we stand back and do nothing, letting global warming prevail, we will lose our identity, and the town we love – as well as many others around the world - will cease to exist as we know it," said the town's mayor, Erkki Parkkinen.
The initiative #SaveSalla was conceived by Agencia Africa in conjunction with Municipality of Salla and House of Lapland with the support of Fridays for Future, the global climate strike movement that started with Greta Thunberg and other young activists and now continues to put pressure on governments and policymakers to take forceful action to limit global warming.
"This is not a local problem. It's a global issue that must be tackled by the whole planet. We have the privilege to be part of a worldwide network that was able to reach Salla, a small town that received us so well and enthusiastically embraced this crazy idea, that brings such an important and urgent message",said Sergio Gordilho, Agencia Africa's Copresident and CCO.
"We are concerned about climate change, and as we live here in the Arctic circle we are experiencing it before many others," added Parkkinen. "We don't want to be the best place to host Summer Games in 2032 because that would mean that temperatures would have not stopped rising. Summer Games values are to unify people and nations. We need this same spirit to stop the climate change."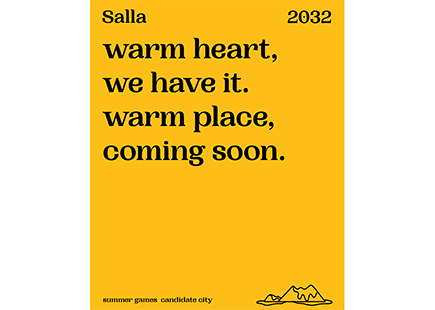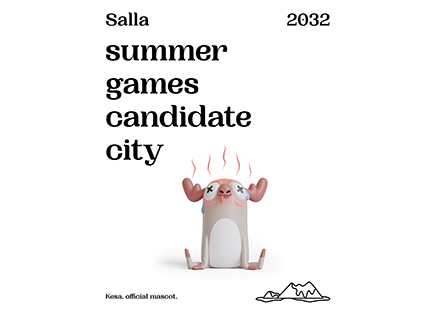 #SaveSalla features a film with local citizens already getting prepared for warmer temperatures and for hosting the Summer Games in 2032, as well as athletes adapting themselves to replace their usual sports to their summer versions. The piece was produced by Triatoma and directed by Santi Dulce. The campaign also includes a website that provides practical solutions to tackle the climate emergency and invites people to learn more about Fridays For Future and ways to support and engage with its cause.
"It is inevitable. We have only one planet to live in and an immense responsibility to future generations. We can all make a difference. What we cannot do under any circumstances is deny the problem and omit ourselves. The risks will be severe and unavoidable," said Joe Hobbs, Fridays For Future activist and operations director for Climate Cardinals. "Global warming does not have to be a self-fulfilling prophecy and everyone can make a significant and decisive contribution to stop this process," he added.
The campaign is reaching all corners of the world, gaining support from environmental organizations, activists and the general public. After being able to get the attention they were seeking, this small town from Finnish Lapland is now challenging the world to join the fight by taking effective actions against climate change.
Visit www.savesalla.com
#SaveSalla #SaveThePlanet
Credits
Title: Salla 2032
Agency: Africa
Client: House of Lapland
CCO: Sergio Gordilho
ECD: Matias Menendez
Creative Directors: Nicholas Bergantin/ Rodrigo Adam
Copywriter: Nicholas Bergantin
Art Directors: Rodrigo Adam/ Mihail Aleksandrov/ Leonardo Zardo/ Maso Heck
Director of Special Projects: Juliana Leite/ Monique Lima
Special Projects: Fernando Alonso/ Caio Rodrigues/ Isabela Levy/ Thays Miranda/ Lica de Souza/ Aline Saraiva/ Julia Newman
Sustainability & Institutional Relations: Raphael Vandystadt
Digital Strategy: Carol Patrocinio
Community Managers: Carolina Camila/ Aline Khoury
PR: Fabiana Antacli/ Carina Miranda/ Valerie Silverman Kerr
Art & Content: Felix
Chief Technology Officer: Fabio Palma
Digital Production Director: Fernando Tolusso
Project Manager: Leandro Gomes
Tech Lead: Valerio Oliveira
Agency Producers: Rodrigo Ferrari/ Juarez Lima
Live Producer: Netshow.me
Bid Book Designer: Thais Trizoli
3D Mascot: Carlo Taffarel
2D Mascot Animation: Marco Nick
Mascot Concept & Character Design: Marmota vs Milky
Mascot Character Modeler: Tales da Rocha
Curation: Norte Produtora de Arte
Production Company: Triatoma
Director: Santi Dulce
Executive Producer: Renan Chagas
Director of Photography: Gabriel Bianchini
Fixer/Location Manager: Timo Tuuha
Editor: Matheus Tibira
Color Grading: Fernando Lui
VFX: Warriors VFX
Assistants: Iris Maurer/ Laura Faber
Supported by: Primo Content
Sound Track and Sound Design (Bid film): Guilherme Francischi
Sound Design (Social Content): Satelite Audio
Musical Direction: Roberto Coelho/ Kito Siqueira/ Hurso Ambrifi/ Thiago Colli
Sound Design Client Services: Larissa Sarkis/ Carol Araujo
Musical Production: Roberto Coelho/ Kito Siqueira/ Hurso Ambrifi/ Mike Vlcek/ Thiago Colli/ Charly Coombes/ Koitty/ Helton Oliveira
Sound Design Post Production: Carla Cornea/ Pedro Macedo/ Ian Sierra/ Renan Marques/ Vithor Moraes
Sound Design Production Coordinator: Ana Cordeiro/ Larissa Costa/ Debora Mello
Approved by: Veli-Pekka Ojamaa/ Paula Aspholm / Sanna Tarssanen
Supported by: Fridays for Future
Special Thanks: Salla Reindeer Park / Teemu Lahtinen / Kota Collective / Adriano Costa / Elton Felix / Daniel Socci / Marla Color Grading / Andre Pulcino / Guido Gallo / VP Cine
If you enjoyed this article, you can subscribe for free to our weekly email alert and receive a regular curation of the best creative campaigns by creatives themselves.