SNICKERS® reveals its new Super Bowl LIV ad by BBDO New York & AMV BBDO

BOAST is a place where you can find out about recent creative campaigns.
It is a space where agencies can tell us about the new work they are proud of; blowing their own trumpet, so to speak.
Here's the latest from the creative world as we know it.
A campaign by BBDO New York & AMV BBDO
SNICKERS will have a 30 second spot entitled "SNICKERS Fixes the World" that will run during the first quarter of the game, but the brand has now released a special long-form version.
In the iconic brand's signature humour, they present an absurdly satisfying solution for fixing the world when the world is clearly not itself.
The new ad honours the tenth anniversary of the "You're Not You When You're Hungry" campaign, one of the most awarded and well-known campaigns in advertising history, and marks the 90th anniversary of the iconic SNICKERS brand.
This will be SNICKERS' sixth Super Bowl ad in the past decade.
The new ad, which also includes an original song, was created by BBDO New York and AMV BBDO.
Dubbed "SNICKERS Fixes the World," the new spot highlights humorous and relatable signs of a world that's clearly not itself, such as grown-ups riding scooters, babies named after produce, devices that listen to your conversations, and parents who text dirty pics.
The brand's solution is then revealed.
As a crowd gathers in song to watch, a giant SNICKERS is "fed" to the Earth in a grand attempt to fix the world.
The spot ends with some evidence that SNICKERS' plan just may be working.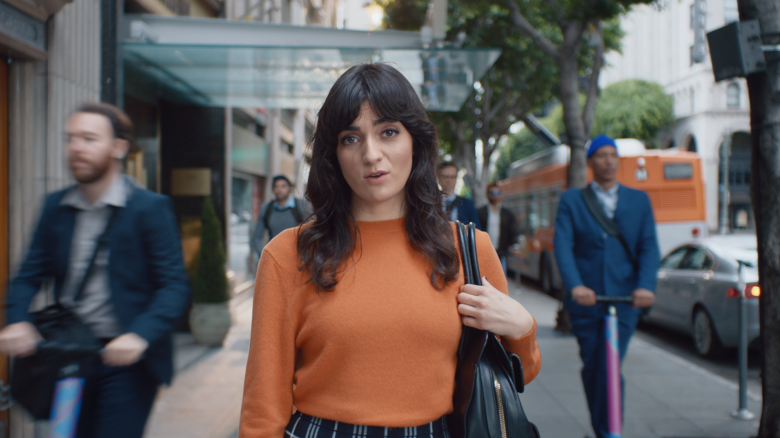 Josh Olken, Brand Director, SNICKERS said "This new ad marks the latest evolution of our award-winning 'You're Not You' campaign". Since the first Super Bowl spot 10 years ago, we've shown the power of SNICKERS to satisfy when you're out of sorts. Our attempt to 'fix the world' is a new angle, and our biggest yet: When the world itself is out of sorts, maybe it just needs a SNICKERS."
Actor Luis Guzmán, known for his prolific character roles, makes an appearance in this year's Super Bowl ad where he helps celebrate SNICKERS for fixing the world.
The spot will air during the third commercial break of the first quarter of Super Bowl LIV.
The longform version of "Fix the World" SNICKERS released on YouTube features Miranda Cosgrove, Bill Walton, and Charlotte Flair.
Credits
Client: MARS CHOCOLATE NORTH AMERICA
Tanya Berman: VP of Marketing
Josh Olken: Brand Director, SNICKERS® Brand
Martin Terwilliger: Sr. Brand Manager, SNICKERS® Brand
Michael Italia: Head of Social Media & Digital Content at the Hive
Seth Dager: Head of Social Creative at the Hive
Betsy Magilnick: Social Media Strategist at the Hive
Rankin Carroll: Global VP, Chocolate Category BU
Dale Green: Global Brand Director, SNICKERS®/ Bars
Creative Agency: BBDO New York & AMV BBDO
David Lubars: Chief Creative Officer - BBDO Worldwide
Greg Hahn: Chief Creative Officer - BBDO New York
Alex Grieve: Chief Creative Officer - AMV BBDO
Scott Mahoney: Creative Director - BBDO New York
Dan Oliva: Creative Director - BBDO New York
Alan Wilson: Art Director - AMV BBDO
Diccon Driver: Writer - AMV BBDO
Charlotte Adorjan: Creative Director - AMV BBDO
Matt Swinburne: Creative Director - AMV BBDO
Gianfranco Arena: Executive Creative Director - BBDO New York
Peter Kain: Executive Creative Director - BBDO New York
Larissa Magera: Copywriter - BBDO New York
Morgan Hoff: Art Director - BBDO New York
David Rolfe: EVP, Director of Integrated Production - BBDO New York
Amy Wertheimer: EVP, Group Executive Producer - BBDO New York
Sarah Knowlton: Associate Producer - BBDO New York
Julia Millison: Music Producer - BBDO New York
Melissa Chester: Music Producer - BBDO New York
Paul Cisco: Business Manager - BBDO New York
Kirsten Flanik: CEO & President, BBDO New York
Susannah Keller: EVP, Global Business Leader, Mars - BBDO New York
Julien Lemoine: Vice President, Global Business Lead - BBDO
Lisa Piliguian: EVP, Senior Account Director - BBDO New York
Tani Corbacho: VP, Account Director – BBDO New York
Elizabeth O'Connor: Account Manager - BBDO New York
Jacob Plastina: Account Executive - BBDO New York
Richard Moloney: Client Partner - AMV BBDO
Luke Slater: Senior Account Director - AMV BBDO
Philippa Field: Board Account Director - AMV BBDO
Crystal Rix: Chief Marketing Officer - BBDO Worldwide
Annemarie Norris: SVP, Group Director, Behavioral Planning. - BBDO New York
Christina Stoddard: Group Planning Director - BBDO New York
Brian Brydon: Comms Planning Director - BBDO New York
Nicola Willison: Strategy Director AMV – BBDO
Talent Agency: The Marketing Arm
Brad Sheehan: Celebrity Talent Acquisitions
Production Company: MJZ
Tom Kuntz: Director
David Zander: President
Eriks Krumins: Senior Executive Producer
Emily Skinner: Producer
Linus Sandgren: Director of Photography
Brock Houghton: Production Designer
Editorial: Mackenzie Cutler
Gavin Cutler: Editor
Pamela Petruski: Editor
Megan Heard: Assistant Editor
Gina Pagano: Executive Producer
Mix: Heard City
Keith Reynaud: Mixer
Color: Company 3
Tim Masick: Colorist
VFX: The Mill
Phil Crowe: Creative Director
Anastasia Von Rahl: Executive Producer
Melanie Roy: Producer
Bret Aros: Coordinator
Dan Warom: 3D Lead
Tim Crabtree: 2D Lead
Kai Tsai: Assistant
Remedy Huynh: Assistant
Music: We Are Walker
Sara Matarazzo: Senior Executive Producer
Abbey Hendrix: Executive Producer
Hispanic Agency: Third Ear
Serge Flores: Executive Creative Director
Rene Gardner: Senior Copywriter
Javier Peraza: Senior Copywriter
Rina Tiffer: Group Account Director
Meredith McBroom: Senior Account Executive
Michael McLaughlin: Senior Producer