The Economist launches new out-of-home advertising campaign created by AMV BBDO

BOAST is a place where you can find out about recent creative campaigns.
It is a space where agencies can tell us about the new work they are proud of; blowing their own trumpet, so to speak.
Here's the latest from the creative world as we know it.
A campaign by AMV BBDO
The Economist, a leading source of analysis on international business and world affairs, this week announced the launch of a new billboard advertising campaign, created by AMV BBDO. The newspaper took over digital billboards at multiple sites from Monday 20 January.
In this pivotal year of Brexit, the US elections, and the UN Climate Change Summit in Glasgow, The Economist has re-visited its iconic red-and-white campaign to remind its loyal and dedicated audiences that the publication's fair-minded, independent and trusted journalism is needed more than ever.
Following in The Economist tradition, each billboard introduces a topical twist that will appeal to the intelligence of its readers.
The campaign begins with four executions, initially running on the digital screens at Old Street roundabout from Monday 20th to Friday 31st January. UM secured the billboards at the Old Street Roundabout on behalf of The Economist.
Located in the heart of the technology quarter in East London, the screens reach approximately 370,000 people daily. The work will roll out to further locations over the coming weeks, including Canary Wharf from Wednesday.
All four executions feature the classic red box of The Economist, each with a sentence intended to provoke audiences' own thought and analysis:
Escape the chamber chamber chamber
Enocomsit rdeeras avhe lradaye wrkode ti uot.
Alexa's listening. Say something intelligent.
[On rotation with] Siri's listening. Say something intelligent.
Cure Imposter Syndrome.
The compelling lines, created with AMV BBDO, will be supported by experiential commuter outreach in adjacent locations, including handing out coffees in Economist-branded reusable cups, along with free copies of the magazine.
The new campaign will also be deployed across The Economist's subscriber acquisition marketing channels.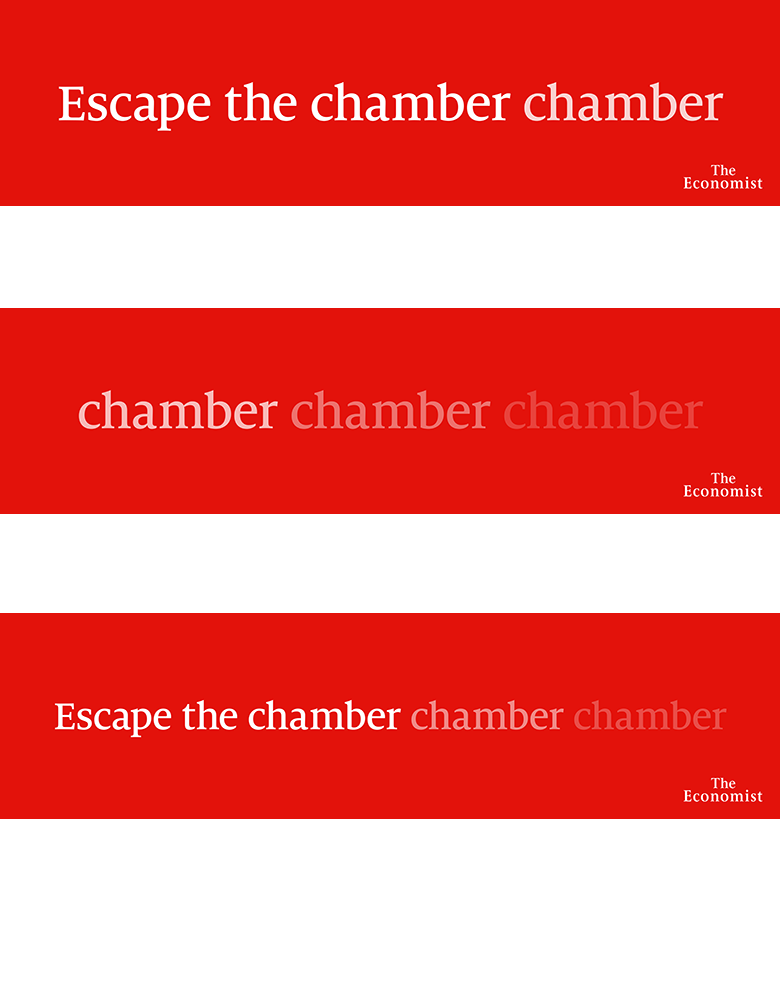 Mark Cripps, Chief Marketing Officer, The Economist says: "The campaign is designed to remind existing and inform new readers of the high-quality journalism that they can be proud to consume. We assert that we help equip people for the future by distilling the news that matters and by overlaying it with our global perspective and rigorous analysis."
Nicholas Hulley and Nadja Lossgott, Executive Creative Directors at AMV BBDO say: "There are few things in advertising as iconic as a white out of red Economist headline. We are delighted and excited to help get some more out into the world."
Allison McMordie, Communications Director at UM says: "Amidst the current socio-political climate, The Economist's use of out of home media in this iconic London site will capture the attention of their high value, Globally Curious audience, enticing new readers and reminding current users of the quality content found in The Economist."
This new campaign coincides with The Economist expanding its coverage ahead of the US presidential election by launching a new 2020 newsletter and podcast called "Checks and Balance". It's also supported by the launch of the refreshed website, www.economist.com.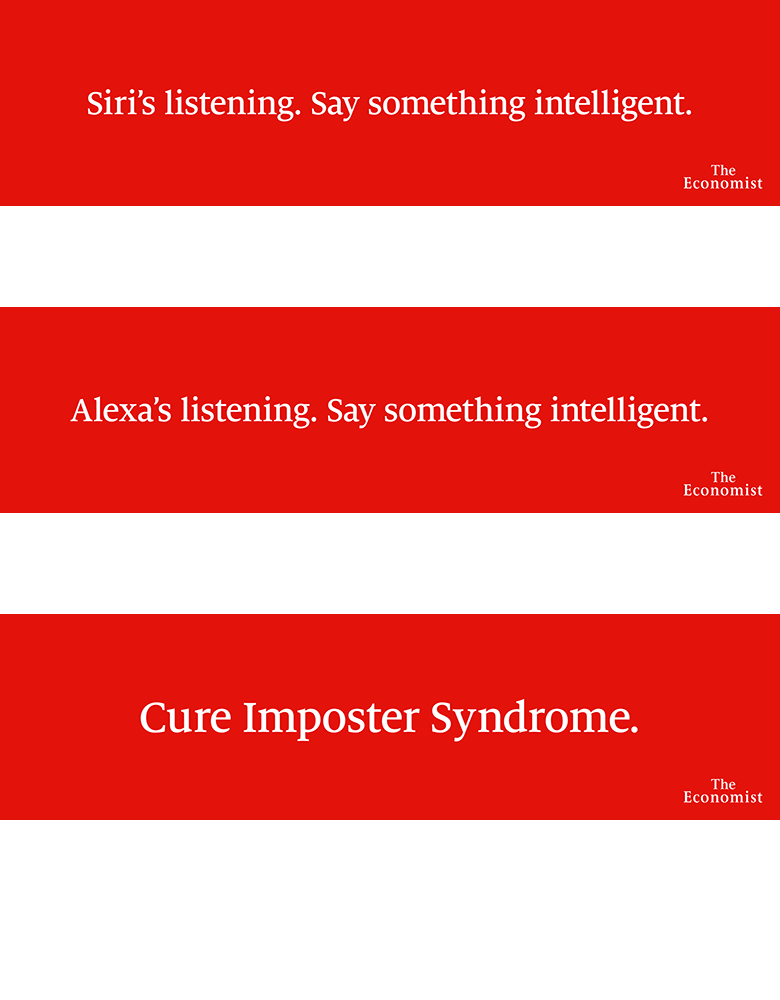 Credits
Client name & job title: Mark Cripps, Chief Marketing Officer & Mark Beard, SVP, Global Head of Subscriptions Marketing
Creative Agency: AMV BBDO
Creative Directors: Nicholas Hulley & Nadja Lossgott
Creatives: Echo Chamber - Augustine Cerf & Lauren Peters
Creatives: Cure Imposter Syndrome - Etyan Smith & Tom Van Der Mee
Creatives: Siri is listening - Andy Vasey
Creatives: Enocomsit rdeeras avhe lradaye wrkode ti uot - Tim Riley
Agency Planner: Craid Mawdsley & Mike Alhadeff
Agency Account Team: Gemma Troup
Agency Producer: Katie Fewster
Media Agency: UM
Media Director: Allison McMordie
Out of Home Account Director: Phil Hampson
Trading Group Business Director: Simon Clark
Business affairs: Maxine Thompson

If you enjoyed this article, you can subscribe for free to our weekly email alert and receive a regular curation of the best creative campaigns by creatives themselves.