adam&eve creates NOSEiD to help reunite owners with lost dogs

One in three pets will be lost at some point in their life.
This makes losing a pet one of the biggest concerns pet parents face. In fact, 10 million pets are reported lost or stolen in the U.S. every year. As a solution to help reunite more lost dogs with their families – and in honour of National Pet ID Week (April 17-23) – the IAMS brand has launched the beta version of the new NOSEiD mobile app, available throughout Nashville and the surrounding area.
The NOSEiD app uses first-of-its-kind nose-scanning smartphone technology to help identify lost dogs by their nose print, which is unique to each dog, much like a human fingerprint. The app's nose-detection technology is paired with the support of local communities to help reunite lost dogs with their pet parents.
"Pets are irreplaceable family members, and with the NOSEiD app, we're hoping to help keep more pets in their loving homes and out of shelters – taking another step toward our goal of ending pet homelessness,"said Craig Neely, vice president of marketing at Mars Petcare."The app is designed to be a community resource, so whether someone has a dog or not, they'll be able to join the NOSEiD community to help reunite lost dogs with their families in their own neighborhood."
The NOSEiD app provides any person who finds a lost dog the tools they need to reunite it with its family, right in their smartphone. The app provides resources for pet parents and community members, such as an interactive map of lost dogs, robust pet profiles, a lost dog poster generator and more.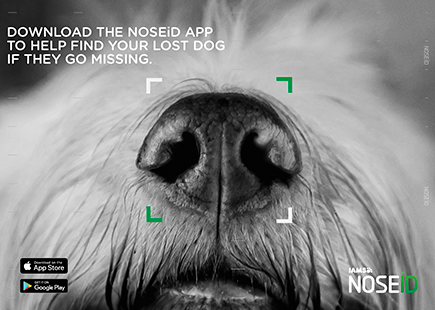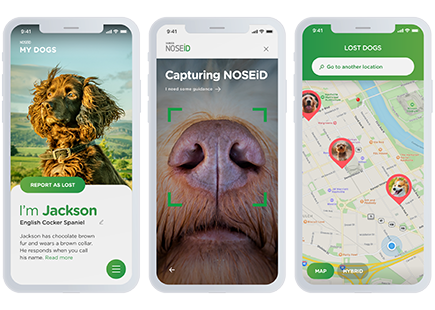 Here's how the NOSEiD app works.
Pet parents can download the app and follow the prompts on the screen to make a profile for their dog, including scans of their dog's nose and a physical description.
If a dog goes missing, the pet parent can report their dog as lost, and the missing dog alert will instantly be sent to other NOSEiD app users in their community.
Anyone who finds a lost dog can use the app to check the lost dog profiles in the community, as well as scan the found dog's nose to search the NOSEiD app for any matches. Once the dog has been identified, the finder can connect with the pet parent to reunite them with their dog.
With the new NOSEiD solution, the IAMS brand, which is part of the Mars Petcare portfolio of products and services, is working to support the company's global ambition to end pet homelessness. The brand will work with local animal shelter partners to educate new pet parents on the need for the NOSEiD app and how it can be beneficial, in addition to other preventative measures like microchipping. The brand also will be collaborating with local businesses throughout Nashville, such as groomers, restaurants, shops, dog walkers and more, to spread the word about the new technology.
The NOSEiD app is available for Apple and Android devices in the App Store and Google Play Store.
Credits
Client: MARS PETCARE
Brand: IAMS
Project/Campaign name: NOSEiD
First Air Date: Monday 19th April 2021
Client/s Team
Vice President, Marketing: Craig Neely
Senior Marketing Director: Melodie Bolin
Brand Manager: Rafael Blanco
Brand Manager: Matt Thompson
Agency: adam&eveDDB
Chief Creative Officer: Richard Brim
Creative Director/s: Shay Reading, Frank Ginger, Daniel Bailey & Bradley Woolf
Creative Team: Zoe Nash & Sali Horsey
Digital Creative: Matt Osbourne
Executive Content Director: Simon Adamsom
Director of Digital Acceleration: Sara Chapman
Joint Head of Production: Cave Ellison
Agency digital producer/s: Budr Elnusairi
Experience Director: Drew Spencer
Executive Planning Director: Nick Hirst
Planning Director: Tom Sussman
Senior Planner: Rafael Guper
Junior Planner: Kit Owens
Group Managing Director: Fiona McArthur
Managing Partner: Charlotte Cook
Account Director/s: Siena Shuttler & Cosmo Haskard
Account Manager/s: Harriet Carter & Megan Hill
Design: King Henry
Head of Design: Alex Fairman
Designer/s: Maurico Brandt & Martin Murphy
App Development Partner: Psycle

If you enjoyed this article, you can subscribe for free to our weekly email alert and receive a regular curation of the best creative campaigns by creatives themselves.