Uncommon and Ecover launch powerful campaign to fight fashion landfill

BOAST is a place where you can find out about recent creative campaigns.
It is a space where agencies can tell us about the new work they are proud of; blowing their own trumpet, so to speak.
Here's the latest from the creative world as we know it.
A campaign by Uncommon
Fashion waste is hurting our planet with almost 1,000 items of clothing going to landfill every thirty seconds here in the UK alone1.
The conversation is often centred around the new clothes we buy, rather than the ones already hanging in our wardrobe. Eco-pioneer Ecover want to raise awareness and champion the environmental benefit of keeping our clothes in-use for longer and out of landfill. Uncommon brings this formidable mission to life in new global creative campaign 'Laundry Against Landfill'.

Uncommon and Ecover have launched their powerful demonstration film – in which we see 1,000 clothes fall into landfill in just thirty seconds.
The offbeat film stars Professor Green, who makes a moving speech direct to camera whilst perched on top of a washing machine in full spin.
As the music builds, we pan out to see clothes drop all around him; this powerful visual demonstrates the shocking reality behind the statistic. The film promotes Ecover's new laundry detergent, which features a new formula with plant-based ingredients that helps your clothes last longer.

The campaign launched at a pinnacle moment in the fashion industry's calendar, the day before London Fashion Week, with the aim to target the fashion community and raise attention around this important conversation. People are beginning to search and educate themselves more and more around how they can become less wasteful. The importance of this in relation to clothes is clearly illustrated by research which shows that 'extending the life of clothes by just nine extra months of active use would reduce carbon, water and waste footprints by around 20-30% each'2.
The campaign will also be supported by impactful, guerrilla style OOH. All shot by renowned Brooklyn-based photographer Bobby Doherty.
Doherty's playful nature brings colour and attitude to the shots of clothes and Ecover's new detergent range. To prompt discussion of the problem of fashion waste, these visuals appeared in tactical flyposting around Fashion Week sites in London with lines including 'Fashion Week? Fashion Should Last Longer Than A Week'.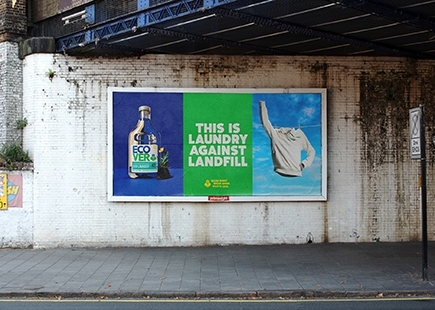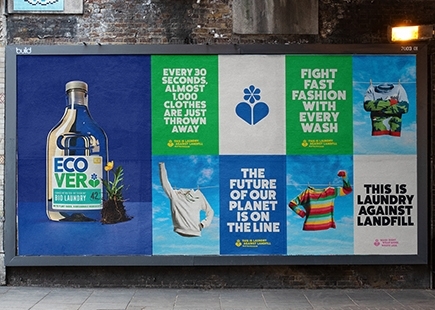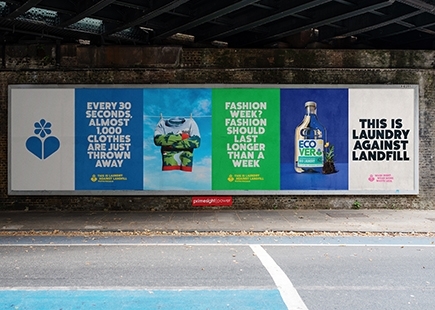 Nils Leonard, co-founder, Uncommon said: "1000 items of clothing enter a landfill every 30 seconds in the UK. We wanted to visualise this powerful truth because words and data can often become white noise. Sometimes the most powerful thing to do is show people the reality of the situation. So we did. With a distorted synth organ solo."
Sara Mendez, marketing director, Ecover adds: "Over Ecover's 40-year history the brand has raised awareness of key environmental issues and taken action to help tackle them. Today, we are deeply concerned about the climate and ecological emergency. With this campaign we wanted to raise awareness of the problem of fashion waste but also show people ways they can lessen their impact. By falling back in love with the clothes they already own, keeping them in use, and out of landfill".
As green leaders for the last 40 years, it was vital for Ecover to conduct a sustainable shoot. Working with Biscuit, through Ad-green conduct, it ensured that all carbon involved with production was offset, all the clothing used on set was second hand and had been ethically sourced (it was also collected after the shoot by a clothing company called Clothes Aid which reuses second hand clothing) and the studio was part powered on renewable energy.
The campaign will run in global markets including the UK, Germany, Belgium, the Netherlands and Asia. The film features in the brand's first ever TV and VOD campaign and will run exclusively on C4, launching during First Dates Valentine's Day Special on Thursday 13th February.
Sources
1 - An estimate of 300,000 tonnes of clothing in household residual waste in 2016 (assuming the average weight of 300g for an item of clothing) - http://www.wrap.org.uk/sites/files/wrap/valuing-our-clothes-the-cost-of-uk-fashion_WRAP.pdf
2 - Extending the life of clothes by just nine extra months of active use would reduce carbon, water and waste footprints by around 20-30% each, Dec 2015 - https://www.wrap.org.uk/content/extending-life-clothes
Credits
Campaign Name: Laundry Against Landfill
Client: Ecover
Creative Agency: Uncommon Creative Studio
Media Agency: Goodstuff
Production Company: Biscuit
Director: The Glue Society
Executive Producer: Rupert Reynolds Maclean
Producer: Sorcha Bacon
DOP: Nanu Segal
Editor: The Glue Society and Gorilla
Post Production: Freefolk



Exec Producer: Fi Kilroe
Producer: Charles Gillett
Colourist: Paul Harrison
VFX artist lead: Jason Watts
VFX Artist: Andy Copping
Sound: Soundtree Music
MD/Producer: Jay James @ Soundtree
Music title: B for Bach
Arranged and composed by: Luis Almau
Sound design and mix: Henning Knoepfel
Master controlled by: Soundtree Music Limited
100% published by: Soundtree Music Publishing Limited

If you enjoyed this article, you can subscribe for free to our weekly email alert and receive a regular curation of the best creative campaigns by creatives themselves.