Very.co.uk's new campaign takes the cliché out of Christmas

A campaign by Grey London
Very.co.uk has launched a heart-warming and funny new Christmas campaign, created by Grey London, encouraging us to embrace every single moment in the countdown to December 25th instead of focusing on the clichéd portrayal of Christmas day.
The film sends the message that the best thing about Christmas is not just Christmas day but the combination of all the wonderfully festive moments in the build up to Christmas, from Christmas lights and the all-important tree to Christmas jammies.
The TV ad which is called 'Jodie' and was directed by Gary Freedman, opens with an implausibly perfect Christmas day celebration before the camera pans out to show that it's a clichéd Christmas TV ad being watched by a family who is scoffing at it, with the dad exclaiming: "What a load of rubbish!" The mum then addresses the camera directly to say: "You know what Christmas moment I like? Every bloomin' one of them!"
The music 'Hot Love' by T Rex kicks in as the mum, Jodie, goes on to list all her favourite festive moments, including the neighbour's Christmas lights display zapping the National Grid, getting a 12ft tree into a 10ft room, terrible Christmas music like Crazy Frog's version of Jingle Bells, and getting and giving presents to absolutely everyone, including the postwoman and the bin man, with help from the Very.co.uk app.
The 90-second spot ends with the line: 'Christmas is full of amazing moments. Christmas is this Very moment'.
The TV ad will be supported by an out-of-home campaign, print and online ads. It will be followed by a 60-second version and shorter formats highlighting all those different festive moments in the run-up to Christmas.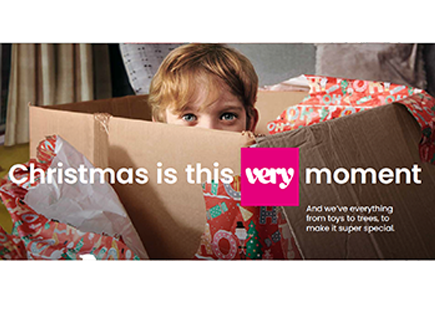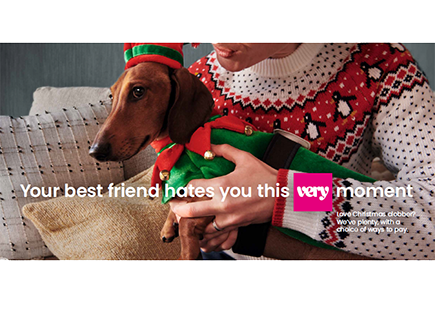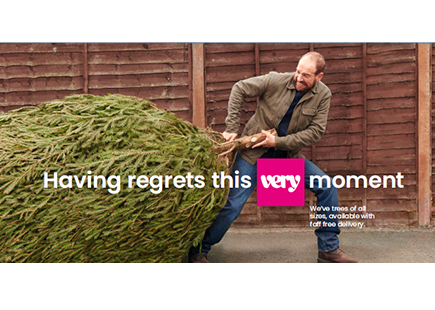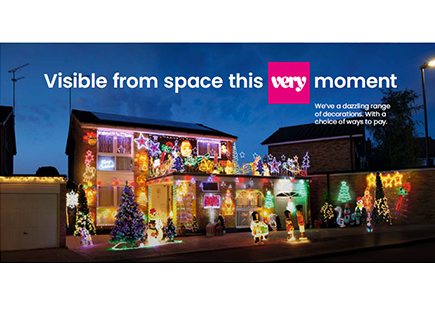 Carly O'Brien, Chief Marketing Officer at The Very Group, which operates Very, said: "It is great to see our new brand platform, 'Life is this Very moment', brought to life for Christmas with a truly uplifting campaign that we believe our customers can relate to. It's honest, raw and captures what's really special about the whole of the Christmas period, not just the day itself. It is a celebration of every single moment in the countdown to December 25th and it goes beyond the festive celebration, which we know might not be the same this year."
Javier Campopiano, CCO Europe and Creative Chairman London at Grey, said: "We are thrilled to launch the newest and biggest instalment so far of the new creative platform, 'Life is this Very moment'. It´s rare to see a pitch winner campaign coming to life, so this is a particularly special campaign for us as an agency. It also means the brand platform is so relevant that it can go through a pandemic and become even more meaningful".
He added: "It's a different Christmas message, a message that offers the unfiltered point of view of someone who truly loves everything about Christmas, every single bit that makes it such a magical season. Not only is it different from what the brand and its customers have seen before, but we're confident it'll resonate right now when we're facing the prospect of a very different festive period."
Credits
Client The Very Group
CMO Carly O'Brien
Senior Brand Manager Kim Pritchard
Creative Agency Grey London
Creative Chairman Javier Campopiano
CCO Laura Jordan Bambach
Creative Directors Matt Moreland & Chris Clarke
Creative Teams Matt Moreland & Chris Clarke, Emma Thomas & Ryan Delaney, Angela Harding & Terry O'Neill
CSO Raquel Chicourel
Strategy Director Jess Smith
Group Business Director Kate Ilott
Business Directors Tamsine Foggin & Charlotte Coughlan
Account Directors Natasha Thomas & Naomi Templeman
Account Manager Emilie Jenner
Account Executive Meg Johns
Agency Senior Producer Maxine Hose
Agency Assistant Producer Kate Reynolds
Agency Print Producer Toby Horrocks
Production Company Independent Films
Executive Producer Jani Guest
Producer Sara Cummins
Director Gary Freedman
D.O.P Barry Ackroyd
Production Design Jacqueline Abrahams
Post Producer The Assembly Rooms / Dan Breheny
Editor Adam Spivey
Post Producer MPC / Phil Whalley
Colourist Matthieu Toullet
VFX Artist TBV
Audio Post Producer 750mph / Mary-Ann D'Cruz
Sound Engineer Sam Ashwell
Media Agency PACE / Vizeum
If you enjoyed this article, you can subscribe for free to our weekly email alert and receive a regular curation of the best creative campaigns by creatives themselves.