Why I have a bad dose of Fridamania
I first became aware of Mexican artist Frida Kahlo when I was a teenager when I was blown away by her. As someone who studied art (yes, I am another art-school dropout), it was inspiring to find a female artist role model. There really weren't many around, and sadly, there still aren't enough.
Self-obsession rules
Frida Kahlo also appealed to me as a teenager because of her obsession with herself. Something all self-respecting teenagers should relate to. She really was her art. I have only ever seen one picture of hers that doesn't feature her, and that was of watermelons, very nice, but not as inspiring as her dramatic, bright, bold self-portraits. A lesson to all artists, whether you are a writer, film director or performer. Start with what you know.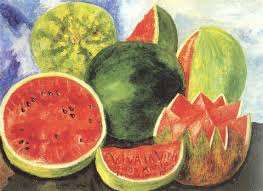 Suffer for your art
I recently visited the current Frida Kahlo exhibition at the V&A, and it lived up to expectations. One of the highlights was seeing her prosthetic leg. This sounds a bit ghoulish, but it was symbolic of the amount of suffering Frida went through, which obviously enriched her art immensely. In fact, if it wasn't for the terrible bus accident she had when she was 18, she would have carried on being a medical student. Frida's health declined in her late 30s and 40s and she died at the young age of 47. I would never wish terrible health or suffering on anyone, but those who transform their suffering into great art deserve to be celebrated.
Be true to yourself
Frida should also be celebrated for many other reasons, as an icon for feminists, for championing folk art, but for most of all being herself.
Being true to yourself is not easy, and as all you artists know who have to work for clients, selling your soul may be the only way to pay the rent. There are some other upsides for working for a living rather than dying for your art – after all, it can be fun sometimes, the people you work with can make up for those annoying clients, and you might even win a few awards!