World Woman Foundation and Geometry launch #ShesMyHero

A campaign by Geometry
The World Woman Foundation, in partnership with Geometry along with WPP partners BCW, Hogarth Worldwide, and Gramercy Park Studios, has launched #ShesMyHero.
This socially powered movement aims to encourage girls around the world to find the one hero that inspires them to overcome obstacles and change their world.

#ShesMyHero culminated in the first-ever World Woman Hour, on 11 October 2020 in celebration of International Day of the Girl.
The global Facebook powered online event featured inspiring stories of 60 remarkable women, told in 60 seconds, visualized in 60 powerful minutes of film.

60 : Women 60 : Stories 60 : Minutes
"The goal of each minute is for all women to tell their personal stories that include wisdom, advice, confidence boosters, real-life learning, and lessons about overcoming anything. With our goal to empower one million women and girls by 2030, we believe that their experiences will make a difference for the younger generation," says Rupa Dash, CEO of World Woman Foundation, "Through the World Woman Hour, these 60 hero stories of women changing the world will continue to drive awareness on critical issues currently faced by women and girls globally."

The collection of 60 inspirational women sharing their stories include legendary primatologist and anthropologist Jane Goodall; Paralympic medalist Tatyana McFadden; NASA astronautJessica Meir; Jameela Jamil British actress, radio presenter, model, writer and activist; head of Vaccine Research and Development and leading scientist behind the COVID-19 vaccine Kathrin Jansin PhD, Head of Vaccine Research & Development, Pfizer.
Also featured are Ann Mukherjee Chairman & CEO, North America Pernod Ricard; Vidya Balan Indian actress. pioneering change in the portrayal of women in Hindi cinema; Camila Coehlo, Brazilian influencer; Raha Moharrak, youngest Arab & first Saudi woman to conquer Mount Everest; Ambassador Fatima Kyari Mohammed Permanent Representative of African Union to UN; Brazilian/American fashion designer & beauty entrepreneur; Camila Coelho, Zainab Al-Eqabi Iraqi War Survivor

Drawn from different backgrounds across business, tech, politics, culture, fashion, and beyond, these women have fought against stereotypes and persevered through personal and professional challenges to create ideas changing the world.

Beth Ann Kaminkow, Global CEO of Geometry commented, "We came together with our WPP agency partners to accelerate World Woman Foundations' vision of 'mentorship for all' and be part of a bigger change. Recognizing that this year's International Day of the Girl holds an even greater meaning, we are using our superpower of creativity to spotlight the untold stories of women from all corners of the globe to empower the next generation of change-makers to find their voice and purpose."

Elspeth Lynn, executive creative director #ShesMyHero added, "Sometimes, we just need to be inspired by one person who is already doing what we want to do. So, our ambition is that a girl will watch World Woman Hour and say to herself, 'If she can do it, so can I."

The original music for the World Woman Hour is created by twice Grammy-nominated composer/songwriter Ryan Shore and award-winning songwriter Liz Russo. America's Got Talent alum Angelica Hale will perform the new song at the event.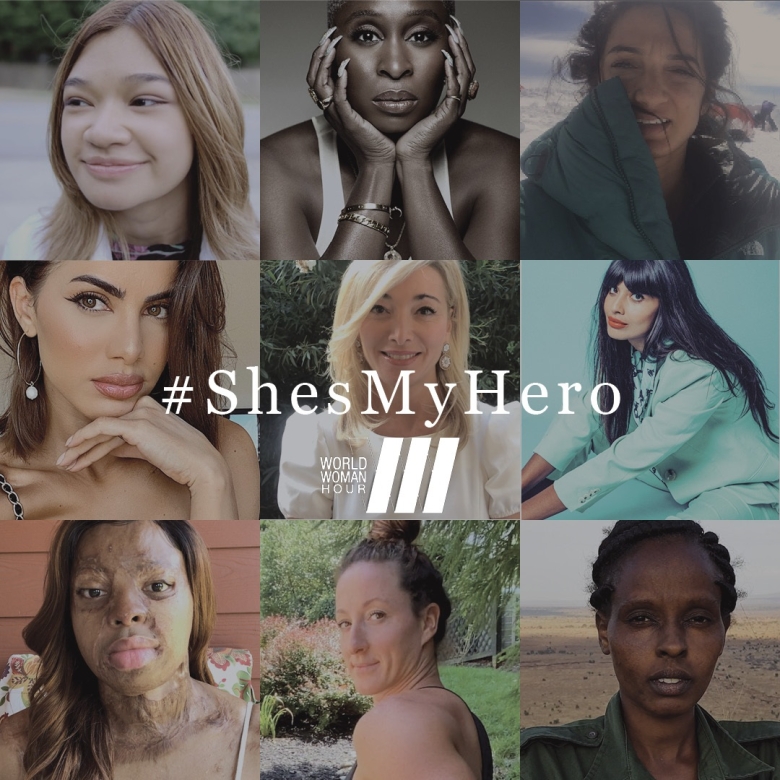 Credits
CREATIVE & DIGITAL- Geometry
Client: World Woman Foundation
Global CEO: Beth Ann Kaminkow
Global Director: Michele Fournier
Chief Digital Officer: Debbie Ellison
Executive Creative Director & Writer: Elspeth Lynn
Creative & Art Director: Paul Hogarth
Executive Producer: Rupa Dash, CEO, World Woman Foundation
Producer: Jenna Southgate
Digital Senior Account Director: Laura Archer
Digital Designers: Iain Beal, Christian Martin
Project Management: Nakia Johnson
Senior Digital Editor: Andrea Gil
Social Media Support: Jess Laurello, Caroline Ruma, Allison Knight
Production House: Hogarth Worldwide/ Gramercy Park studios
Music: Fulton Street Music
Client: Rupa Dash, World Woman Foundation
SOCIAL SUPPORT- Social Labs
Jo Bromilow, Jenna Adamson, Theo Barron, Michael Clarke, Dimiti Cologne, Tinne Hus, and James Mulrennan.
PRODUCTION- Hogarth Worldwide/Gramercy Park Studios
Managing Director, Gramercy Park Studios: Lauren Kulchinsky
Producer: Laura Goehrke
Post Producer: Jennefer Frangella
Directors: Victoria Batista , Laura Goehrke
Lead Creative Editor: Vee Pinot
Editors: Vee Pinot, Victoria Batista, Grace Yang, Dana Schlieman, Steve Hafner, Tony Chang, Jordan Green, Shaun Keenan, Pat Shay, Daniel Petiafo, Karina Cupich, Rodrigo Oropeza, Arturo Sanchez
Head of Edit Assist: Andrea Podaski
Edit Assist: Robert Pilgrim
Associate Director, Business Affairs: Magdalena Wiater
GFX & Animation: Brittany Marisco, Mike Nutt
Audio/Mix Engineers: Dante DeSole, Collin Blendell, Matt Baker, Guy Rosmarin, Justin Sloan
Scheduler: Emily Licursi

MUSIC: Opening Song
Composer: 2x Grammy-nominated composer Ryan Shore
Songwriter: Award-winning Liz Russo
Singer: America's Got Talent alum Angelica Hale

MUSIC - Fulton Street Music:
Music Produced by: Fulton Street Music Group
Executive Producer: Alex Fulton
Producer: Kleio Kolitsopoulos
Composers: Franco Colon ft Kleio Kol (Muse), Sansol the Artist ft Charlotte Sands & Ajada Reigns (Zoom Zoom), Okay Cool (Away We Go)
PR- BCW:
Senior Vice President: Krystina Fisher
Senior Vice President, Media: Cathleen Koo
Account Supervisor: Megan Baugh
Assistant Account Executive: Marina Matthews
If you enjoyed this article, you can subscribe for free to our weekly email alert and receive a regular curation of the best creative campaigns by creatives themselves.