Anomaly and Pride in London launch 2020 campaign with a message of togetherness for the LGBT+ community

BOAST is a place where you can find out about recent creative campaigns.
It is a space where agencies and creatives can tell us about the new work they are proud of; blowing their own trumpet, so to speak.
Here's the latest from the creative world as we know it.
A campaign by Anomaly
'Postponed but still united', Anomaly and Pride in London launch 2020 campaign.

Covid-19 might have postponed this year's parade, but the rallying call to every LGBT+ person remains; support all communities

Anomaly London launched this campaign during a time of uncertainty and isolation. It is a rallying cry to all those in the LGBT+ communities - a reminder that no matter your identity, it's important to reach out, understand and support one another, to be the best allies we can, within our own communities.
Whatever Pride means to you, whether it's a party, a protest or an exclamation of who you are, You! Me! Us! We! is bringing our community together in a time when we need it most.
In December 2019, Pride in London appointed Anomaly as its creative agency partner to develop both the theme and advertising campaign for 2020. Acting as a platform and megaphone for LGBT+ communities, the theme and campaign's powerful message of 'You! Me! Us! We!' will be spread nationally and globally.
Whilst Covid-19 has prevented this year's parade going ahead, it's still important to continue the spirit of protest and activism and celebrate every LGBT+ community, to ensure identity, visibility and community are at the forefront.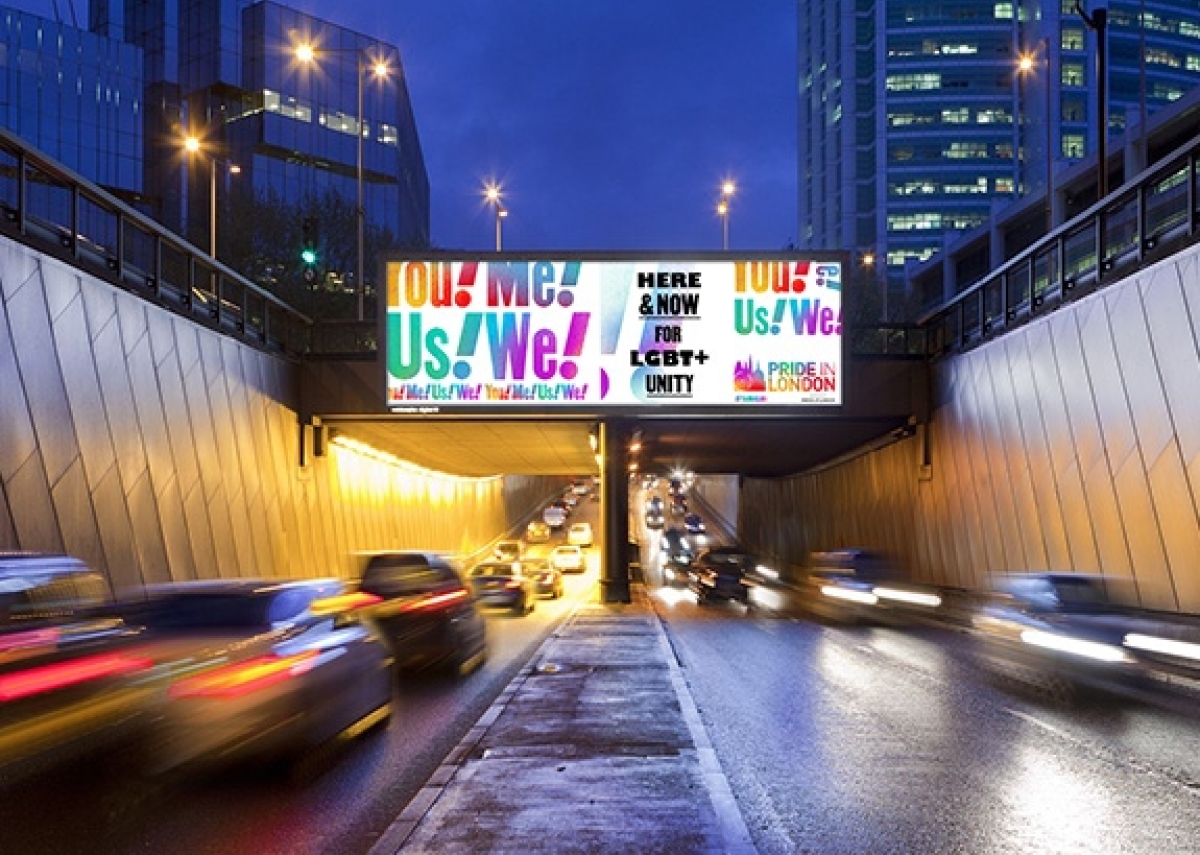 Solidarity
Tom Stevens, Director of Marketing, Pride in London said: Pride in London has always been a place where all LGBT+ communities should feel visible and supported, even the most marginalised. Whether online or in-person, it's critical that we come together and stand up for one another. Our unity is our strength."
The premise of the You! Me! Us! We! campaign is to produce a platform by LGBT+ communities, for LGBT+ communities. One that will bring people together to fight against the internal divisions that have taken hold, and ensure LGBT+ unity this year and beyond. With Covid-19 ruling out the possibility of a physical coming together, it became imperative to the team that the message of unity was still heard, felt, and acted upon.
Months of parade preparation quickly shifted into focusing on how this message could live and breathe without a core, physical event. In fact, the lack of parade meant that unity within the communities was needed more than ever. If people were not able to physically stand next to one another on the 27th June, it was the team's mission to ensure that long term solidarity and support was clearly activated without room for misinterpretation.
But whilst additional activations, copy and design were produced to reflect the reality of London life for LGBT+ communities, some things remained consistent. Having committed to hiring a director from the community, using LGBT+ VO artists, and even utilising typography in the OOH that originated from Stonewall posters, it was vital that every single aspect of the campaign was still rooted in activating and inspiring queer allyship.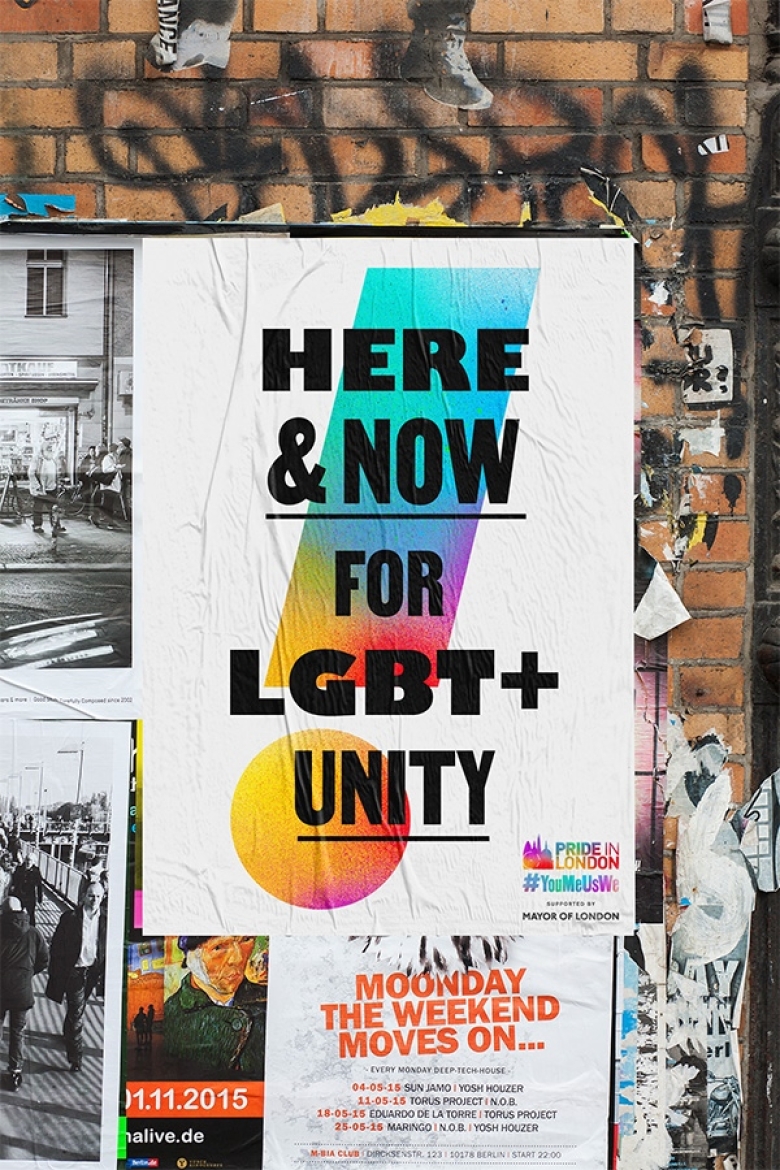 Institution
L.A. Ronayne, Group Creative Director, Anomaly London said,"Pride in London is a precious institution and we have worked hand in hand - albeit remotely - to create a message that reflects its importance. You! Me! Us! We! is about protest and equality and allyship, it's a call to the whole community to support one another, especially those who live a more marginalised experience each day. From typography to casting, every element of the campaign is a salute to all members of LGBT+ communities. As the out of home starts to appear around the city and the stories take to the air through the beautiful direction and production of the film, it's our collective hope that even though the parade is postponed this work will bring people a sense of closeness."
Shot over two days, 16mm portraits were shot by all contributors. Director Jess Kohl directed remotely over zoom, providing mini DV cameras for some of the cast, and asking some people to self-shoot on their phones.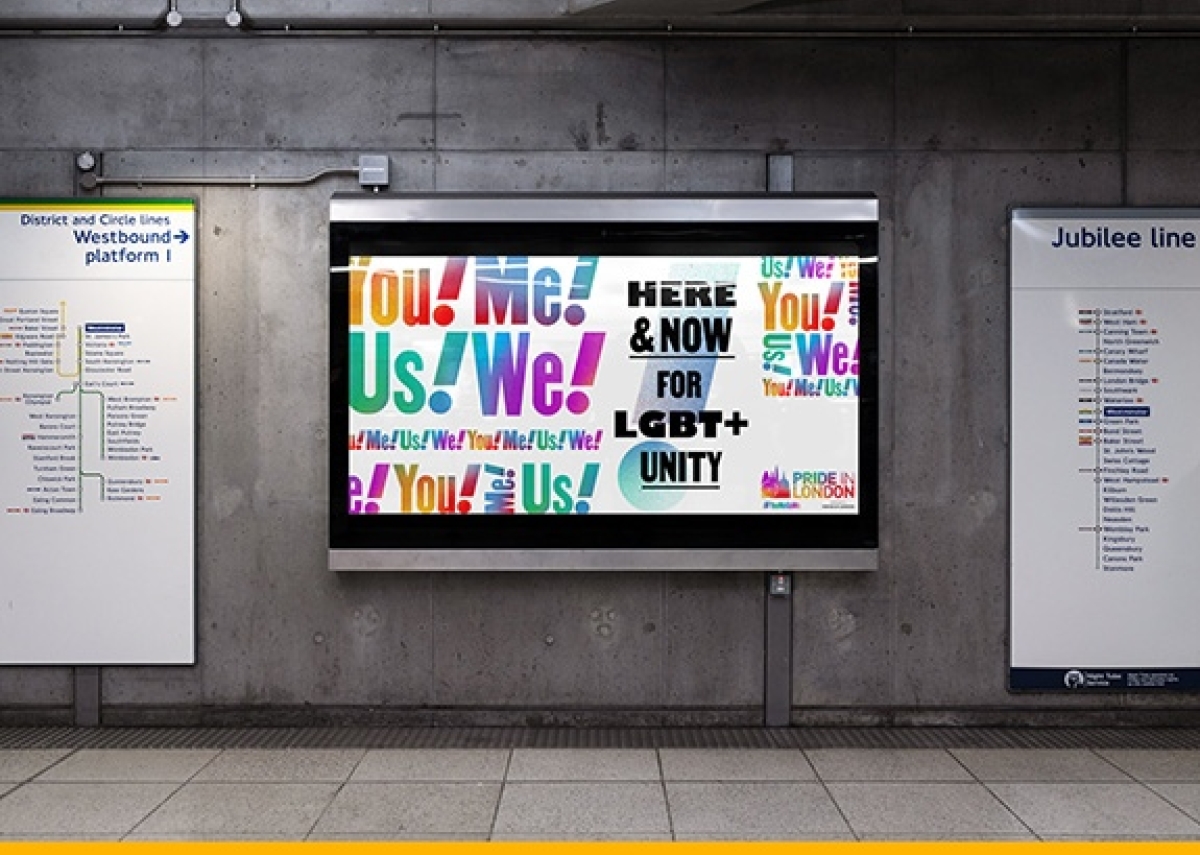 Representation
"The team at Anomaly and I wanted to represent as many members of the LGBT+ communities as possible within the film. There's definitely still prejudice in LGBT+ communities; places which one might expect to be more inclusive than mainstream society. We felt it was an important responsibility to highlight a true cross-section of the groups - from sexual orientation and gender identity, to age, race and ability. We wanted to hear about the unique experiences the communities have been going through during this time - how the pandemic has divided the communities, and what tools people have been using to feel united." said Jess Kohl, Director, Prettybird.
Kohl added "I was drawn to the campaign because the topic is very close to my heart. It's a rare opportunity to work on a project talking about issues about which I have experience. I made it my mission to work with an all queer team, which was an amazing experience - from our editor, to our composer, to our DP - it felt really special to work with talented people, all contributing to a conversation that we could relate to."
A true 360 campaign, encompassing AV, OOH, social, audio and print, the new campaign explains and shows the importance of queer allyship. LGBT+ communities currently face issues of internal division between different identities, which at times can stop people feeling welcome, valid and included.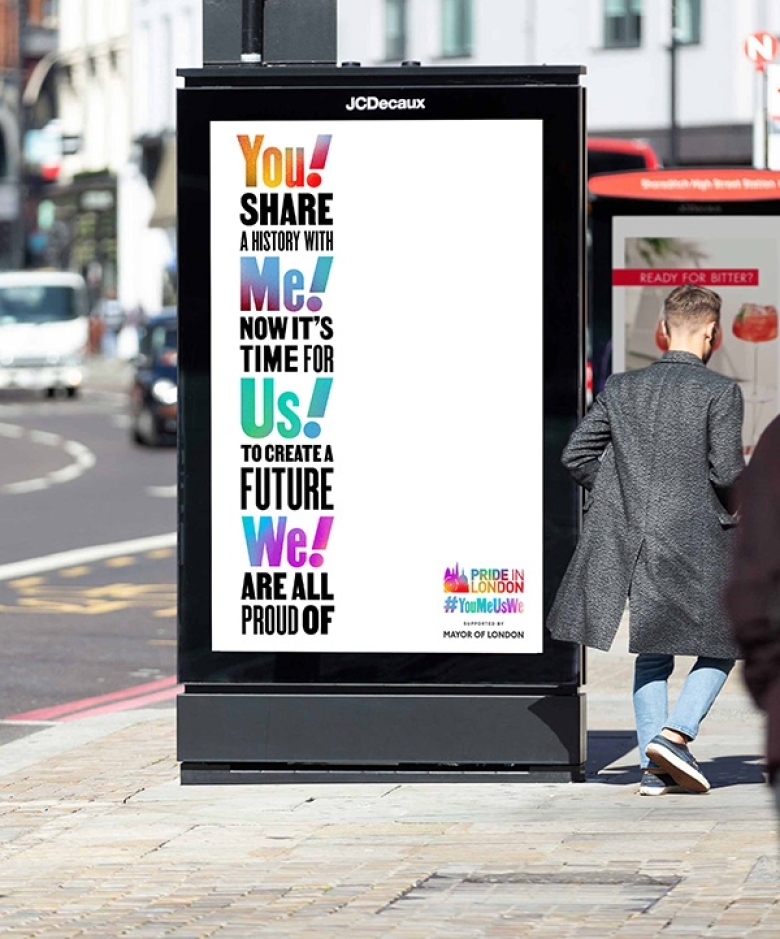 Credits
Client: Pride London
Agency: Anomaly
Production Company: PRETTYBIRD UK
Director: Jess Kohl
Exec Producer: Juliette Larthe
Exec Producer: Ted Thornton
Production Manager: Benji Landman
Director of Photography: Molly Manning Walker
Editor: Hasani Franke
Colour House: Time Based Arts
Colourist: Myles Bevan
Post Producer: Sean Ewins
Sound Engineer: Ed Downham
Sound Studio: Wave Studios
Composer: Joseph Reuben
If you enjoyed this article, you can subscribe for free to our weekly email alert and receive a regular curation of the best creative campaigns by creatives themselves.