A great try: Guinness's emotive ad kicks off its sponsorship of the Six Nations

The Background
Last weekend saw the beginning of the Northern Hemisphere's premier rugby tournament, the Guinness Six Nations. For anyone who doesn't know, the tournament is an annual rugby union championship involving Ireland, England, Scotland, Wales, France and Italy.

In December, Guinness replaced previous title sponsor of 14 years, Royal Bank of Scotland. It managed to bag a five-year deal at a vastly reduced rate and also got "official beer of…" status thrown in too. Not a bad move for a brand which saw European sales increase by 6% across Europe.
Rugby isn't new territory for the brand. Brewery personnel founded The Guinness Rugby Club in 1942 (it still exists) and its paid association goes back decades and includes title sponsorship of the Pro14, partnerships with the four home unions and leading European clubs Munster and Leinster. Their activations around the rugby World Cup in 2015 was the main reasons for a 4% sales increase and that was despite Heineken being the official beer of the tournament.
So, to the sport and to fans, Guinness is about as credible and authentic a sponsorship partner as they come.
It would only stand to reason, then, that interest in its first campaign since becoming title sponsor would be eagerly anticipated and critiqued.


What They Did
Enter stage right, agency of choice and creative collaborator of the past 18 years, AMV BBDO. Together they again surprised and delighted in equal measure, telling two very different stories, but both perfectly in tune with previous brand campaigns.

The first was the rebrand of tap water to Guinness Clear to "officially launch" its new global responsible drinking campaign. It's a clever pastiche of traditional beer ads made by US director, Tom Kuntz, who was responsible for the Old Spice ad, The Man Your Man Could Smell Like. And it shows.
Poking fun at cliché after cliché it would be easy for the central message to get lost – 'Drink Responsibly' – but I think they just about get away with it. And to show it's not just Diageo paying lip service to social responsibility, it's being supported with a heavyweight below-the-line campaign including the installation of water fountains at grounds, water sampling to match-goers and rugby ambassadors taking the message far and wide.

The second burst was pretty much as you'd expect/hope. 'The purse', a story about the spirit and code of rugby, told from the fans' perspectives. In this case, a true story of two Welsh brothers who honour the wishes of their late, rugby-loving mum, to spend their entire inheritance on following Wales in the Six Nations. Previous ads from the brand have focused on telling stories from rugby legends but this is a fan-to-fan film, featuring the two brothers themselves, David and Gareth Rees.

The Review
It's been seven years since the Made of More campaign was first introduced to our screens and I think the latest iterations work harder than some of the earlier ones. They get the right balance of humour and emotion and with Guinness Clear they even manage to poke fun at themselves. Replacing Made of More with "Sometimes less is more" might be lost on most consumers, but it's a nice nod to those in the know.

Like a lot of cut downs, I think 'The Purse' only really works if you've watched the full 90-second version. But, boy, is it good and I'm not alone – reviews from fans and sports media alike have been overwhelmingly positive.
It captures the spirit and code of the game with a near perfect evocation of the comradely of the fans.

The Six Nations continues to be one of the all-time great sporting events and I, for one, hope Guinness continues to support it long after this old man leaves his wallet to his kids and says, "go enjoy the greatest game in the world".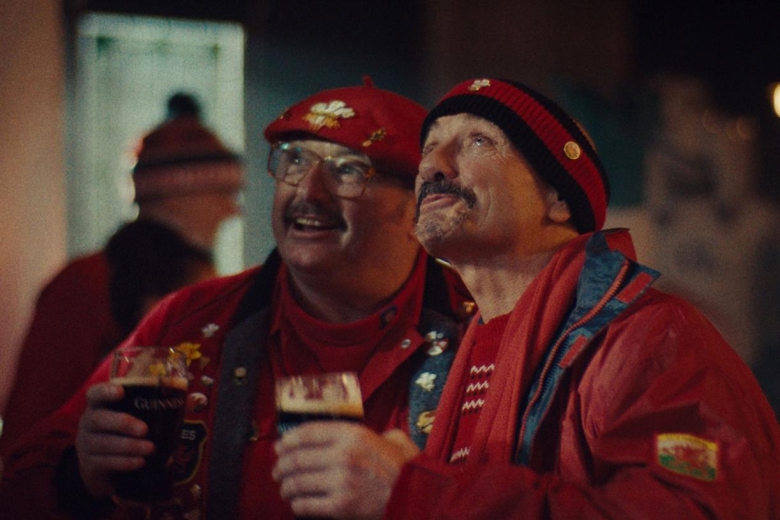 If you enjoyed this article, you can subscribe for free to our weekly email alert and receive a regular curation of the best creative campaigns by creatives themselves.