Amazon Books and Droga5 London launch 'The Reading Feeling Awaits'

Amazon Books in partnership with creative agency Droga5 London, is launching a new global campaign "That Reading Feeling Awaits".
The work gives life to the invisible magic that happens inside our imaginations when we read – inspiring readers to read more, and get more out of what they read.
The campaign is aimed at celebrating the place of books at the foundation of culture.

Unique relationship
This global campaign by Amazon Books is designed to enchant the world with books and the unique relationship we have with them, especially as people devote more and more time to streaming and scrolling.
Across different countries and generations, reading is something that has always facilitated understanding and connection. It's a shared habit that many – if not most – wish to cultivate.
The global campaign will run in the US and UK from the end of July through to the holiday season in two bursts. It'll be predominantly online video (60" / 30" / 5x 15"), supported by social, digital, OOH and a 3D special build at Penn Station.
The films
The films "THAT READING FEELING", "AWE", "LOVE", "FEAR", "LOSS", "CALM" heroes the unique relationship that each reader has with the book they're engrossed in.
Starting wide, each scene pushes towards the reader before flipping to their perspective and showing the world of the book come to life where they are—a co-production of the person and pages.
Jumping through five different scenes, the film brings to life these distinct book genres through a plethora of mix-media styles. Stitched together, the film glides through a cross-section of people, places and feelings.
Five post-houses were onboarded to authentically bring to life a chosen genre and were not tasked with any other scene outside their own.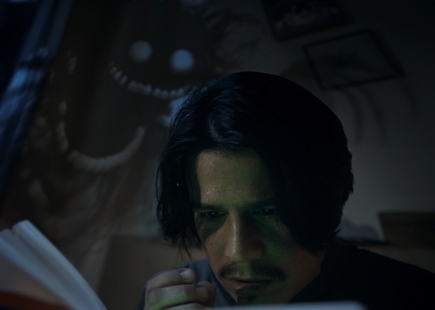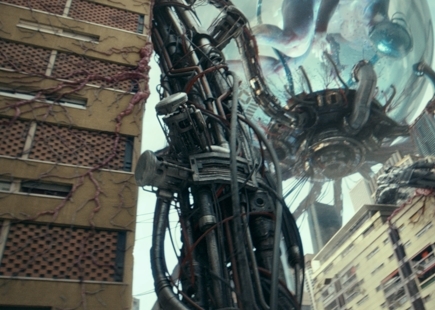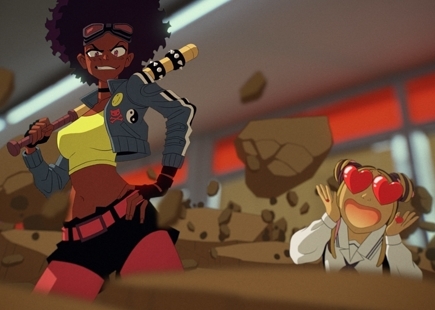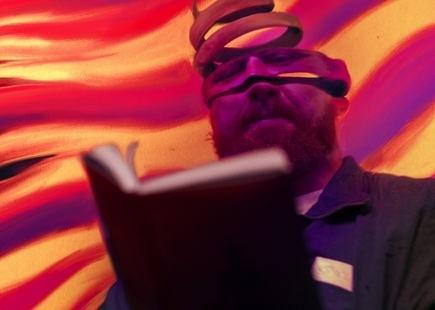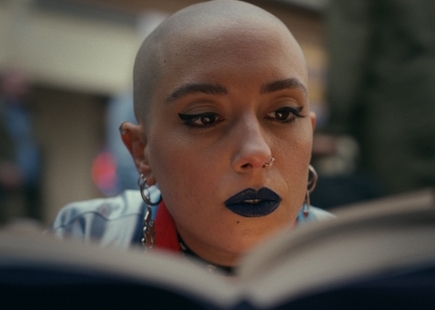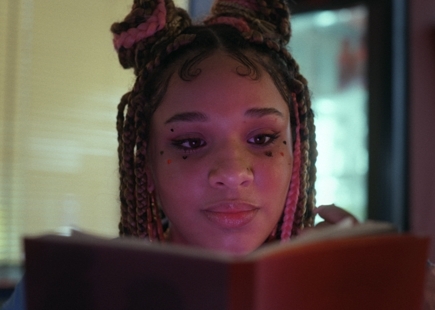 Social and outdoor
The social and out-of-home assets pair simple photography of a reader behind their book with their illustrated thoughts jumping off the page. To bring the magic of reading to life, these assets feature the inner monologue of different readers responding to their books.

Over 20 different illustrators were briefed to give variety and distinction to the social and OOH assets. Each illustrator was briefed knowing just the book genre and their specific word or illustration to bring to life, leading to a rich combination of styles which mirrors the multifaceted and idiosyncratic nature of reading.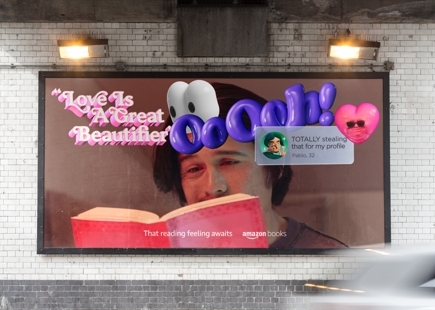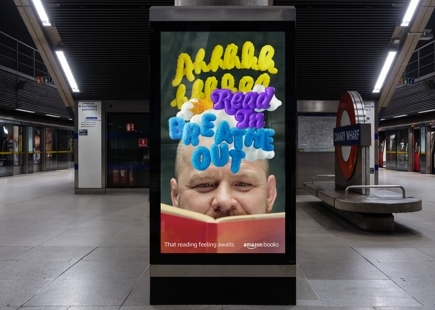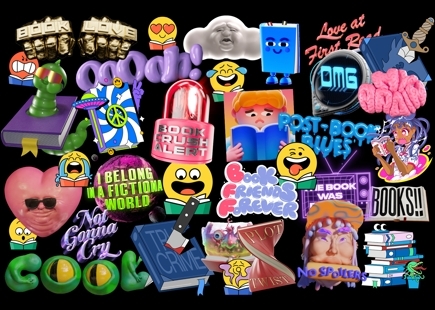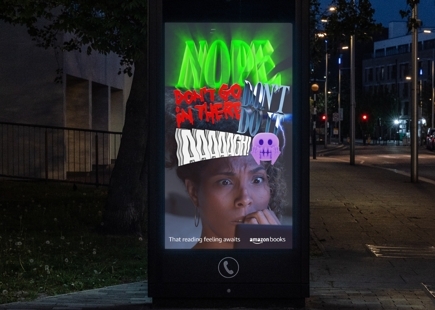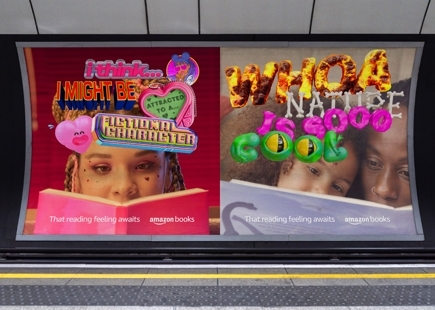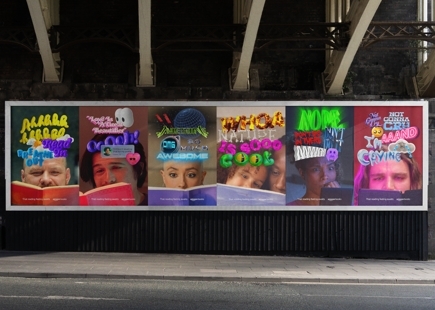 Matt Hubbard, creative director, Droga5 says, "There's a magic to reading that modern-day media like streaming or scrolling simply can't replicate. An intimate relationship between reader and writer, books unlock myriad feelings from joy to sadness to having your mind blown and everything in between. In a world of fast content, diving into a good book has never felt so rewarding."
Chris Chapman, head of design Droga5 adds, "Reading feels so special because it's a co-production between a book and our imagination. We wanted to show what this feels like, that while reading looks passive from the outside the feelings it creates in us are richly multi-layered. We worked with 17 different illustrators to create an eclectic treatment that combined vivid textures with the free-wheeling feel of user-generated content."
Josh Fein, director of worldwide marketing, Amazon Books continues, "I get to work with a team of passionate readers who want to inspire reading and help you find your next favourite book. That Reading Feeling Awaits is our call to crack open that hardcover or switch on your Kindle to feel the rewards of the immersive reading experience."
Credits
Client Credits
Josh Fein – Director of Global Marketing; Amazon Books
David Rosenberg – Head of Brand Marketing; Amazon Books
Radnyee Pradhan – Senior Brand Marketing Manager; Amazon Books
Ben Creasey – Sr. Brand and Campaign Manager; Amazon Books

Agency Credits
OLV
CCO: Shelley Smoler
Creative Director: Matt Hubbard
Creative: Chris Russell
Creative: Ahmed Ellabib
Head of Design: Chris Chapman
Agency Producer: Sophie Paton
Agency Producer: Caroline Angell
Agency Producer: Rob Steiner
Assistant Producer: Olly West
Strategy Director: Pete Heskett
Comms Strategy Director: Clemency Beale-Collins
Strategist: Sara Barqawi
Head of Account Management: Jen Knox
Senior Account Director: Tom Elias
Account Director: Laura Kidd
Account Manager: Heidi Brown
SOCIAL & OOH
Creative Director: Matt Hubbard
Creative Director: Chris Chapman
Senior Designer / Art Director: Hannah Stewart
Senior Designer / Art Director: Matteo Alabiso
Creative: Chris Russell
Creative: Ahmed Ellabib
Motion Designer: Michael O'Brien
Motion Designer: Rob Wicksteed
Studio Director: Tim Larke
Art Producer: Katerina Gharraph
Senior Creative Artworker: Paul Callaby
Artworker: Nik Coomber
Strategy Director: Pete Heskett
Comms Strategy Director: Clemency Beale-Collins
Strategist: Sara Barqawi
Head of Account Management: Jen Knox
Senior Account Director: Tom Elias
Account Director: Laura Kidd
Account Manager: Heidi Brown
Production Company Credits
PRETTYBIRD
Director: Tom Noakes
EP: Juliette Larthe
HOP: Fiona Bamford-Phillips
EP: Ted Thornton
Producer: Cindy Burnay
New Business: Shiara Miranda
Treatment creative direction: Tom Manaton
Stop Mo / Puppetry Production: Benji Landman
Stop Mo / Puppetry Production Assistant: Lottie Lindsay-Beavan
Live action Production Assistant: Becca Stovold
VIRTUAL FILMS
MD / EP : Scott Horan
Senior Producer: Joan Garcia
Producer : Dani Ojeda
PM: Dani Gonzalez
PC: Olga Airas
PA: Paula Comella
Prod. Designer: Maria Puig
BLACK KITE STUDIOS
Colour: Thomas Mangham
VFX Producer: Hannah Ruddleston
VFX Supervisor 2D: Guillaume Weiss
VFX Supervisor 3D: Fin Crowther
2D VFX team: Jonny Freeman, James Adamson, George Brunt, Andrew Curtis, Jack Stone, Venu Prasath
3D VFX team: Andrew Bartholomew, Pawel Luszczak, Marcel Ruegenberg, James Hansell, Tsvetelin Krastev
VFX On-Set Supervisor: Tito Fernandes & Jonny Freeman
POST SOUND & MUSIC: STRING & TINS
Sound Design + Mix: Joe Wilkinson, Culum Simpson, Lawerence Kendrick
Music Composition: Ioana Selaru @ String & Tins
Audio Producer: Olivia Endersby
FUTURE POWER STATION
Animation Director: Yibi Hu
Lead Animator: Daryl Graham
Animation Producer: Janet Smith
Character Design: Adam Relf
2D Animation/Clean Up/FX:
Krystian Piotr Garstkowiak
Alejandra Anguita
Daisy Evans
Husain Untoro
Hannah Privett
Designer: Qian Tian
PreVis: Kevin O'Shea
JIMMY GRIMES PUPPETRY
Pupeteer: Jimmy Grimes
Puppeteer: Andy Bruskill
1st Assistant Director: Laura Carrion Del Pozo
Runner: Flo Hoge
Director of Photography: Chris Clarke
Focus Puller: Steve Burgess
Gaffer: Bernie Prentice
Electrician: Gary Saunders
SFX/ Prop Standby: Nick Roberts
Art Department Assistant: Harrison Clark
VFX Supervisor: Jonny Freeman
ISABEL GARRETT / STOPMO
Animation Director: Isabel Garrett
DOP: Daniel Morgan
Gaffer: Evance Breteuil
Spark: Brendan Freedman
Character Design: Nelly Michenaud
Puppets: Sculpt Double
Set Build: Oliver Arnell Argles
Art Dept: Anita Bruvere
Art Dept: Rachael Olga Lloyd
Art Dept: Daisy Collingridge
Art Dept: Lisa Ott
Animator: David McShane
Animator: Anita Bruvere
Rigger: Robin Jackson
STUDIO AKA
Director: Marcus Armitage
Producer: Nikki Kefford-White
Production Assistant: Lara Salam, Meera Nasheed
Editor: Nic Gill
Animation: Marcus Armitage & Darcy Woodbridge
Artworking: Marcus Armitage
SOCIAL & OOH ARTISTS
Anton Hjertstedt

Sam Lyon

Fantasista Utamaro

Joseph Mehuish

Alex Valentina

Thomas Burden

YONK

Mat Voyce

Patrick Savile

Nick Kempton

Jordan Harrison

Eva Munnich

Romain Braccini

Jae Yeon Kim

Loulou João

Studio Private

Dan Woodger

Electric Theatre Collective
SOCIAL & OOH POST PRODUCTION

STUDIO PRIVATE
Creative Post-Production: Studio Private
CGI / VFX Producer: Jeremy Djaffer
Lead 2D Animator: Gabriel Thomas Ayache
CGI Artists: Adrian Roger, Joanna Juszczak, Gabriel Thomas Ayache
STRING & TINS
Sound Design : Jim Stewart
Producer: Olivia Endersby
NYC 3D SPECIAL BUILD
Creative Director: Geoff Parsons
Animators: Ivan Brou, Rebecca Tzouliou, Simon Graham, Alice Roseberry-Haynes, Ollie Dook, Simon Kristall
Executive Producer: Ben Honour
Producer: Sydney Levy
If you enjoyed this article, you can subscribe for free to our weekly email alert and receive a regular curation of the best creative campaigns by creatives themselves.