Asda encourages shoppers to do 'The Real Self-Checkout' this breast cancer awareness month

This Breast Cancer Awareness Month, Asda, Breast Cancer Now and CoppaFeel! are encouraging shoppers to make checking their boobs, pecs and chests as normal as their weekly shop, in a new marketing and awareness campaign from creative agency Havas London.
Created by Havas' Rosie May Bird Smith, the campaign aims to raise awareness and funds for breast cancer charities Breast Cancer Now and CoppaFeel!. It also includes a comedic 40" film about one particularly lively Asda checkout, which takes it upon itself to remind an unassuming customer of the importance of a 'real self-checkout'.
The Real Self-Checkout—part of Asda's long-running charity partnership with Tickled Pink, now in its 26th year—highlights the fact that regularly checking your chest and being aware of the signs and symptoms of breast cancer, could help save your life.
It turns ubiquitous supermarkets self-checkouts into real ones, with in-store ambassadors raising awareness while customised receipts complete with a 'bra code' icon, will be used across Asda stores throughout the month.
The campaign also includes in-store point-of-sale displays, car park banners and checkout prompts on Asda.com, as well as film, print, radio and social ads, featuring lines such as 'Self-checkouts could save you more than time', and 'Make sure your shopping isn't the only thing you checkout today'.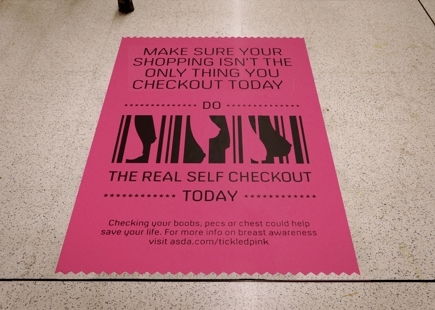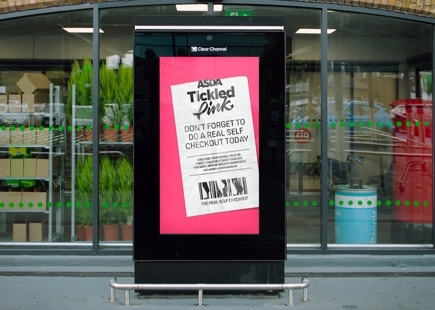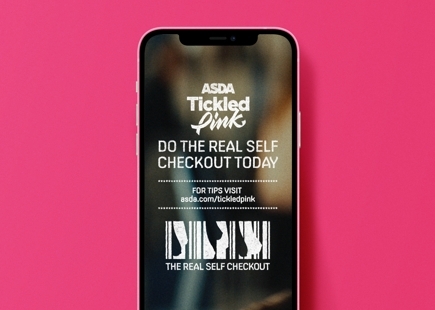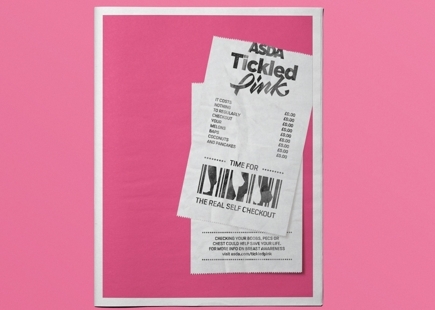 Britt Iversen, head of strategy at Havas London, says: "As someone who lost her mum to breast cancer aged just 50, this is personal. While breast cancer awareness has come a long way since then, it remains the case that not enough of us know how to check and make it a simple part of our everyday routine. We're proud to build on Asda's amazing Tickled Pink campaign with The Real Self-Checkout – an accessible, playful way to drive home a serious message that could help save your life."

Credits
Project name: The Real Self Checkout
Client: Asda, Breast Cancer Now, CoppaFeel! Creative agency: Havas London
CCO: Vicki Maguire
Creative Director: Dan Cole, Andy Garnett
Creative: Rosie May Bird Smith
Head of Design: Lorenzo Fruzza
Designer: Darta Losane, Sarah Butler, Morgan Shipley, Sam Adams
Managing Partner: Dave Owen
Senior Account Manager: Kirsty Warren
Agency Producer: Dean Trendler, Lucy Farrell
Head of Strategy: Britt Iversen
Strategy Director: Flo Sharp
Planner: Ryan Shoesmith
Production Company: Havas Studios
Director: Rosie May Bird Smith
Global Head of Content: Katie Keith
Executive Producer: Flo Clive
Producer: Adam Javes
Production Manager: Femi Anderson
DOP: Mike Staniforth
Focus Puller: Rory Hern
Clapper Loader: Usmaan Arshad
Key Grip: Ben Thomas
DIT: Adam Javes
1st AD: Steve Wingrove
Gaffer: Leopold Naessens
Spark: Gregory Britten
Production Designer: Jenny Dee
Casting: Garrett Casting
Wardrobe: Amanda Bird
Hair and Makeup: Nathalie Abensur
Runner: Charlotte Gardiner, Tyson Douglas
Post Production: Havas Studios
Post Producer: Rosie Everett
Editor: Jamie Munton
Grade: Tim Smith @No.8
Sound: George Castle @No.8
Head of Operations: Karen Noden
Colourist: Tim Smith
Camera: One Stop Films
Lighting: SHL Film & TV
If you enjoyed this article, you can subscribe for free to our weekly email alert and receive a regular curation of the best creative campaigns by creatives themselves.