B&Q pulls on the heartstrings of the nation in new emotive stop motion spot: 'Later Means Never'

B&Q & Uncommon launch a new integrated campaign from the reinvigorated brand proposition 'Build a Life'—which celebrates the belief that anyone can improve their home to make life better.
The campaign aims to provoke acts of change at home—big and small—in the belief that a nail is never just a nail, it's the start of something far bigger.

This new campaign focuses on home interiors, championing B&Q's unrivalled range of paints, flooring, tiles, wallpaper, lighting and furniture—which allow us to create a space that reflects our lives.
To launch 'Choose Change', Uncommon creates a heart-warming film, 'Later Means Never', telling a story about choosing change in even the darkest of moments and the power family holds in moving us forward.
We open to see our first animated character on screen: Nigel—a single Dad in a slump—loves his family, but along the way has lost his mojo. Nigel's sadness has cast a spell over his home, creating a scene paused in time; we see him trapped in his armchair by a layer of dust and rock. His home environment also reflects his state of mind, having become a cavernous space that no longer resembles a happy home.

A drip of water awakens Nigel from his slouch, the scuff of the carpet nudging him playfully to get up out of his chair and as the plaster starts to crack on the walls around him—we see Nigel's daughter Lisa and their dog Gus trapped beneath a layer of rock too. The voiceover reads: 'If this settles one more inch, it might weigh us down for good.' The film is narrated by renowned Scottish actor Rory McCann, who has previously featured in the 'Build a Life' film campaign.
Nigel glances at an old family photo illuminating from the darkness that cascades around him. This memory from happier times sparks a sense of resilience within, to not give up and believe it's never too late to make a change. The house starts to call out and offer encouragement to Nigel, with wallpaper peeling, wires untangling and floorboard twisting.
As Nigel starts to break free from the dust and pull himself up the walls begin to return to life with bright warming colours. But then suddenly, we see Nigel land heavily back into his seat and fall through the floorboards into a deeper dark hole, this time he looks to have given up hope for good. From above, we hear Gus bark and see Lisa holding out her hand for support. This acts as the final trigger of encouragement Nigel needs to free himself from the rubble once and for all.
As the music lifts, Nigel rises with help from the house coming together to rocket him back up to his family. Through Nigel's efforts, the house magically transforms into a bright space—a home his family can be proud of. Gus shakes the last remaining dust from his fur and Nigel and Lisa chuckle.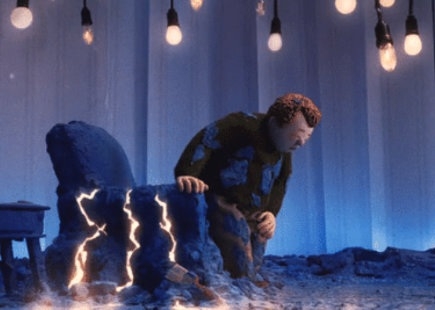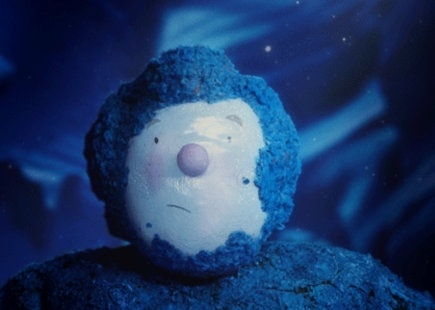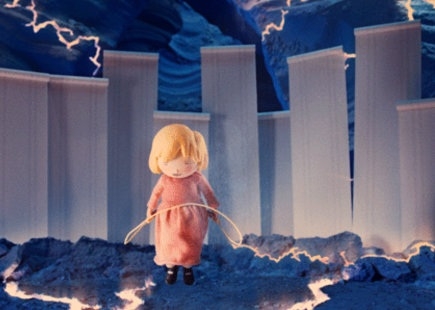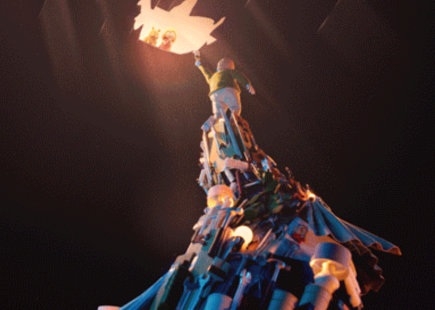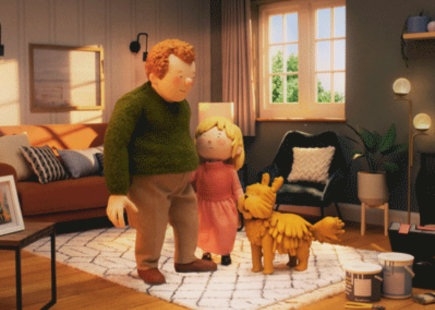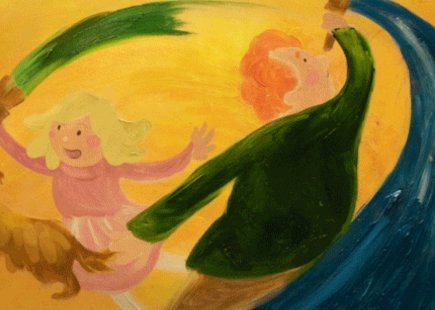 Chris Graham, marketing director, B&Q said: "The past 18 months have been a period of change like no other—turbulent and often out of our control. We believe now is the time to inspire our customers to take charge of the positive changes they can make to their homes."
The film adopts traditional stop motion—a process which involves artfully manipulating puppets and objects frame by frame to create a sense of fluid motion. The characters were traditional silicone puppets, each sculpted by hand, cast in silicone, hand painted and finally brought to life by the animators one frame at a time. The work was directed by mixed media filmmaker Sam Gainsborough through London animation studio Blinkink.
Sam Gainsborough, director, Blinkink concluded: "I loved the original script. It was grippingly unusual and knew it could make a delightful and peculiar film. I'm inspired by traditional animation techniques that let the materials and textures show off their natural beauty. Stop-motion felt like the perfect way to bring this story to life, as we could really feel the cracking plaster, the dripping paint and unravelling wallpaper. DIY is all about getting your hands dirty, and hand crafted stop motion has an innate roughness to it that is in keeping with this ethos."
The film involved meticulous craft at every stage of production from hundreds of drawings to develop each character to puppet making every movement and curated set design. The living room was modelled on B&Q's interiors range, replicating every exact piece in miniature form. The cave structure was carved from foam, the cracking floor of the set was built from a thick layer of plasticine and the magical tower was made from hundreds of handmade miniature DIY tools.
The film will run across TV, cinema, online and VOD from 23rd September. The campaign will also be supported by an extensive print, outdoor and digital suite running later in the month.

Credits
Project Name: Later Means Never
Client: B&Q
Creative Studio: Uncommon
Production Company: Blinkink
Director: Sam Gainsborough
Executive Producer: Bart Yates, Vic Lovejoy
Producer: Alex Halley / Kwok Yau
Production Manager: Emma Hanson
Post Producer: Emma Cook
Post Production Manager: Mira Valcheva
DoP: Ronnie McQuillan
1st AD: Emma Hanson
1st AC / Moco: Max Halstead
Gaffer: Werner Van Peppen
Sparks: James Owens, George Warren
Stop Motion Riggers: Robin Jackson, Roxannah Linklater
Animators: Andy Biddle, Tobias Fouracre, Steve Warne Art Director: Sarah Crombie, Yossel Simpson-Little
Modelmaker: Emma Rose Dade, Hetty Bax
Sculptor: Edward Burton
Art Department Assistant: Rebecca Fox
Puppet Maker: Nathan Flynn
Puppet Maintenance: Kat Probert
Paint Sequence Animation: Renee Zhan
Studio Manager: Daisy Garside, Clapham Road Studios BTS: Joseph Eckworth
Concept Artists: Tiago Macedo Calliari, Clement Danveau
Character Design: Ewa Luczkow
Story Board Artist: Simon Cartwright
Post Production: Blinkink Studio
VFX Supervisor: Rob Ward
2D Animators: Jac Clinch, Campbell Hartley
CG Animator: Klaas Harm Boer
CG Texture / Look-dev / Lighting: Sandrine Gimenez
Compositors: Rob Ward, Daniele Baiardini, Gustaf Lindstrom, Victoria Jardine, Jonathan Gallagher
Edit house: Stitch Editing
Editor: Richard Woolway
Grade: Andi Chu @ Black Kite
Flame Finishing: Hugo Saunders @ Black Kite
Finishing Post Producer: Jade Denne
Sound House: Machine Sound
Sound Design: Alex Bingham / Ben Gulvin
Sound Executive Producer: Matej Oreskovic
Sound Producer: Ghazal Elahi
Music Track: Pass Them by Agnes Obel
Music Supervision: Pitch & Sync
If you enjoyed this article, you can subscribe for free to our weekly email alert and receive a regular curation of the best creative campaigns by creatives themselves.