Bahia footballers wear oil-stained kit to raise awareness of environmental catastrophe

The Background
As much as I love football, in my opinion, it doesn't exactly go out of its way to do its best to enrich or help society.
Most of the big clubs pay their players so much money that it doesn't even shock any more, people just find it obscene and leave it at that.

It is fair to say that by and large most clubs do do their bit for their local communities, but probably not much more than the bare minimum. Given all the money swishing around in the game, I think most people agree there could be room for considerable improvement.
As for the sport's attempts to kick racism out of the game, the less said about that the better after last week's disgusting scenes in Bulgaria where the England team were playing.
Football as a whole could do a lot more.
I think the problem stems from the fact that fans are so hooked on supporting their teams that the usual rules of brand loyalty don't really apply. It's not as if we're going to switch to a rival team, just because we don't like what our club is doing. Clubs as a result become complacent in their corporate social responsibility.
It's therefore nice to see a football club that has this sense of responsibility in its DNA and does something from the heart.
Step forward Esporte Clube Bahia, or Bahia as they are more commonly known, who are from the north east of Brazil and play in the country's first tier league.

The Big Idea
Since September a huge oil spill has blighted a 2,200 kilometre stretch of coastline in the north east of the country. Nobody knows where it comes from or why it keeps washing up on beaches.
There has been widespread anger with the government for doing very little about it and thousands of local people have been left to organise the clean-up operation themselves.

More widespread awareness of the environmental catastrophe and pressure on the government was needed and Bahia decided to help and go all-out attack to get this done.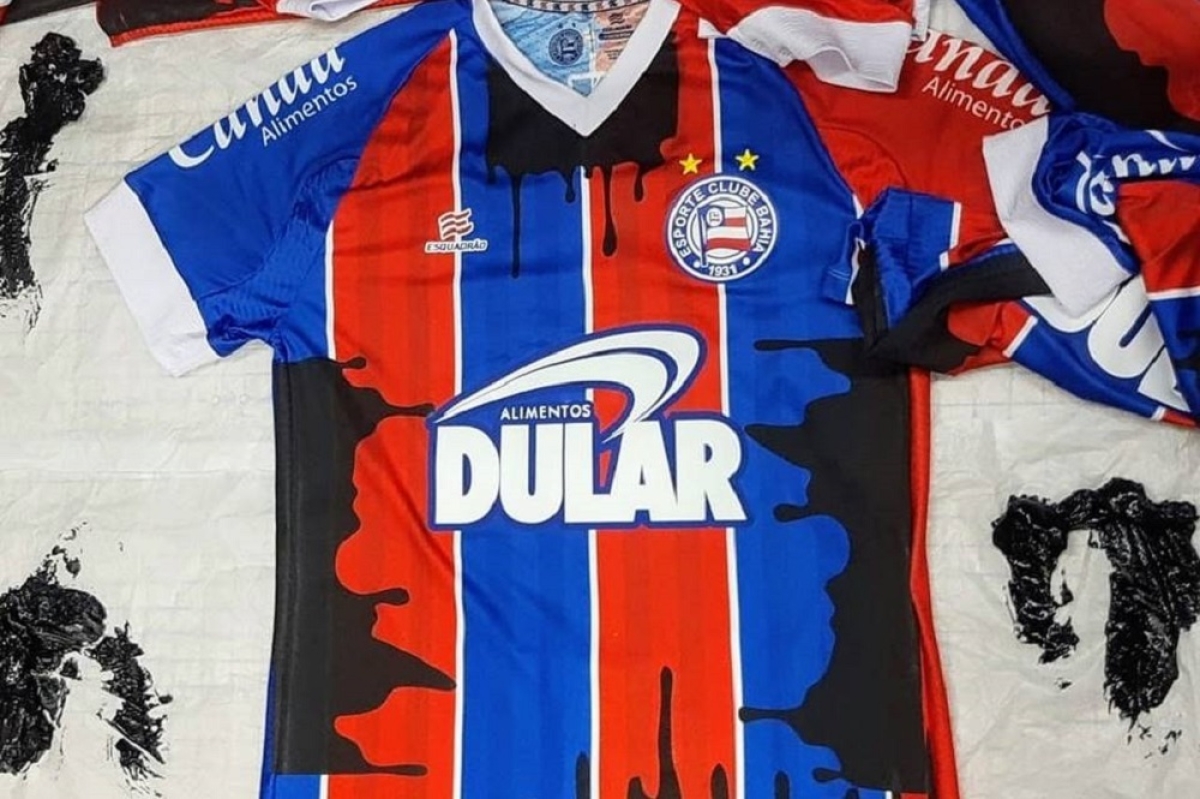 What They Did
They announced that for their match against Ceará on October 21st, they would wear a one-off special edition kit to highlight the issue.
Adopting the same colours as their regular jersey, the unique version would feature bold and eye-catching oil spills, black splodges on top of the usual red and blue.
Their reason for getting involved came across quite clearly on their website and in a statement from the club that read "the problem is yours, the problem is ours" alongside messaging which urged a time for reflection on where the world was going.
The Government had no defence and a few days after the kit launch, on the day of the match itself, it announced that 5,000 troops would be dispatched to help clean up the spill. It also said that it would more formally investigate the cause and therefore more adequately prevent any further damage to the environment.

The new kit and its rationale message had gone far and wide across social media and was getting the endorsement of key figures nationally and internationally, both sporting, environmental and humanitarian.
The Review
As much as I liked this idea, it wasn't the first time I'd seen this sort of thing done.
Back in 2012, another Brazilian football team, Vitoria, took the red out of its red and black striped kit to raise awareness of the need for blood donors.
The more blood that then got donated, the more red returned to the kit until it was back to normal again.
The campaign got a lot of praise at the time and it was very successful.

In Hindsight
For a quick-win idea, this worked really well.
If there was a little more time then perhaps something more could have been done with a kit manufacturer or other partner. But the oil spillage wasn't hanging around so time was of the essence.

Bahia actually lost the match in their one-off kit against Ceará 2-1, thanks to a last-minute winner from Luiz Otávio. They certainly didn't lose out though when it came to the results that a simple kit change generated in terms of awareness and action.
For me they deserved 3 – to give them a 3-2 victory!
If you enjoyed this article, you can subscribe for free to our weekly email alert and receive a regular curation of the best creative campaigns by creatives themselves.