Balenciaga teams up with The Simpsons to create scroll-stopping content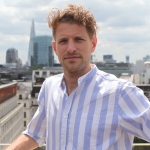 I'd eat Bart's Balenciaga shorts.
Matt Walker, creative director, Forever Beta
They made Crocs sexy by turning them into stilettos.
They have done a fashion drop in Fortnite.
Now they have collaborated with the Simpsons.
The coming together of high-end fashion and Homer Simpson or a Balenciaga Simpsons ten minute episode is a brilliant piece of scroll-stopping content.
It is yet another example of how I believe the fashion world is showing the rest of us how it should be done.
First aired at Paris Fashion Week for the elite beautiful people who had sat down expecting a catwalk show, the film is also meant for us mere mortals.
And it works.
Blurring the lines between fashion and entertainment makes Balenciaga feel inclusive and at the heart of popular culture.
From Paris to my feed, the Simpsons hook us in. But it is not lazy work. We are all familiar with collaborations and so the content has to entertain. Balenciaga nails it. For 10 minutes. I presume by handing over creative control to the experts to make sure they do the most important thing; making it fun. This is how good collaborations should work.
No, I am not now going to spend £150 on one of their Simpsons T-shirts, but that's not the point.
This is a great example of how we should all be approaching modern brand-building work. It is simple. It doesn't take itself too seriously. It does not push the brand down your throat. It is great creative that earned organic shares across social; what we should all be aiming for.
This episode of the Simpsons is the first ten-minute piece of branded content I have watched on Instagram that didn't leave me feeling I had wasted my time. I loved every second of it. So much so I even shared it for others to enjoy.

If you enjoyed this article, you can subscribe for free to our weekly email alert and receive a regular curation of the best creative campaigns by creatives themselves.