BBC celebrates Christmas 2021 in new social media film

The BBC has launched its Christmas 2021 short film that will run throughout the Christmas period on social media.
Produced by BBC Creative, the short film features two families celebrating Christmas in their own unique ways and captures the joy in sharing special moments with loved ones.
In addition to the fun, food, bickering and games, we see there's even more that unites the families with the BBC at the heart of their celebrations, from snuggling up on the sofa watching a Christmas special, to listening to a festive classic on the radio or following a Christmas recipe from Nadiya.
This Christmas there is a huge array of brand new shows and specials, and festive editions of audience favourites, including Shaun the Sheep: The Flight Before Christmas, Superworm, Around The World In 80 Days, The Tourist, A Very British Scandal, EastEnders, Doctor Who, Strictly Come Dancing, The Hit List, Top Gear – Driving Home For Christmas, Mrs Brown's Boys, Michael McIntyre's Christmas Wheel and many more.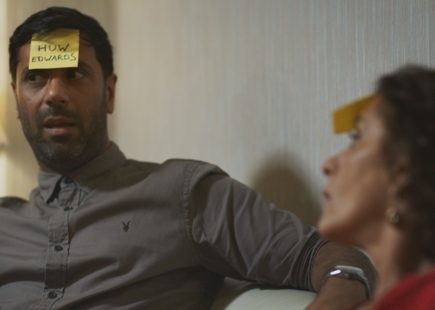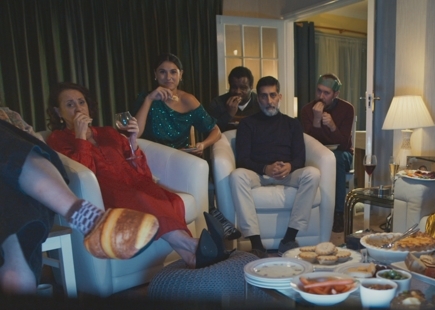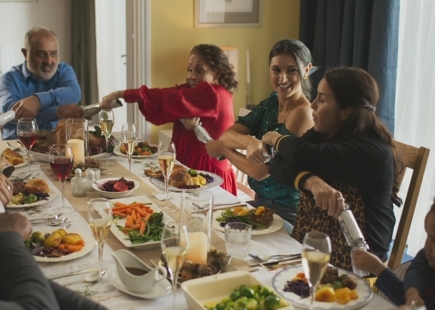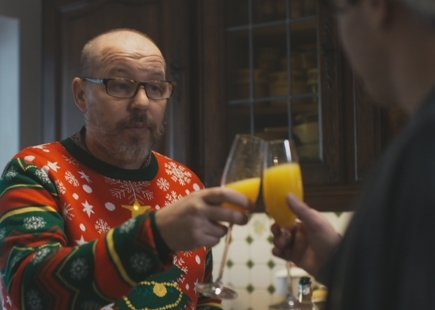 Jane Lingham, director, BBC Brand, says: "The BBC is at the heart of Christmas for millions of households across the UK, from listening to carols, to checking festive recipes, watching Christmas specials and of course tuning in for the drama of EastEnders. This campaign brings that to life in a way that we all recognise by showing how the BBC is part of all our Christmases."
The film has been created by BBC Creative, the BBC's in-house creative agency, working with director James Rouse from Outsider.
Paul Jordan, executive creative director, BBC Creative, says: "As we know all families are unique and in many ways that's what the BBC's Christmas film is all about - how we are united by our differences. The BBC is a unifying theme that runs through the heart of the film, bringing us together, and if you look carefully, you'll notice it's always there, like a golden thread of tinsel running right through our Christmas."
Susan Ayton, creative director, BBC Creative, says: "It's been brilliant showing the reality and humour of different Christmases through two families joined together by a blossoming romance. I love observing their festive pleasures of eating, playing games and watching TV together. Reminding us that however you celebrate Christmas, the BBC will always be there."
James Rouse, the film's director, says: "Despite humanity's many surface differences, when it comes to the important core values there's more that joins us than we first might think, something that's especially true at Christmas. We had a fabulous cast of diverse characters to bring this lovely idea alive which made this film a joy to work on."

Credits
'BBC Christmas film 2021'
BBC Creative, ECD: Helen Rhodes
BBC Creative, ECD: Paul Jordan
BBC Creative, Head of Planning: Mike Lean
BBC Creative, Head of Production: James Wood
BBC Creative, Creative Director: Susan Ayton
BBC Creative, Creative: Jules Middleton
BBC Creative, Creative: Andy Parkman
BBC Creative, Audio: Debbie Dillon
BBC Creative, Audio: Steve Huthwaite
BBC Creative, Producer: Chris Church
BBC Creative, Production Manager: Jake Cullen
BBC Creative, Production Manager: Clare Donaldsen
BBC Creative, Project Manager: Astrid Reiner
BBC Creative, Planner: Rosanagh Ker
BBC Creative, Design: Jack Freeman
BBC, Director Marketing & Audiences: Jane Lingham
BBC, Marketing Manager: James Parry
BBC, Marketing: Anna Manley
BBC, Media Planner: Emily Wilson
External, Sound: Anthony Moore @ The Factory
External, Grade: Paul Harrison @ FreeFolk
External, Editor: Bill Smedley @ Work Editorial
External, Director: James Rouse
External, DOP: Alex Melman
External, Production Producer: Benji Howell
If you enjoyed this article, you can subscribe for free to our weekly email alert and receive a regular curation of the best creative campaigns by creatives themselves.