British Heart Foundation launches 'This Is Science' demonstrating the power of research to save lives

The British Heart Foundation (BHF) has launched a new brand campaign, 'This is Science', to inspire greater public support for its life saving research.
The campaign, created by Saatchi & Saatchi, tells the real stories of people who are only alive today thanks to the public's donations powering BHF medical breakthroughs that have transformed science fiction into reality.

With someone dying from heart and circulatory disease every three minutes in the UK, the campaign spotlights the charity's need for greater public support if it is to continue to make scientific breakthroughs that will save and improve lives.
The campaign launches with a film, voiced by Peaky Blinder's Cillian Murphy. It opens with a young boy, with a scar on his chest, getting ready for school. The voiceover reveals that, 'he was a scientific hypotheses', as the viewer sees a CGI visual of the 3D printed heart that was used to guide his surgery.
The ad then shows a man in his 60s in a forest, with the voiceover explaining 'he was a ground-breaking innovation', which is visualised as an artery being widened by a stent.

Then we see a teenage girl playing football, before she collapses suddenly.
The voiceover explains that the 'breakthrough that could cure her is closer than ever'. The ad closes with Cillian saying that, 'With our research, we can keep saving lives like hers. Donate now to turn science fiction into reality'.
Saatchi & Saatchi collaborated with director Ben Strebel through Biscuit Filmworks and MPC to bring the BHF's mission to life with the film.
The work signifies the start of a new brand strategy for the BHF, positioning the charity as a crucial frontline agent in the battle to outsmart heart disease.
Alongside the film, the integrated campaign includes press and out of home ads featuring the people from the film, alongside CGI images that vividly depict the scientific breakthroughs they've benefited from.
The campaign will be further amplified by emotive videos and images, promoted on organic and paid social channels, telling the stories of real people who have benefited from BHF discoveries or are still waiting for the next breakthrough.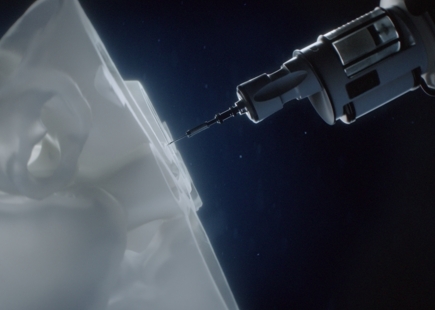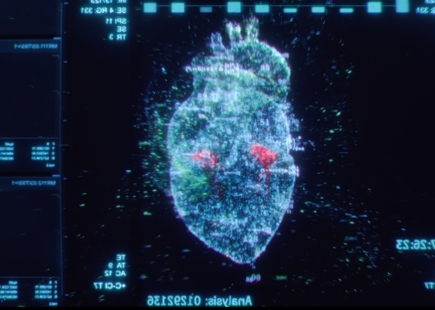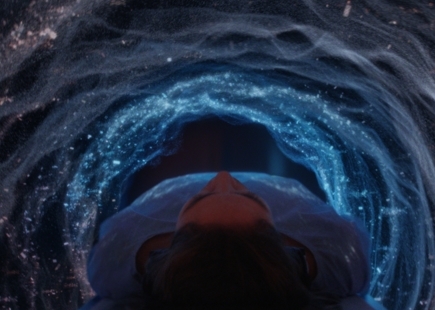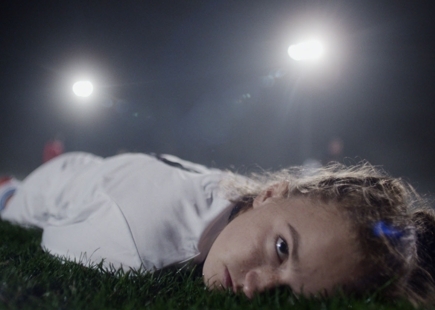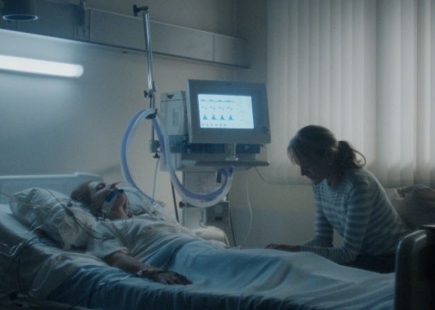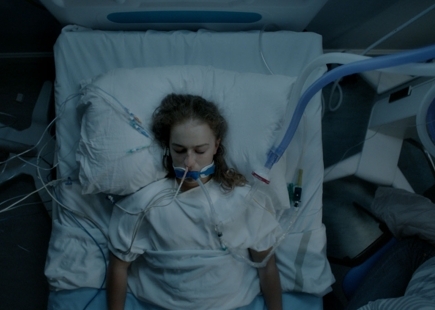 Claire Sadler, executive director of marketing, fundraising and engagement at the British Heart Foundation, said: "At a time when the power of science is appreciated more than ever, our new campaign aims to leave the public in no doubt that their support fuels boundary-pushing research that saves lives. From heart attack treatments to life saving surgery, every day in the UK thousands of people benefit from BHF research that has turned science fiction into reality.
"However, there are so many more people who need the breakthroughs our scientists are on the cusp of making. Our hope is that this is the start of a long-standing campaign that puts awe-inspiring science at the heart of our brand, and inspires more people to donate to power the BHF's lifesaving research."
The campaign follows Saatchi & Saatchi's appointment as the BHF's lead creative agency earlier this year, coinciding with the charity's decision to bring together its fundraising and marketing teams. The move was made with the aim of driving a bigger impact from the BHF's brand and fundraising activities.
Guillermo Vega, chief creative officer Saatchi & Saatchi, said: "The BHF has been making the impossible a reality for more than 60 years. But with heart and circulatory diseases still causing a quarter of all deaths in the UK, this campaign is a rallying call to ignite the nation to engage with the BHF and their mission. Using real stories, we wanted to celebrate the amazing innovations that are changing lives and showcase the ground-breaking developments that, without BHF funding and continued public support, will remain science fiction."

Credits
CAMPAIGN TITLE: This is science
CLIENT: British Heart Foundation
ADVERTISING AGENCY: Saatchi & Saatchi London
CCO: Guillermo Vega
CREATIVE DIRECTOR: Lauren Dyer
COPYWRITER: Tobias Tercic
ART DIRECTOR: Hernan Dietrich
PLANNING PARTNER: Kristian Henschel
BUSINESS LEAD: Paul McHugh
ACCOUNT TEAM: Zara Hutchins
AGENCY PRODUCER: Sam Robinson
MEDIA BUYING AGENCY: PHD London
MEDIA AGENCY MANAGING PARTNER: Fergus Barnett
PRODUCTION COMPANY: Biscuit Filmworks
DIRECTOR: Ben Strebel
DOP: Ben Todd
EDITOR: James Forbes-Robertson @ Trim
POST-PRODUCTION COMPANY: Moving Picture Company
AUDIO POST-PRODUCTION COMPANY: Sam Ashwell @ 750mph
PHOTOGRAPHER: Nick Eagle
PHOTOGRAPHER AGENT: Morgan Lockyer
MD/ EXEC PRODUCER: Rupert Reynolds-MacLean
PRODUCER /HEAD OF PRODUCTION: Samantha Chitty
LINE PRODUCER: Nicola Sims
PRODUCTION MANAGER: Adam Oyejobi
DIRECTOR'S ASSISTANT: James Murray
COSTUME DESIGNER: Selina Wong
MPC CREATIVE DIRECTOR: Colour Matthieu Toullet
MPC CREATIVE DIRECTOR: 2D Ricky Weissman
MPC CG VFX SUPERVISOR: Will Jeffers

If you enjoyed this article, you can subscribe for free to our weekly email alert and receive a regular curation of the best creative campaigns by creatives themselves.