Going, going, gone: Nature's Closing Down Sale from the Born Free Foundation

A campaign by ENGINE
Born Free Foundation is adopting the style and approach of sales advertising and applying it to the natural world in 'Nature's Closing Down Sale' – a campaign urging people to adopt an endangered animal while they still can timed to coincide with Black Friday.
At the heart of the campaign is a 60-second social film in which a larger-than-life salesman - played by English actor Harry Peacock - highlights that wild animal populations worldwide have declined by nearly 70% in just 50 years. With the numbers of many much-loved animals such as tigers, elephants, and rhinos dangerously low, and falling still.
Archive footage of endangered species in the wild being attacked by and overlaid with bouncing sales graphics is clearly visible behind the salesman as he makes his pitch.
The film is supported by an array of Out Of Home executions set to appear on sites donated by Jack and Ocean Outdoor.
In addition, ENGINE has created a digital pop-up Instagram shop for the campaign, enabling users to click through one of a dozen campaign-related posts to pay directly and quickly and easily adopt an endangered animal by sponsoring it for as little as £3 a month.
People can also adopt an animal through the Born Free website.
'Nature's Closing Down Sale' is ENGINE's third campaign for Born Free Foundation in just over a year. In July, 'Creature Discomforts: Life in Lockdown' highlighted the emotional toil of lockdown to highlight the plight of animals in captivity.
The brutal truth behind lion tourism in South Africa was exposed by 'The Bitter Bond', ENGINE's animated film for the charity launched in September 2019.
The 'Nature's Closing Down Sale' campaign was created by James Hodson, Jason Keet, Alicia Job and Jessica Watson at ENGINE Creative. Creative Directors were Steve Hawthorne and Katy Hopkins. The film was directed by Chris Boyle at Private Island.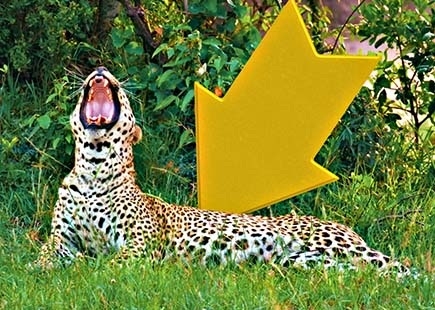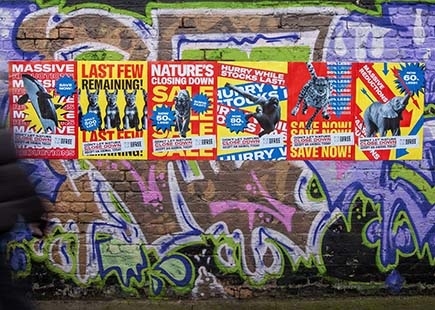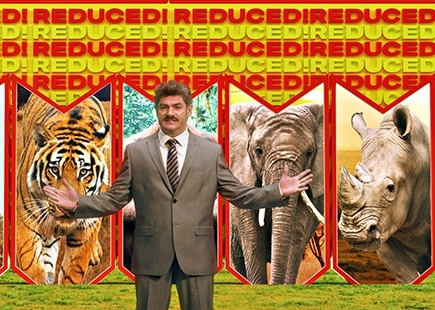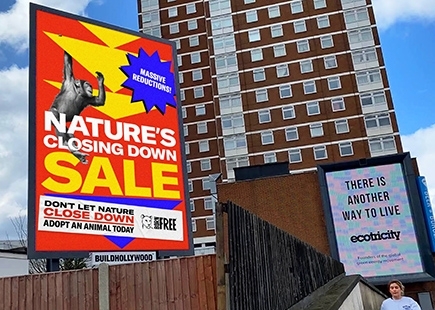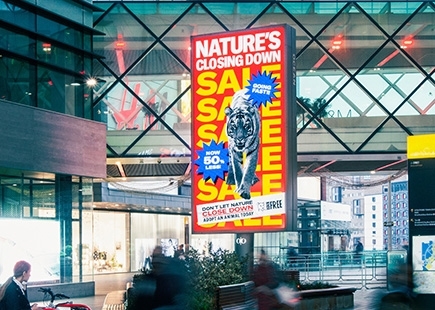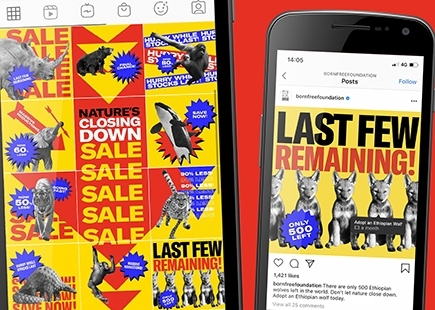 Will Travers OBE, Born Free's executive president and co-founder, said: "Nature is in big trouble. More than 1,000,000 species face extinction. But we're not going to let Nature Close Down! People who care can really do something about it by adopting a wild animal with Born Free this Black Friday (maybe we should call it Wild Friday instead). With Christmas looming, animal adoptions also make a wonderful gift at this time of year."
Katy Hopkins, creative director at ENGINE Creative, explained: "We wanted to highlight that people can save more than money this sale season, by adopting an animal with Born Free. And the intrinsic urgency of sales advertising felt like the perfect way to highlight the desperate state of the world's wildlife. Our fantastic working relationship with the Born Free Foundation meant that we were able to role this brave, impactful campaign out across various media – one of the highlights being turning their Instagram feed into a digital "Pop-up Shop".

Credits
CCO Billy Faithful
Creative Director Katy Hopkins & Steve Hawthorne
Art Director Jason Keet, Alicia Job
Copywriter James Hodson, Jessica Watson
Account Director Owen Keating, Tom Butler
Agency Producer Laura Melville, Henry Davies
Planner Rob Jennings
Photographer George Logan, Martin Harvey
Director Chris Boyle
Production Co Private Island
Producer Helen Power
Editor Private Island
Post Production Private Island
Sound Design Ben Leeves, Jungle
Lead Designer Kaoru Sato

If you enjoyed this article, you can subscribe for free to our weekly email alert and receive a regular curation of the best creative campaigns by creatives themselves.