New campaign from McDonald's and Leo Burnett celebrates the most important meal of the day

Good morning.
Developed by its advertising partner Leo Burnett, this integrated campaign seeks to shift perception of breakfast away from being the antidote to a bad morning and into the realm of enjoyment and fulfilment, whatever the occasion.

At the centre of the campaign is a 60s film, directed by award winning director of "I Hate Suzie", Georgie Banks-Davies at Rogue, who utilised real relationships between the cast to create natural moments of enjoyment that are packed with feeling.
The film, titled Own Little World, features a range of people in various scenarios escaping their everyday life to be immersed in the breakfast-eating experience, whether that be a nurse enjoying a well-deserved treat after a busy shift, builders renovating a church or night-revellers heading home after a night out. As they take their first bite, a single spotlight from a nearby natural light source plunges the eater into a world of enjoyment.
The campaign will also feature OOH, with simple imagery that shows the aftermath of enjoying a McDonald's breakfast, with only the wrapper and a few crumbs left over. This is the latest in a series of minimalist McDonald's OOH ads which leans on the power of the iconic Golden Arches.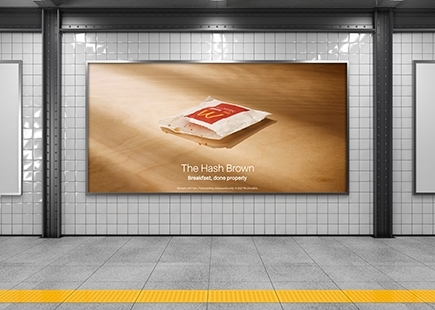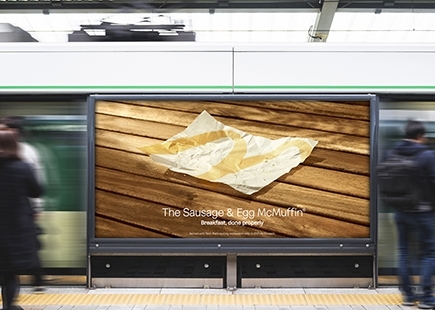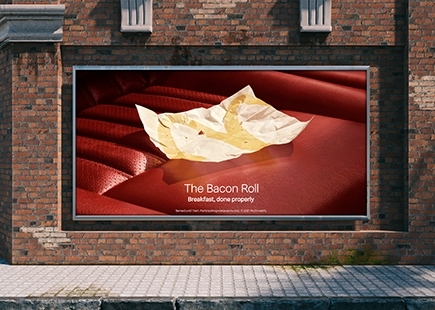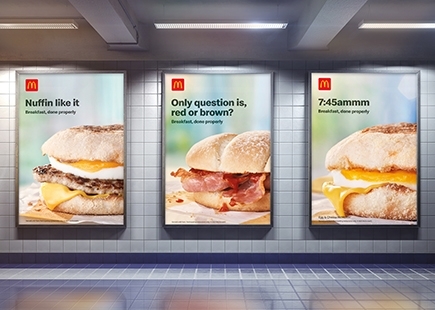 Steve Howells, Director of Marketing and Media, McDonald's, said: "Breakfast can be a meal that people view in binary terms, either necessary or unnecessary, but rarely in terms of the most satisfying meal of the day. In fact, around a quarter of Brits skip breakfast entirely, according to Kantar. But you'd not skip a meal that gives you a moment of joy, and so we wanted to show, whatever the mood or occasion – McDonald's is there to provide a little moment of enjoyment and proper satisfaction at breakfast time."
The 40s film will be supported by 20s cut downs, shot by Myles New, focused on showing the ingredients forming some of the nation's favourite McDonald's Breakfast products, from Sausage and Egg McMuffins to hash browns, before cutting to capture the moment they are finally enjoyed (and demolished).
Mark Elwood, ECD at Leo Burnett, said: "There's nothing like a Maccers breakfast. For a morning treat, it's unrivalled. We took a simple human truth and turned it into a cinematic, joyful body of work that showcases those moments and the feelings you only get from tucking into a McDonald's breakfast."
The campaign will run in the UK and Ireland initially for four weeks and then in shorter bursts throughout the year across radio, OOH, display and social.
Credits
CAMPAIGN TITLE: Breakfast, done properly.
CLIENT: McDonald's
ADVERTISING AGENCY: Leo Burnett
CCO: Chaka Sobhani
EXECUTIVE CREATIVE DIRECTOR: Mark Elwood
CREATIVE DIRECTOR: Andrew Long and James Millers
COPYWRITER: Phoebe Talbot, Hayley Power
ART DIRECTOR: Cathryn Carey, Steve Robertson
DESIGNER: Jakk Breedon and Sam Kallen
PLANNER: Tom Sussman
BUSINESS LEAD: Sam Houlston
ACCOUNT DIRECTOR: Jay Perry
ACCOUNT MANAGER: Imi Malone
ACCOUNT EXECUTIVE: Carys Parry
AGENCY PRODUCER: Javré Dow
MEDIA BUYING AGENCY: OMD
PRODUCTION COMPANY: Rogue
DIRECTOR: Georgie Banks-Davies
EDITOR: Leo King @ Stitch
PRODUCER: Polly Ruskin
POST-PRODUCTION COMPANY: Electric Theatre Collective
AUDIO POST-PRODUCTION COMPANY: Factory
PHOTOGRAPHER: Scott Grummett

If you enjoyed this article, you can subscribe for free to our weekly email alert and receive a regular curation of the best creative campaigns by creatives themselves.