BT launches multichannel campaign promoting unbreakable Wi-Fi for business

BT's Enterprise business is launching a new creative platform for its SME activity, "All Business. No Drama", with a major multichannel campaign to promote the new BT Halo for business. The communications platform and campaign were developed in partnership with NOW.
The creative vehicle, which sits within BT's Beyond Limits brand positioning, represents a new strategic direction for the company's SME offering. The launch is part of BT's increased focus on the SME segment – a plan which includes spending significantly more on marketing under the new "All Business. No Drama" vehicle, and capitalising on its new hero propositions such as 900Mbps Full Fibre, and Unbreakable Wi-Fi, the UK's first 'unbreakable' Wi-Fi package for micro-businesses, offering connection, coverage and customer service guarantees.
The new platform will inform all future communications for the B2B brand, aiming to demonstrate that BT's business products offer the most reliable connectivity and coverage in the UK, and to establish the brand as the perfect partner for SMEs.
The first campaign featuring the new positioning shows how BT understands the realities of business life and the frustrations that can hold business owners back, engineering solutions that strip those frustrations away, so that they can focus on the important things.
As part of the push, NOW and BT have created a humorous 30-second TV spot, directed by Dom&Nic at Outsider. In a modern take on old-fashioned slapstick and physical comedy, the ad follows the owner of a glassblowing studio as he narrowly avoids potential everyday dramas happening around him. Seeing a rag on the floor, he reaches to pick it up, just avoiding one of his employees hitting him with a blowpipe. This kicks off a "domino effect"-style series of potential calamities, all of which the business owner is able to swerve.
The studio owner's working day is "All Business. No Drama", thanks to BT Halo for business, which gives him unrivalled connectivity, with a connection that never slows and never stops.
The TV ad, which was inspired by the films of Buster Keaton and Charlie Chaplin and features real glassblowers from a small glassblowing factory in South London, uses a mix of in-camera and special effects. The effect which sees vases knocking into each other like dominoes was created digitally.
The spot's original classical music score, composed by Jim Stewart, aims to evoke the drama of the silent movie era, but with a contemporary twist.
A series of print ads show business owners in the foreground with everyday drama happening behind them. They are blissfully unaware of this as they're focused on their work, protected by the unbreakable connection that BT Halo offers.
As well as TV and print, the push will also run across VOD, digital and social channels. Media planning and buying is by Essence.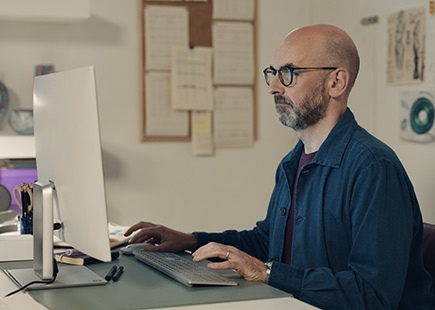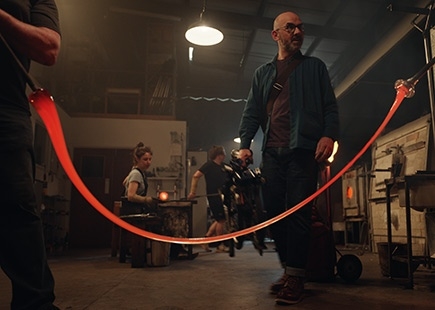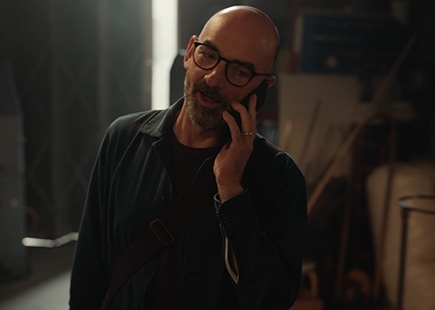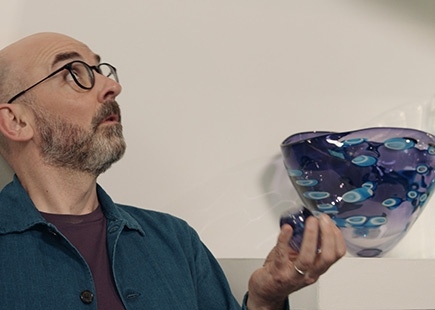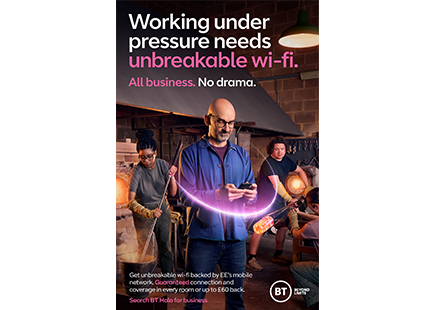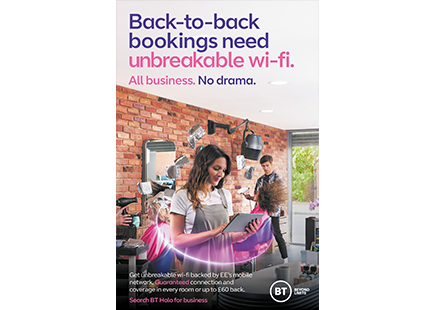 Chris Sims, MD, Commercial and Marketing for BT's Enterprise business, said: "We know that SMEs are currently living in a world of uncertainty, so this clever campaign aims to show how BT Halo for business offers them reliability, value for money, and expert support when they need it. Our connectivity solutions make business life truly drama-free."
Ben da Costa, chief creative officer, NOW, added: "In the classic movies of Buster Keaton and Charlie Chaplin, you see incredible and sometimes perilous action used to comedic effect as their characters miraculously avoid complete disaster. This concept resonated with us and felt like a unique and surprising way to tell the story of BT Halo for business, and the brand's promise to keep you connected."
Credits
Creative agency: NOW
Production company: Outsider
Director: DOM&NIC
Producer: John Madsen
DOP: Stephen Keith-Roach
Edit: Ed Cheesman, Final Cut
Post-production: Coffee & TV
VFX shoot supervisor: Luke Todd
VFX leads: Phil Hurrell, Rory Whittle
Sound company: String and Tins
Sound design: Adam Smyth, Joe Wilkinson, Culum Simpson
Music composition: Jim Stewart
Audio Producer: Alina Miroshnichenko
If you enjoyed this article, you can subscribe for free to our weekly email alert and receive a regular curation of the best creative campaigns by creatives themselves.